Summary
A useful action list for creating user personas for your website. Benefits from doing this. Information you will need. Put individuals into groups with shared things in common. What to include in a persona. Share your personas with other people. Top tips.
How this helps you
User personas help you to confirm and communicate to a web site designer who your target audience is. This will result in a better, more relevant, more useful web site which will be more likely to have a good return on investment because the web site is likely to be used more.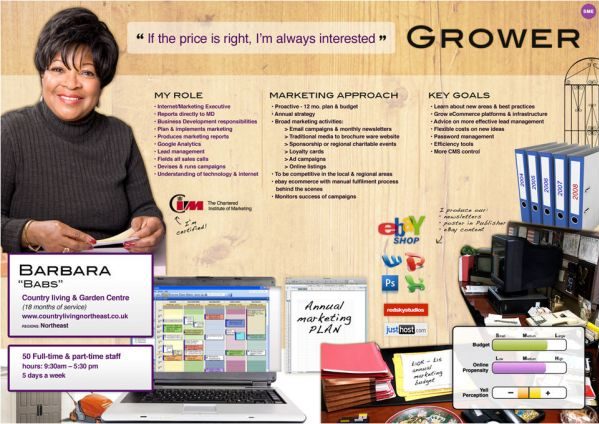 Information you will need to create user personas
In most cases, personas are based on information you have collected from users, and to be really useful this should be the case. You can do this through a variety of ways:
surveys
market research studies
talking to customers and asking them about themselves
go out with other members of your staff who meet customers so that you can meet the customers
ask members of your staff who meet customers regularly to ask customers specific questions.
The return you will get from this investment of your time and effort will give you the knowledge you need to build a website which is for your users, not based on your assumptions of what your users want. You may think you know this, but there is never anything quite like checking and asking your customers, you never know what you might find out.
Grouping customers
Everyone is an individual, so every visitor to your web site is unique, but they will share things in common with other visitors. Who is the main group you want to get more business from? What is your ideal enquiry? What is the main target area you want to get more business from?
You may have quite a few different groups of customers and although you want your website to be used by everyone, it should really talk to the main group who will bring in the most of your ideal enquiries from the main target area you want to get business from. Understanding customer expectations from your business will help you to understand customer expectations from your website, which will lead to a better website design
To create a user persona for a website you would ideally have 1 main user group, or one persona per product you offer, and make a persona for them.
What to include in a persona
A good user persona includes:
1 page description
Name – brings it to life, makes them real
Occupation
Age
Gender
Education
Behaviour patterns – main tasks they want to do, time of day/ frequency they want to do the tasks
Goals
What they want from you and your business
What they want from your website, how they will use your site.
Their current relationship with you (if you know them, if don't know them yet etc)
Geography
Skills
Attitudes – are they positive, negative, neutral, worried – ?
Perceptions of you and your company
Environment
Computing and Web experience
Any additional relevant demographics (e.g. lifestyle)
Photo (putting a face to a name)
Share
It is a really good idea to share this with your colleagues, staff, team-mates and anyone in your business who has contact with customers, to get their feedback and confirm this is an agreed view on who your target users are for your website.
Top tips
Think about your target customer groups, who are they, where are they from, what is your ideal enquiry from them?
Draw up a rough persona for the main target group for your business.
Talk to any of your staff about what you think should be included. Talk to customers to ask them what they want and how they feel about your business. Ask any staff to do the same. Go back to your persona and see if any parts of it need to be updated based on what people have told you.
Check your website against your persona
Review your website design against your user persona. Does it suggest any new elements or changes need to be made?
Share with your web site designer
Take your user persona to your web site designer, they should have some ideas for your website design based on your persona, or how that persona can be used in any future redesigns of your website.