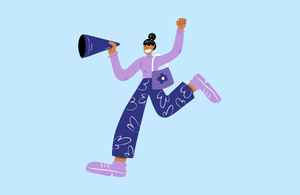 Once you're an expert (don't listen to that imposter syndrome) in your field of business, you can make nice money speaking about what you do.
With so much happening online now, it's actually easier than ever because organisers can accommodate more speakers per event.
Decide your areas of expertise
Your area of expertise sounds like a set thing but it isn't. It can flex with what each event is about. Don't mentally tie yourself into one thesis: this all depends on context.
I personally don't like to go beyond pitch until I know who I'm speaking to, because the audience is everything. What they need defines what we should say and how we should say it, so having some concepts but keeping it loosey-goosey is your best bet.
For example: I know I can speak about marketing, mental wellbeing, copywriting and branding. There are various topics in those areas that I'd happily write a talk about. You've got a conference full of eager new copywriters? Brilliant, I've got 30 minutes of advice to dispense.
Think niche
It's better to target a conference on a specialist subject rather than generalise. A smaller event may have a lower budget (but it may not – some big events take the absolute pee because of the great 'exposure') but you'll have less competition.
It only takes one speaking gig and you're a speaker. Get your foot in the door.
Get connected
Going to events means networking (ugh, I know) and learning more about what event organisers are looking for when they're hiring speakers.
To be attractive to organisers, it does help to have a bit of a network and lively social media. Your profile, background and portfolio sweeten the deal because the organiser hopes you'll attract attendees.
Take advantage of your unique experience
That's true of your expert knowledge but it's also true of your background. Do not be shy to put yourself forwards against the type of people you're used to seeing on stage. Any event worth its salt will be after a diverse panel or line-up, so use your unique self.
What would you bring to this event that no one else could? What outlook or context do you have on this subject that they would not find anywhere else? That's what you're pitching.
Get a referral from your community
Who do you know that's done some speaking? If you know them, it's likely you're in the same sort of arena, so hey – can they get you in?
This is why building your professional community is so important. When one of us succeeds, we all succeed.
Getting a recommendation or at least an introduction doesn't side-line our next step (pitch) but it does mean your pitch will be read.
Approach
Don't wait to be offered a speaking gig. People are busy: they go with what's easy. No one knows you're a speaker until you've…spoken. So, you have to tell them you're here, you're brilliant and you've got just the talk for them.
Pitching yourself can be hard, of course. It's important that you're using your unique perspective because no one wants to duplicate what they already have on the bill or what's been discussed ad nauseum in the past. It can be a familiar subject, sure, but you need some spark of something that makes it new.
If you can capture that newness in your pitch, you'll have the organiser's attention. Your pitch should also be in your tone of voice, so they know they'll get something entertaining. Yup, it's entertainment! A conference session could be the most educational presentation going but if it's dull or impersonal, it won't succeed.
Most conferences, at least 50% is a bit blah blah. Make your pitch exciting and you're in the running.
Doing just ONE event gives you an example to show off and spin into content for yourself. Just make sure you always get a recording.
Read my advice on writing a great talk for an event.