You know what PPC is and you have decided you want to use it. Well, good for you. But what next?
Even if you are outsourcing this work to a AdWords PPC expert, you still need a AdWords account in the first place.
To sign up, you need a Google email address, you can easily create one at GMail or it may let you in with your outlook email. Start here. Try your email in the 'I have an email address…' tab, if it doesn't work you can easily create one under the 'I don't use these services' and it will lead you through the usual route.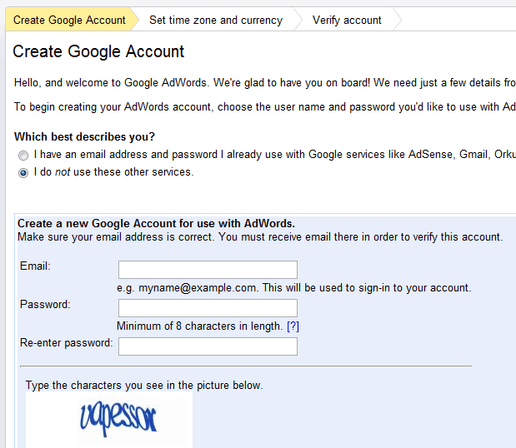 Even if you have a login, you still to get the option to create a fresh one. If you create a new one I would advise you to write it down and keep it safe and sensible, maybe not 'Ilovevodka@gmail esque as you may be sharing it out – and it will always be the creator email address.
Time Zones
Once in, sign into your email and then on the next screen, select your time zone. This is more important then you may think as it can't be changed once added. If you set it to UK timezone, then add a campaign targeting Australia only running at 8pm – 10pm, that's UK time! It won't automatically change the time settings. So, if this adwords account is being set up to just target one country or indeed continent which isn't the UK, consider setting it to the most relevant time zone or factoring this in when you build campaigns.
Currency.
There's a range. If you enter UK GBP, then have a campaign running in Thailand, and one in Indonesia, the currency being used will be UK. This will be a personal preference on your part. I would say though, if its being outsourced stick to the local currency where you live. You don't want any confusion with someone thinking that $1 is the equivalent of 506 Indian Rupee – (thats 10 bucks)
Timezone and currency cannot be changed after you leave this screen. Click next and you're on the confirmation screen. You will be sent an email to verify, then you can login to the AdWords account. As it states, nothing will run until you have entered your Billing information. You should be able to source a voucher for this, Google are quite generous with these for new accounts.
If you are setting this up to be professionally managed, the adwords expert will need your AdWords Customer ID Number. This is in the top right hand corner under 'Sign Out'. They will need this to link your 'child' account to their master, umbrella account. You will get an invite asking if your happy to do this, then they have access to start the build.
If you're keeping it in house – my next blog on the AdWords editor should greatly help you with your account.