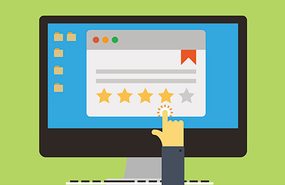 Online reviews not only give potential customers a snapshot of the quality of your product or service, they are also very beneficial to your search rankings and search page visibility. In this article I'll show you how reviews work on Google and how they can benefit your business' search engine results.
Reviews in search results
There are several places that reviews will show up as star ratings (an image in your listing where you are marked out of 5 stars e.g.

)
Google Local business listings
If you make sure your business is on Google My Business then not only will it help your visibility in the search results when people search, for example, "shoe shop London", but customers can leave reviews and your star rating will appear in your listing and show potential customers how good you are.

Google Search results – Products / Services
If you sell products or services then you can use special mark-up in your website code called 'schema' to show how your customers have reviewed that product or service. The star rating will then appear in the Google search results when someone's search matches that product or service. In the image below I searched for "Samsung TVs" and this result appeared from Argos which indicates that the Samsung TV they sell has a good 4 ½ star rating.

There are a few ways to get this code onto your site:

Code it yourself, but this requires some technical knowledge, there are lots of articles around that can help you with this
A plugin for your content management system that allows you to add reviews
If you use a shop system in your website you may find it already adds the option for people to post reviews to your products or services, some of them also add the 'review' schema code to your site too that
Use third party review systems and review collection platforms that allow you to gather and display reviews on your site for specific products and services you offer
Google Search results – Review sites
Third party directories and review sites are ideal to get your business listed on. If your business doesn't offer products and/or you don't have the ability to add reviews to your site then it's particularly important as it may be one of the only ways you'll get ratings in the search engine results.The reviews on top directories and review sites, such as Yell.com and Facebook, usually rank high in search results on Google. In the example below I searched for a business called "JLM Plumbing Services", and popular review sites like Yell.com showed up on the first page of results with the ratings showing in the results.

Google paid advertising
If you have a Google pay-per-click (PPC) campaign then you can link some review suppliers like Feefo to your paid ads so that a rating displays in your ad. Google has a list of suppliers you can connect to your account. This won't affect your organic SEO, but it's a great way to get your PPC ads to stand out more. This example below from WatchShop.com links three reviews sites to its PPC account – Feefo, Google Customer Reviews, and Trusted Shops and the rating displayed in the ad is an average score from all three review sites.

Google Knowledge Panel
Google pulls in average review scores from some publishers and displays them in the Knowledge Panel for your business, the below example shows us that this business has ratings from Yell.com and Facebook. This looks great to potential customers when they are looking at your business on Google, as good ratings from multiple sources will build up a level of trust in your business before the customer even uses your services

SEO advantages
Search position
Google gives weight to reviews in its search results. Google My Business reviews are prioritised the highest, followed closely by reviews from top sites like Yell.com, Yelp, and Checkatrade. The more reviews (and higher star rating) you have, the better. It's a good idea to check out your competition, for example if you're a gardener in Plymouth, what do other gardeners in Plymouth have in terms of number of reviews, if any at all. You can give yourself an SEO advantage if you look to get your reviews to a higher number and star rating than your competitors.
Stand-out listings
Not only do reviews help your business appear higher in the search results, the star rating acts as a highly visible enticement which encourages people to click through to your site. Most companies will see a 20-30% rise in click through from search results that display review star ratings.
Star ratings in search results can result in a 20-30% rise in click throughs
Click To Tweet
If you are in competition with other businesses and several of you are listed next to each other in Google's search page results (whether as organic listings or PPC ads), a potential customer will be much more likely to click on the link with the star rating. If more than one of the competing businesses has a star rating, then the user will most likely click on the business with the highest number of stars.
If you are listed on sites that offer reviews like Yell.com and Facebook then you have the added advantage that these sites normally appear very high in search results, so if someone searches for your business there is a good chance the review site will appear on the first results page and will display your star rating you have on their site. I recommend not signing up for too many review sites, just choose Google My Business, Yell.com and maybe one other so you don't spread yourself too thin. Then encourage happy customers to post a review of your business on these sites to boost your star rating.