Writing any kind of plan for a business is daunting at first. Whilst most business owners at some time have written a business plan, very few write a marketing plan. Why is this? It's simply because a business must have a business plan to obtain funding and therefore it's almost mandatory.
So, the business had achieved its funding target. The marketing plan is next isn't it? No, sadly marketing plans are rarely written as entrepreneurs jump into the business without any more planning. Action is the key and to a point I agree, however, you plan to fail if you fail to plan. Marketing is the engine that drives a business and almost becomes insignificant with a "plan it as we go along" kind of operation. It's not very impressive when you realise how important marketing is to any business.
The good news is that it is possible to write a one-page marketing plan that provides at-a-glance, the key elements and actions required to market your business. This forms the blueprint for more detailed activity.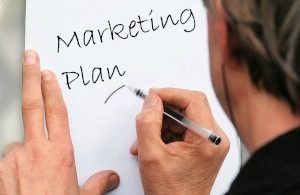 Let's get started and discover how to write your one-page marketing plan.
First of all, give your plan a title – that's easy enough.
Now, let's take a broad view of your business…
Use another piece of paper to write your thoughts and we'll transfer them to your one-page marketing plan later.
There are a number of people you are marketing to. So, create a header "Prospects." These are people who don't know anything about your business and what you can do for them. They're the ones you are trying to attract and convert to customers through a sale.
Under this heading list how many ways you can market to them. Examples are website, PPC advertising, newspaper advertising, direct mail etc. This sketches out your attraction game plan. Write down against each type of marketing when this must be ready to launch. These are your marketing tools.
Now that you have listed the tools you will use to attract prospects, the next stage is to create a heading "Messages." In this section you list the various messages you will use to attract a prospect. This could be offers, your USP, features or benefits of your products or services. After all, you need an attraction mechanism, and this revolves around what your convincer statements i.e. what you say to these people. Eventually these offers and messages will align with the methods you will use to market.
It's also important you write down who your target market is. Unless you are selling air and water it is unlikely you are selling to everybody. What are the common characteristics of these people/businesses?
The final part of this first stage is to assign a budget to each of these tools and also a timeline. It may be you need a leaflet and recognise that this is more important than your newspaper advert. One method will therefore take priority over another.
So you now have three very important parts of a marketing plan. You have the message, the target and the media to reach them. It's a good start.
Discover the one mistake most business owners make in their marketing…
Most business owners think about marketing plans to attract new customers. However, they fail to consider existing customers and how important they are. After all, if your entire data base of existing customers disappeared overnight, what condition would your business be in?
The second section of your marketing plan will therefore be dedicated to your existing customers. Your approach here is different as they already know and trust you and therefore your messages and method of marketing will be different.
So let's run through two of the three exercises you completed earlier. List the methods you will use to communicate to your customers. This could be a dedicated page on your website, email, a newsletter, direct mail with offers/coupons etc.
The messages you send to your existing customer base will be different to those you send to attract a prospect. Now your goal is to retain them. The messages you send will therefore be a mix of education, offers, news and personal messages.
During a calendar year, you will undoubtedly have key dates in your mind. These could be related to trade shows you exhibit at, special offers you wish to release, anniversaries, new releases etc. You must add these to your list and decide whether they are planned to attract prospects, customers or both. During these events, you will be gearing your business to ensure you have all of the marketing elements in place e.g. for a trade show you may require pop-up stands, posters, leaflets, gifts etc. To plan this properly you will need to think of a trade show like a military operation. This should be the subject of a separate plan.
What do you do with this data?
Now that you have a lot of data covering what you want to achieve during the year, let's refine it and transfer this onto your marketing plan. There may be some areas of duplication however, as they are targeting different two distinct groups you wish to market to, let's keep them separate.
You can refine the data simply through reading, combining, perhaps putting in date order so the most important is at the top. You decide what works best for you.
Congratulations! You have now created a one-page marketing plan which clearly indicates your intention for the year. You have a good section aimed at growing your business through customer acquisition and a second section aimed at retaining your existing customers so that they continue buying from you.
In order for your business to grow, it is imperative that you work on both sections of this plan. A start-up will focus most of their activity and budget on customer acquisition, although there is a time during the year when they need to commence marketing to customers too.
Customer retention is vital in any business and sadly this is often neglected. Consider this. If you have invested money in attracting a prospect and converting them into a customer, why would you not look after them and want them to buy from you time and again? After all, a customer that is looked after tells others. Word of mouth marketing, otherwise known as referrals, is the most powerful form of marketing you can get. However, you have to look after customers first before they become your biggest fan and talk about you.
And here's the sad truth…
Many businesses owners spend so much time attracting and converting prospects into new customers that they neglect their existing customers. So, all of the energy spent in obtaining a customer is wasted if they are allowed to leave easily.
What do you do with your plan?
OK, you've got a plan. Your role is to turn it into reality. Initially you will need to create the marketing for each element. Some parts, once written are transferable and can be used in other elements of your marketing. You can write deadline dates for each element of your marketing to go live.
The idea behind this plan is simple. You have your entire marketing plan available at a glance, so put it somewhere you can see it. Each element can be micro-planned elsewhere, but the idea is to have a quick reminder every day of the activity you need to create to be successful.
Of course, you will need to adjust and refine again during the year. Your plan is a fluent and not set in stone. Adapt to suit your growing experience, changes in the market, unexpected and yet welcome new products. It's interesting to retain the old plan and save a different copy each time changes occur. At the end of the year, it's always interesting to reflect and look back at your original plans and how you successfully adapted during the year.
The good news is that you will eventually become extremely good at planning your marketing. Refining and adapting will become easy. And, I'm sure you will cherish the simplicity of this plan.
Discover how to write your one-page marketing plan for your business
Click To Tweet