I came across a great website this week that displays their content in a refreshingly designed way.
Parasol Group was set up to help contractors & freelancers manage their paperwork and expenses, they're a B2B brand yet their website content gives the creativity and impression of a B2C brand. Its colourful and engaging, they've taken a not so exciting topic and transformed it.
I'm impressed by the visibility and use of their social networks, their language as a whole is very inclusive 'join the conversation' instead of the usual 'follow us' – follow you why? What is the benefit of doing so? Parasol have started to add the value by being inclusive, a step further would be to say why they should join the conversation (aside from feeling left out). Not only have they added the social links to the top of the homepage, they've also placed at the bottom aswell – I rarely see social links featuring twice so it's good to see the focus they put on them.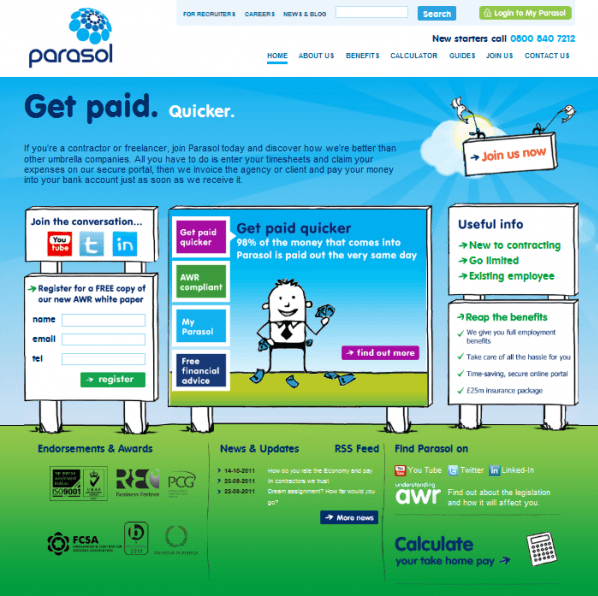 The navigation works well due to its simplicity, where possible just a single word – a caution though that it's very 'us' and not so 'you'. They can get away with it due the inclusive nature of the language, almost like becoming part of a family and being looked after. If they went a step further and added more of the value to the visitor it would nicely close the loop.
I mentioned in my last blog about the importance of using educational content and Parasol is doing just that. They have a blog and guides section which can be reached using the main navigation. A guide doesn't have to be a large pdf document – it could be in the form of a single web page, don't be put off by the scale of content, just put yourself in your audience's shoes and try to help solve their problem with your experience.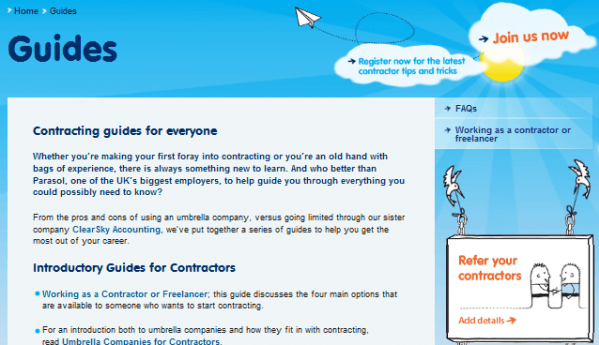 Finally I like the way they've included video content by interviewing one of their contractors. It gives the site a really personal feel and that is what their prospective customers would be attracted to in their business.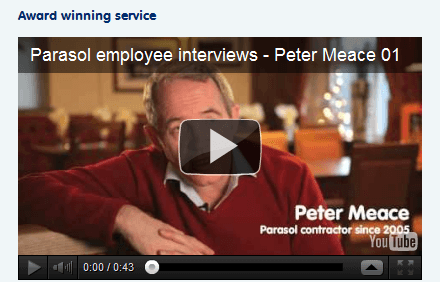 In summary this website is warm and inviting from the design through the words and event the types of content they've used. It's a great example of a company who want to engage with their visitors to encourage new business.