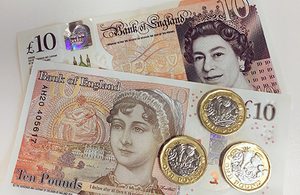 Chances are you've already crossed paths with the new polymer £10 note; the latest instalment in the ongoing changes to British currency.
But on top of that, digital payment options are undoubtedly on the rise, with the likes of Apple Pay and Android Pay becoming accessible to more people. So how much longer will actual currency be a thing? Let's explore the latest changes…
The New Polymer £10 Banknote
The new polymer £10 note was issued on the 14th September 2017, with the intention of replacing the previous paper note – much like we saw with the £5 note earlier this year. The move to polymer (a type of plastic) may seem controversial to some, but in a lot of ways it makes sense.
Paper has a habit of tearing and dirtying over time, but polymer notes are much more resistant to wear and therefore can last up to 2.5 times longer in circulation. This extended durability gives the polymer notes a lower carbon footprint because they don't have to be manufactured and replaced as often. Polymer notes can also be recycled into other plastic materials at the end of their useful life.
Polymer notes also allow for extra security from counterfeiting. The new notes feature various shiny foiled details, transparent windows, and textured areas, making the notes very difficult to forge. These features are more practically achievable with a plastic-like material compared to paper, and all help to stay one step ahead of counterfeiters.
Notes made of polymer also allow for tactile features for blind and partially sighted people; the new tenner has 4 raised dots in the top left hand corner. A new polymer £20 note will be issued in 2020, and will also have a tactile feature in a different pattern. The £5 will be identifiable by the lack of tactile features.
The new tenner is sometimes referred to the "Jane Austen" note due to the portrait of the author on the reverse, much like Winston Churchill's portrait features on the back of the new £5 note.
Essential Dates
The new £10 began circulation on 14th September 2017, starting the "co-circulation period" where both polymer and paper notes will be considered legal tender. The old paper £10 notes will be withdrawn from circulation in Spring 2018 – notice will be given 3 months prior of the exact withdrawal date.
Demonetised banknotes keep their face value to the Bank of England for all time, and any old banknotes you find after demonetisation can be exchanged through the Bank of England.
Advice to Small Business Owners
Take an objective view of how much your business relies on cash in its day-to-day running. Jot down all of the ways your business uses cash, taking stock of all of the machines you run that operate with banknotes such as ATMs, vending machines, self-service checkouts, or machines that sort money into smaller or larger denominations.
Check in with the companies that supply or service these machines, and ask how they will be updated to accommodate the new £10 notes. Your equipment might need replacing, or it might be as simple as a remote software update. Also confirm which notes will be accepted/dispensed from each machine during the co-circulation period; and communicate this clearly to anyone using the machines.
It's absolutely crucial to train your staff on the new notes. Make sure they're well-equipped to potentially spot forgeries, and that they are aware of the date that paper £10 notes will be demonetised. The Bank of England has issued guidance to businesses both on their "The New Ten" website, and Bank of England website.
The Future of Money?
There is a digital revolution afoot with regards to how we pay for things. Digital cashless services like Apple Pay and Android Pay are becoming viable options for today's consumer; but good, old fashioned credit and debit cards aren't going anywhere either. The "cashless economy" is a topic that's on a lot of economists' lips, and for good reason.
Financial technology company PPRO found that 26% of British consumers would never pay by cash when buying from a shop, and just over a quarter find it irritating when they have to pay by cash rather than card. It's therefore fairly obvious that non-cash options mean a lot to the average UK consumer. Additionally, the British Retail Consortium found that credit and debit card payments overtook cash for the first time in 2016 (as reported by MoneySavingExpert back in July).
So could credit and debit card payments overtake cash and become "the norm"? And could they eventually be leapfrogged by digital payment options? It's highly possible, but there are three issues that digital payment options will need to battle against in order to gain a meaningful foothold: technical proficiency, the public's trust, and individuals' economic situations.
Not everyone is technically proficient, and using digital payment options without proper knowledge of the security involved could leave some people vulnerable to fraud and scams. However, card payments are common knowledge, and even the least techy person knows how to make a chip and pin payment securely.
As a medium, debit and credit cards are tried, tested and trusted. Digital options are currently a bit of an outsider, and may be approached with some uncertainty. Recent digital security crises have made the general public more aware of how technology can go wrong, so the more cautious of us may retract to more tried and true payment methods.
Economical barriers to entry are also a factor; in order to make a digital payment, you need a smartphone that can reliably run the payment app in question. Therefore those unable to afford such a device will be fundamentally unable to make digital payments. However, cash and card payments don't require any initial outlay.
How Should Businesses Approach Digital Transactions?
Businesses should take a measured and informed approach to accepting digital payments by seeing what's out there and weighing up the costs and benefits. It goes without saying that businesses should never blindly leap into any "new shiny thing" without careful consideration.
Only you know what's right for your business. If exploring digital payments interests you, you might want to take a look at the two biggest household names on the market – Apple Pay and Android Pay. Their official merchant guidance pages are a good first step:
About Apple Pay for Merchants
Getting Ready for Android Pay
Making digital payment methods available to your customers isn't quite as painful as it might initially appear, but it's important to remember that credit and debit card payments are still totally viable options for a lot of people who don't favour cash. While you're checking your systems for compatibility with the new £10 note, take a look at your card payment systems too. Are your current systems working well for you and your customers? Are you able to accept contactless card payments yet? Fairly judge any other cashless opportunities available to you.
The Million Dollar Question
Is cash going anywhere soon? Frankly, it's unlikely. The Bank of England has plans for the £20 note in 2020, and has highlighted the longevity of the new polymer notes. Old ideas run deep, and the earliest known coinage goes back as far as 1000 BCE.
When we've been doing something for 3000 years, it's pretty safe to say it's not going away in a hurry.
We explore the new £10 note and the future of analogue currency in a digital world.
Click To Tweet
What's your opinion of digital payment methods – both as a consumer and a businessperson? Do you use Apple Pay, Android Pay or other digital options on a daily basis? Have you ever had any problems with making or receiving a payment digitally? Let's compare notes down in the comments!