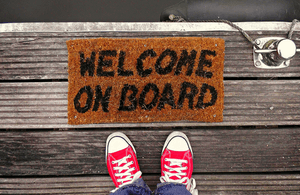 Onboarding matters if you want your customers to keep coming back for more.
Let's play with a metaphor: you take the person you've liked for ages out for dinner. You talk all night, you toast each other with a little too much wine.
One thing leads to another and…you go home with them. It feels like falling in love and all those months of tentative flirting are finally coming to fruition. It's magic.
The next morning, you get up and leave without saying a word. You never see them again.
A relationship takes work
After all the work that goes into marketing, why would you drop your customer the minute they do what you hoped for?
'Onboarding' is a sucky word but an important process. Even if you sell pet collars, there's still an onboarding process. The customer pays, then they see the confirmation page. They get their confirmation email. Those are two opportunities for enchanting your customer still further; a future buy is in the offing.
Beyond these standard points at which delight can be served, are you asking them to follow you on social media? Are you inviting them to review their product? Are you (in line with their GDPR marketing preferences!) following up on their purchase with instructions, advice or updates?
Don't let your sale be a one-night stand. Put in a little more effort and make it a romance.
Three ways to make your onboarding process amazing
If someone makes an account and buys something, you are legally allowed to follow up with account-related emails.
The purchase confirmation email is the only truly safe communication you can have without marketing permissions after GDPR. Use it wisely to deliver some seductive magic.
1. Discount on their next purchase
One way to make sure your customer will come back is if you pay them to. Duh! Everyone loves free stuff.
Any discount you give has to work with your target Cost Per Acquisition. You can't pass out a tenner to every Tom, Dick and Harry that swings by.
Set some rules. Maybe they have to spend a certain amount of money or show other valuable behaviours. A percentage is probably an easier discount to work with, and – if you run this as a campaign for a while – make sure you track the results in terms of take-up and extra ROI so you know if it's worth it to you.
2. Tips or next steps for their product
Tips are particularly great because they show you care, they invite someone into your world and they hopefully ensure that your customer will end up happy with what they bought.
Buying something and then doubting it's as good as you thought is not a positive way for your customers to feel. Stir in a bit of post-sale marketing along with your tips. Buyers remorse, be gone!
If your product or service involves an installation, app download or anything else that could be made easier, include some clear instructions. It may be obvious or the product itself could already include instructions, but it shows you care and saves the customer time messing around and feeling cross. Imagine if you could cut down on those incoming customer services calls. No more 'Have you tried pressing the On button?'
3. Invitation to engage
Another way to get customers on your side and in a position where they feel they know you is to get them connected.
Include your social links, point them towards where they can review their purchase and make your contact details welcoming. Yes, you may get more contact – which anyone in customer service reads as 'more expense'. But you will also address issues before they escalate, show the world how well you deal with customers AND sell more in the long run through repeat business.
Treat your new customers like the love of your life. They'll let other people know how wonderful you are.