Google My Business is a free, yet essential tool for increasing your online visibility. Mastering your Google My Business profile can help feature you in local search, can give prospects essential information about you at a glance, and can get eager clients in touch with you quickly while their purchasing intent is still high.
Whether you're totally new to Google My Business, or you have a listing that's overdue for a bit of TLC, let's explore everything you need to know to make the most of your listing.
What is Google My Business?
Google My Business (GMB) is a free resource provided by Google to list your business online. It performs many of the functions of a business listing site, but because it's provided by Google it also offers a number of crucial benefits to your visibility across Google services.
Creating a Google My Business profile gives you the chance to feature in Google "knowledge graphs" which look like this: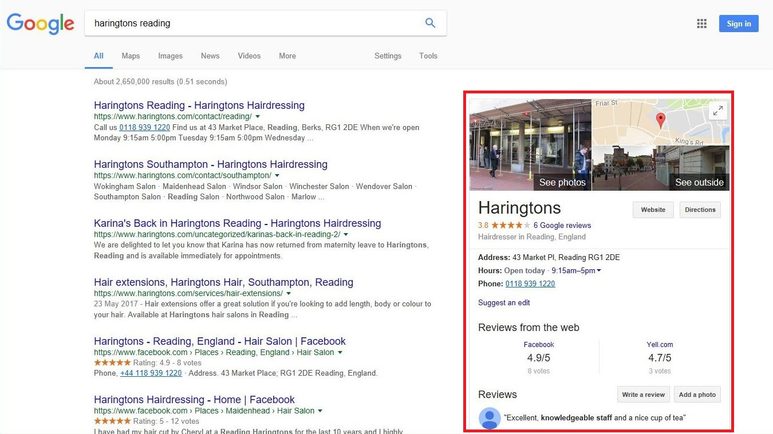 …or "map packs" (sometimes also known as the "local 3-pack") which look like this:
Why Use Google My Business?
Not only are GMB listings free and easy to set up, they can provide your business with a significantly increased area of screen "real estate" on the search results page. Knowledge graphs and map packs all take information from verified GMB profiles, so once you're listed, you have a chance of showing up in either of the above ways, especially in local search. Listing your business on GMB is essential for those looking to increase their visibility within the local geographic area.
GMB is also important for attracting interest from mobile Googlers; if you've ever searched for a business on your phone, chances are you will have come across a profile like this where you can call the company directly, get directions and see reviews all from one screen.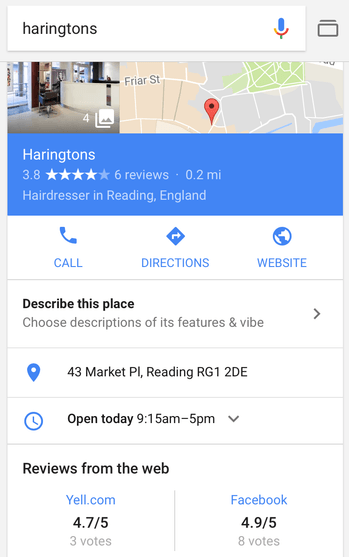 This kind of listing is also made possible thanks to the company's GMB listing. As you can see, it also finds customer reviews from elsewhere to enhance the information provided (Yell.com and Facebook shown in this example).
Where Do I Start?
If you've not already signed up to GMB, it's easy and totally free. You just need a Google account (if you use Gmail, you already have one), a postal address for your business (not a PO Box), and of course a business to list.
Head on over to www.google.com/business and click "start now" to begin. You will need to enter a few essential pieces of information about your company and then Google will send you a postcard with a verification code before your listing is visible to others. This is basically to prove to Google that you're a real company operating out of a legitimate address, and to protect against people setting up phony listings.
The card will take about 5 days or so to arrive, but you'll still be able to edit and optimise your listing in the meantime. Once you receive the card, head over to www.google.com/business again, log in, and enter the code on the card where prompted. And congrats – your listing will be live shortly!
Optimising Your Google My Business Listing
The Basics
You'll want to make sure that all the basic business information on your profile is present and correct. Even if your listing has been live for a while, it's always worth a double-check. Make sure that you have accurate profile and cover pictures; that your website link, phone number, physical address, opening times, and company name are all up to date; and that this data is consistent across any other listing sites you may be visible on, such as Yell.com, Bing, Facebook, TripAdvisor, etc. as well as the contact information provided on your own website.
The reason for staying consistent across other sites is that Google tends to look around and verify crucial contact details to ensure they're providing the correct data. If you have inconsistencies across your different listings, it's likely that Google (and potential customers) may get confused, so always check your other profiles for accuracy too.
If your business relies on people coming in off the street (e.g., shops, salons, eateries, etc.) it's essential to make sure your map pointer is located correctly and that your opening times are correct. You might also want to provide a picture of your storefront in your listing so people who have found you online can recognise you from the street.
When you're creating your listing, you get the opportunity to select one or more categories that you fall into. Take care to select categories that are as close to what you provide as possible.
Going More In-Depth
Once you've got your basic info sorted, it's important to post photos of your business. GMB provides two galleries for you to upload pictures to; the first one is called "at work" where you can show pictures of you and your team beavering away, and the second is called "team" where you can share pictures of all the lovely folks you work with.
Sharing pictures of your business hard at work plays into people's sense of trust. When we can see the faces of the team who will be serving us, we connect more strongly – and let's be honest, it's always nice to put a face to a name! Upload a few select images with keyword-rich file names into each gallery to provide graphical variety in your knowledge graph and maps search listings.
The knowledge graph draws reviews across from numerous popular online ratings sites, so if your business is present on sites like Yell.com, Facebook, or TripAdvisor, try and collect reviews there. However, Google will of course give precedence to reviews left on it's own platform. Follow these instructions to generate a link that you can send out to happy customers enabling them to leave a review on Google, and always respond to reviews people leave.
Sidenote: Yell Reviews show up on knowledge graphs too, so don't forget us here at Yell! Claim your free Yell Listing today!
An awesome new feature that Google have now rolled out to all My Business profiles is the ability to create "posts". These act as a call to action of sorts, placed just below the knowledge graph. Understandably this is an excellent development – not only does the knowledge graph give your business a healthy slice of visibility, but you also get to effectively add a "buy now" or "sign up" button beneath it.
This call to action can effectively capture the searcher's buying intent without them even having to leave Google! Posts are designed to be timely announcements and offers, rather than a "set it and forget it" thing, so currently they only seem to appear for around 7 days at a time. If you rely on local online visibility, they're well worth a look.
Happy Listing!
Want to maximise your #GoogleMyBusiness listing? Check out this guide!
Click To Tweet
Have you found any tips and tricks for Google My Business that you'd like to share with the world? Have you got any success stories where a GMB listing has got you in front of the right person at the right time? Do you think you'll use the new posts feature? Let's have a natter down in the comments!