I'm a fan of all things retro and you'll often see me in flea markets looking to give someone's old furniture or oddities a new home. My favourite piece recently is a 1950s sideboard that the last owner breathed new life into with a modern lick of paint to the top and a piece of glass over it. Now they probably didn't spend a huge amount of time or cost on the item but it made it stand out from all the other sideboards I saw, plus it looked shiny and new.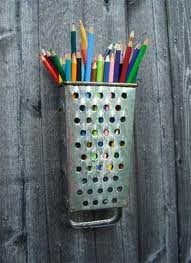 Welcome to 'up-cycling' – something quite popular as recycling and being good to the environment becomes trendy. What's this to do with website content? You ask. Well I think it's a newer practice that would benefit your website (and pocket) that can be borrowed from the second hand industry.
If you don't have a dedicated content team and inhouse designer (and many companies don't), then every new piece of website content you produce is a resource drain. You'll usually have to wait on someone else to do the production for you and you have copywriting and design to think about each time.
You may be lucky and have others in your company who can produce content for you but how often do they want to do it? You may want to update your site once a week with fresh new content but it's likely you're suffering from a bottleneck.
Depending on how long your site has been going, you may have amassed quite a backlog of content, you've probably got to the point where you have covered every angle known to man on your topic of choice. The good thing about this is that it probably has a shelf life of 3 months maximum – guides tend to be a little longer but blogs less so.
Go through any content that is older than 3 months and take a look at whether it is still getting page hits. If not (or they are very small volumes) you can use it to build new content, for example a few blogs could become a new top 5 tips or a guide could become a video or infographic. In some case you don't even need to change the content format – if written by someone else you can put your own spin on the topic and if there is more updated information on the topic then just update and put it out as just that – an update. Once a quarter or year, look over your most popular content and do a 'best of' – people like to read things they think are popular, it's like getting the nod of approval from their peers.
Even if you don't use the content right now, you can set yourself a plan of what you'll do with each piece and it'll be much easier that starting from scratch – good luck!