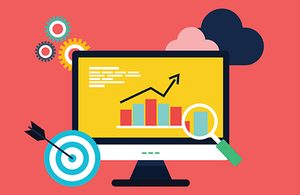 Pay Per Click (PPC) and Search Engine Optimisation (SEO) are both incredibly good ways of getting exposure for your business on search engines. Which one you use depends on the type of business you have, your business needs and the current stage of your business.
I'll concentrate on PPC and SEO for Google for this article as it's the most used search engine and accounts for around 77% of search traffic.
PPC
Pay-Per-Click (PPC) advertising allows you to create text-based adverts (Google AdWords) that appear in search engine results pages (SERPs), and they can also be displayed on Google partner sites. You pay money for these adverts and the amount you pay determines how prominent your advert is displayed and how long for. You only pay when users click on your advert.
PPC Benefits
Immediate – With PPC advertising, the advert starts working for you the moment you put it live. If your website or business is new, you'll take a while to build visibility for your business in organic search engine results. With PPC you get an immediate response as the moment you put the advert up it will appear in relevant search engine results, so you can get users seeing your business almost instantly. It's a great way to get immediate exposure – especially if you have a new business or new website.
PPC also works well if you're doing a marketing campaign – say you're an accountant and want to do a campaign for a month on "The best way to get your business accounts done by the year-end". You can write blogs and create pages but they might take ages to get up to a good spot in the organic search results, but with PPC you can put the advert up immediately and have it run just for the month of the marketing campaign.
Targeted – on Google search results pages you can now target specific users with Google's PPC targeting options:

Keyword targeting – words or phrases relevant to your product or service
Location and language targeting – such as a country, region or city
Device targeting – target based on the user's specific location, time of day and device type
Audience targeting – option to target people that have or haven't visited your site before

For example, if you are a hairdresser in Southampton, you could add the keyword "hairdresser", and then "Southampton" as the target location for your ad campaign. Then, when people in Southampton type "hairdresser" on Google, they could see your advert appearing in the search results.

If you want your ads to appear on Google partner sites, you have further targeting options, such as:

Placement targeting – Choose websites on the Google partner network on which you'd like to see your ads, e.g. if you sell shoes then you might want to appear on blogs where users review shoes as you know that the audience reading those blogs are most likely interested in buying shoes.
Topic targeting – Target web pages on the Google partner network that contain a specific topic – e.g. if you repair washing machines you may want to appear on pages that discuss how you can repair washing machines.

As you pay per click, you want to make sure that the users that click your advert are your key audience, otherwise you could waste money on irrelevant people clicking the ad and costing you money with very little chance of a return on your investment (ROI). Targeting has become one of the most valuable additions to PPC over the years as it allows businesses to target the right people at the right time.
Prominence – Paid advertising has lots of different options that give you very visible advert placements:

Top of search results – Adverts are displayed above the organic search results, normally four ads on desktop and three on mobile
Visual product ads – If you sell a product you can appear in the 'shopping' side of Google search results, with product images and prices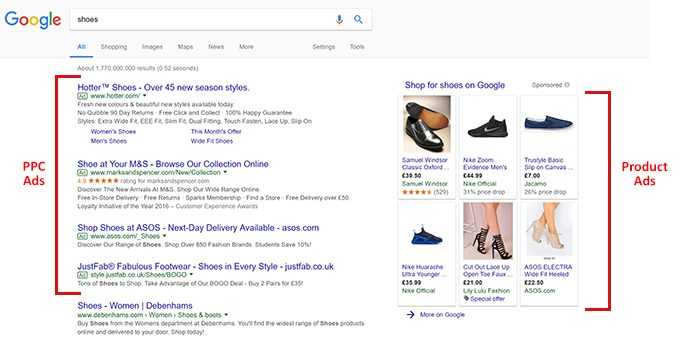 Extra Statistics – These days organic search analytics mostly hides keyword data in an attempt to respect the privacy of people using the search engine, but there is no such restriction with paid search. Integration with Google Analytics can allow you to measure the keywords and conversions of your PPC campaign so you can see which are giving you a good ROI.
Cost – Done well, a PPC campaign can be a low-cost way to drive traffic, particularly for small businesses. If you're a local business, in particular, targeting the right people in your local area can yield excellent results.
PPC Pitfalls
Look out for spiralling costs, cap your daily budget and keep reviewing what's working and what's not. If a certain keyword is getting lots of click-throughs, but not generating any revenue then either look at dropping the keyword, or refining your site content to align better with the visitors so that once they've clicked through they are more enticed to buy.
PPC does require constant investment, the moment you stop paying your ads will disappear and the traffic stream will end. Make sure you have enough traffic from other sources to keep you afloat when it stops. I once worked with a business that spent a large amount of money on PPC, but they couldn't stop as they had no other marketing, PR and very little organic traffic as they had put all their eggs in a single PPC basket. Make sure you have a healthy mix of digital and offline marketing.
Try to avoid getting into bidding wars with competitors too. Popular keywords, e.g. 'silver jewellery' will have lots of businesses bidding for the top advert spot, which will push costs up -you could be spending £50 or £100 for a single click. Choose keywords wisely, and if a competitor starts pushing up the cost of a keyword, decide if you'll get a worthwhile ROI, or if it's worth pursuing other less competitive keywords.
SEO
Google organic search is the best at creating the highest click-through rate (CTR) to websites – 71.33% of all online searches resulted in a page 1 Google organic click. If you want a strong flow of traffic you need to make sure you spend time and/or money on improving your site's SEO, including content production, keywords, navigation and links. Plus look at reputable external sites where you could get some good links back to your website.
SEO Benefits
Traffic volume – if you concentrate on PPC alone you'll miss out on over 70% of search engine clicks, which is an incredibly huge volume. By creating a good SEO strategy and raising your position in search engine results, you'll be able to attract a larger audience.
Business credibility – Organic results are trusted much more highly than paid ads. If you appear high in organic search results, people are likely to think that your business has much more credibility than those that just use PPC.
Cost – SEO does cost, just not as directly as PPC. Whether it's your time spent on optimisation and content, or if you pay an SEO company to help – sometimes costs can be reasonably high, particularly if your business is in a crowded marketplace and you are attempting to fight to get on to page one of organic search results. The ROI organic traffic generates though can often be much higher than for PPC.
Stability – Organic search won't just stop overnight, even if you stop working on it. You will eventually move down the ranks in the search results, but it won't be immediate like it will be if you stopped a PPC campaign. It means that if you're having a tough time financially for a couple of months, you can stop funding SEO and it won't affect you too quickly.
Competition – SEO takes time and effort, it means that a new competitor on the market can't buy its way straight to the top of the organic listings. Many businesses are also not willing to put the time and effort into a strong SEO strategy, so if you are it will keep you one step ahead of them.
Featured Snippets – These are sections of content that appear above the search results, often with text and an image. If you search for "how to make cupcakes" the snippet shows you the beginning of a cupcake recipe and a link to click through to the webpage. It isn't 100% clear exactly how Google decides on who appears in this snippet spot, but writing content that follows along the lines of "how to…" "what is…" "how do…" or "how does…" seems to be the most popular strategy.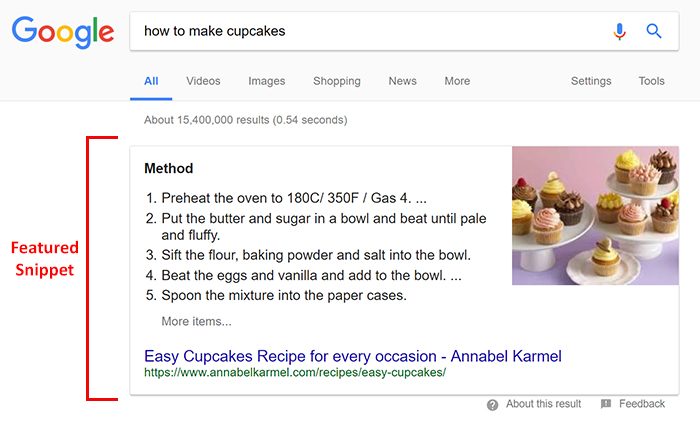 Google My Business – although not exactly traditional organic search results, if you have a local business then you need to be on Google My Business. The results display in a list and map format between the paid-for ads and the organic listings. They can add great prominence to your business when users search near them, e.g. "plumbers in Birmingham". This is a free listing and can not only drive traffic to your website, but it can also help potential customers see your address and phone number at a glance.

SEO Pitfalls
Organic traffic can be slow to build up and needs sustained effort. Depending on what you are selling you may be in competition with the likes of Amazon and eBay for a good page position in search engine results.
It can be difficult to know what keywords and subjects to target, you can use sites like http://answerthepublic.com/ – so for example, if you sold iPads you could see what questions people are asking about iPads in the search engines, I used the Answer The Public site and it came up with these results: http://answerthepublic.com/seeds/0589a43464ab20d39386 – one question in the list was "Which iPad for me?" so if it's a question people are asking then you could write a blog post, FAQ or web page answering this question and hopefully get some of the traffic, which you can then drive to your online/offline shop. It does require continuous research and content writing to make sure you cover the most asked questions and popular topics.
SEO or PPC?
PPC is best for:
New businesses / websites – as you can get visibility in SERPs, and therefore online traffic to your business from day one
Short-term marketing campaigns
Learning which keywords work best for your business (you can then use this knowledge to know which keywords to target for SEO)
Targeting local audiences
SEO is best for:
Brand credibility & trust
Continued, stable search visibility
Capturing the larger search-engine audience
Targeting local audiences (via Google My Business)
PPC gives instant results, SEO builds long-term business credibility - they are both useful
Click To Tweet
My best advice would be to start with PPC to get some initial traffic to your site, whilst crafting your SEO (content, keywords). Once you see decent organic search traffic coming to your site, dial down the PPC activity and then use it for targeted marketing campaigns.
If you're unsure how to do PPC or SEO there are lots of articles and videos online, or you could reach out to the experts to help run your search engine campaigns – find one with experience of working in your local area and business type, who will understand how to market to your audience and how to get the best return on investment.