When it comes to web content, "engaging" is an overused descriptor. For content to be "engaging" is surely a necessity, a given, if you want people to read it at all? To make your web content easy and enjoyable to read – that's non-negotiable.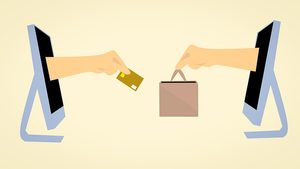 "Persuasive" is an adjective seen a little less in conjunction with the topic of web content, and yet all business web copy should be written with the aim to persuade the reader. Engaging web copy is all very well, but having interested the reader – does it then compel them to purchase?
You don't need to rewrite your entire website in order to convince your readers to purchase, but you may wish to rework key pages and sections of your website, such as the ones where conversions are most likely to take place.
Let's see if I can persuade you to adopt these five strategies to make your web content clinch you more sales.
Identify your target customer's pain point. Your first step in persuading somebody to purchase your product or service is to show them that they need it. To do this, you need to identify their "pain" – then explain how you can remove this pain. For example, a hairdresser's target audience's common pains might be that they can't find a colourist they trust, or they might be stuck in a style rut. In this instance the hairdresser can address each of these needs as follows: mention their expertise in colouring, mention their experience in advising clients, and finally identify what the client should choose this business over another. So the successfully persuasive web copy might look like this: "Stuck in a style rut? Need a colourist you can trust? You can put your hair in our hands with confidence. Our highly qualified and experienced hairdressers can remedy any problem, open your eyes to new possibilities, and make you fall in love with your hair again." The element of persuasion lies in you offering a solution to your audience's problems that they aren't able to find elsewhere; this is what will ultimately sell your service to them.
Create a narrative. Story-telling is a classic tool used by copywriters because the format is naturally persuasive. The beginning of the story should be about the customer and their pain point, the middle is your presentation of your solution, and the end is the hero combining the pain point and the solution, "saving them"– by getting them to purchase. So create a compelling story for your reader, the ending of which is them purchasing from you! For our hairdresser, the basic breakdown could be as follows:

Pain point: Can't find a hair colourist they trust
Solution: Experienced hair colourist
The Hero Comes Along: You have a highly qualified and experienced colourist working in your salon!

Give people a guarantee. What could be more persuasive than a promise? This could be a "satisfaction or your money back" guarantee, or simply a promise to respond to any enquiries or deliveries within a set time frame. This subconsciously creates a bond between you and the reader, because you've offered them something and set an expectation.
Get creative with your call to actions. Customers see "Call now", "Book today" and "Get a quote" all day long as they browse the Internet. How can you make your call to action stand out and persuade them to take the next step? The key to a persuasive call to action is adding an incentive. Never assume your customer is looking only at your website; what can you offer them that your competitors can't? The incentive doesn't have to be a discount or offer. Rather, restate your USP to remind them of the benefits of using you. Returning to our hairdresser, this might be: Call today to speak to a colourist with credentials!" or for something snappier, "Colour yourself happy again – call today to secure your appointment"
Give people proof by sharing former customer recommendations. These work especially well in the form of unobtrusive pop-ups on relevant pages. There is software available that can pull reviews through straight from TripAdvisor, or if you'd prefer a greater degree of control, simply copy and paste reviews yourself. A positive third party recommendation can often be the final piece of persuasion people need to convince them to purchase.
How do you persuade your customers with your web content? Share your tips in the comments!
Read More
How To Write Stand-Out Copy In A World Where Everyone's A Writer
Five Ways To Channel Customers' Emotions Into Sales With Your Content
Sell sell sell! 5 steps to persuade your website visitors to purchase
Click To Tweet