Blogging. It's a subject that divides internet users and business owners. Some people embrace the whole concept of blogging – they write a business blog, they love reading and commenting on other people's, and they've probably got their own personal blog as well. Other people are sceptical about blogs, and think they're self-indulgent, pointless, and certainly not something that belongs on a professional business website.
My view? On a personal and professional level, I believe business blogs are fantastic. They're a great way to keep your customers abreast of recent developments in your industry, as well as introducing them to the real people behind the corporate mask.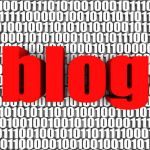 So why should I put a blog on my website?
1. It keeps your site feeling fresh, interesting and up to date. It gives potential customers a reason to keep coming back to the site (and therefore more opportunities to buy something or call you).
2. A well-written, knowledgeable, interesting blog will establish you as an authority within your industry. It shows that you know what you're talking about and you're passionate about what you do. What's more, if you reference local landmarks or areas in your blog, local readers will feel a connection with your blog – and your business – and be more likely to keep reading.
3. It's a great way to make your business seem more friendly, more personal, and altogether more human. Most business websites use the words "we" and "us" an awful lot, which can make it feel like the site has been written by a large corporate entity. But a blog written in the first person just feels more conversational, and reminds readers that there are real people with individual personalities behind the website.
4. Search engines love fresh content. Even if none of your site users read your blog, Google will. And Google will associate the rich, regularly updated content in your blog with your website – which means your blog could actually improve your site's search engine optimisation.
There are dozens of other benefits to a business blog, but these are four of the main ones. Next week, we'll be looking in-depth at the right kind of tone to use in order to keep people interested, and convert readers into customers.