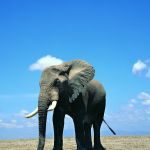 What's the fastest way to infuriate animal rights organisations and lose domain name purchasers? Well, shooting a video of yourself murdering an elephant has to be one of them… Just ask GoDaddy (internet web address provider) founder Bob Parsons.
Last March, Parsons published the controversial video which featured himself shooting an elephant and Zimbabwean villagers wearing 'GoDaddy' hats*. A later video was published showing the villagers butchering the elephant.
The video quickly went viral, and there were immediate calls from various individuals and the charitable organisation PETA to stop using GoDaddy; PETA even transferred over a hundred of their existing website domains away from the provider*.
Did it have a massively negative effect on GoDaddy's sales? Sadly not; while many animal lovers were furious, most of GoDaddy's customers who saw the video didn't care enough to switch domain names – an easy process which can seem deceptively complex (or so some domain providers would have you believe). If anything, the video will have attracted more publicity to the website; as they say, no publicity is bad publicity – and Parsons was quick to defend his actions, saying that it was a 'problem' elephant.