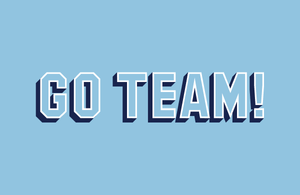 'Marketing' means different things to different people, so it's very important to decide which activities are covered by which role within your marketing team.
For instance, brand is not the same as marketing. It doesn't involve the same skills – it just has crossover.
A marketing team is not only made up of creative personalities. You need a numbers person, a data person, a technical person. We're not all artists! If we were, nothing would get done.
Activities and skills across a marketing team
These different areas are by no means covered by one person each – the size of your organisation will dictate whether they're split between multiple people or if one person covers several areas.
These are simply the activities that need to be covered by the team as a whole.
1. Lead generation
This is the hardnosed, technical side of marketing. The side I'm not very good at. Lead generation is reliant on good creative but it's as much about placement: where and when you're grabbing your potential customer.
Lead generation includes:
Search – SEO and PPC
Affiliates, aggregators
Product-related social advertising
Display advertising
2. Creative
Creative is in charge of production for the whole business – which is the reason I actually moved my team out from the umbrella of 'marketing'. It can confuse people when designers and copywriters aren't automatically marketing-skilled humans.
Example: a product copywriter would write the instructional microcopy in a customer app; a marketing copywriter would write the benefits of the app in an ad. Both would sit in creative, providing the production for all the different areas of the business.
Creative includes:
Design
Copywriting
User experience
Brand guidelines
3. Product design
Product design means the entire customer experience, from the buying journey to how the product works for a customer at every point.
Product design should include the technical proposition: what the features are and how the product works. Creative then take this proposition and work out how to best sell the benefits to the customer.
Product design includes:
Product features
Buying journey
App
Communication rules and timings
4. Data cycle
Data at the beginning and data at the end. We need data to inform our decision-making, then we need data to tell us if we were right and how we can keep improving.
Data is essential in marketing but too often we're chasing the wrong data – the vanity metrics. Likes and page views are out. We need to know real engagement stuff, like drop-off points where people fall out of the sales funnel and exactly how they engage with page content.
Data includes:
Market research
Data from industry or government reports
Website, app and social analytics monitoring
Test and learn
Reporting to drive change
5. Customer
Separate from customer experience, this is the ops side of things – so, you may have this as a different team. However, insight from customer service should be constantly flowing into marketing, so you can hone marketing messages and how the product works.
Customer includes:
Customer Relationship Manager (CRM) for customer comms and upselling/cross-selling during their lifetime
Customer comms like admin emails
App notifications
Reviews
Insight gathering, like pain points, user experience feedback or feature requests
Social media customer service
FAQs and customer/product-related content
6. Brand activity
Branding itself comes under creative, but the brand awareness activity you need to do involves bits of paid media as well as things like PR – very different skills.
Brand activity includes:
PR
Brand social as opposed to marketing a product directly
Brand awareness advertising (not product-led)
Thought leadership
Business content
7. Project management
There's an element of project management that needs to happen to keep delivering as a marketing function. It may be managed by the marketing team manager or you may need a dedicated PM to keep things moving efficiently.
Project management includes:
Handling briefs
Managing deadlines around resource
Organising reviews and signoffs with stakeholders
Managing delivery
8. Admin and budgeting
Again, this might be managed by the team leader but it's a very different skill from the more creative CMO or Creative Director view of things.
Any leader in a marketing team needs to be able to understand every area – especially data, project management and budget – but as they are likely to be a creative person that can direct how the brand should behave, they may need support with the financial or administrative side. They also very likely don't have time to be a do-er as well as a director.
A marketing team has to scale
This sounds like an awful lot of work, because it is. Small marketing teams can achieve a lot but there does come a breaking point where too many responsibilities are shared by too few people, leading to less attention to detail and lower quality.
Plan this scale. If you know when you want to level up to the next phase of marketing, you'll know when certain responsibilities will need an owner.