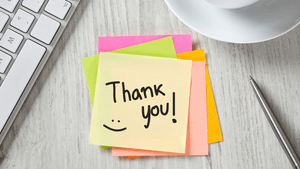 Did you know that a well-crafted Thank You page can be one of the most powerful tools in your small business marketing arsenal? A simple "thank you" can go a long way towards building relationships with your prospects and customers, keeping them coming back for more.
In this article, we explore the power of Thank You pages and how you can use them to increase leads and boost sales for your small business.
What is a Thank You page?
A Thank You page is the last page a prospect or customer views after completing a desired action with your business. They can show up in many places during your buyer's journey, and can have different purposes. Here are a few examples:
After a user has completed a contact form.
At the end of the online registration process to thank a user for registering for an appointment, or an upcoming webinar / event.
After an online purchase as a way of both acknowledging and validating the completion of a transaction. This could also be known as an enhanced purchase confirmation page.
As part of a promotional campaign sequence, to allow users to download items or perhaps enter a giveaway of some kind.
After someone fills out a form to join your email community or newsletter subscription
During the early stage of your sales funnel after signing up to receive one of your lead magnets (free resources), e.g. a free assessment, PDF download link , checklist, ebook, software trial etc.
Why should you use a Thank You page?
Thank You pages provide an additional layer of satisfaction and acknowledgement from websites and are just one way businesses can thank their customers for engaging with them.
A Thank You page helps create a sense of connection between your website visitors and your business.
Not only does it show your appreciation for the action taken, but this page also gives you the opportunity to deepen the relationship by providing relevant information on how they can learn more.
What should you include on your Thank You page?
Start by thanking your prospect or customer for the action they have taken, in a nice, professional manner, making sure it also reflects your brand's personality. If applicable, then outline any further steps the reader needs to take e.g.
after a purchase, provide order details and outline delivery timescales etc
after a form submission, include a success message and then detail what to expect next
after an appointment booking, outline anything they need to know to prepare for the meeting
let new subscribers know to look out for a confirmation message email if you are using the double opt in process to add people to your mailing list
provide a button to click to access their lead magnet, or product (digital downloads)
provide a link to a tutorial
walk someone through the account creation process if they are joining an online membership
the list goes on…
What else you include will depend on the stage within the sales funnel and what next action you want to encourage visitors to take. So set that goal first and then add relevant content to help you achieve it. For example:
Goal: To increase future touchpoints
Include social media links to prospects and customers can easily follow you on any platforms they use. This is a great way to stay in touch with your prospects should they choose to unsubscribe from your mailing list in the future.
Goal: Layer value to demonstrate expertise
Add links to additional resources you have available, such as a blog post, a guide, a video tutorial, your newsletter sign-up – as long as it is relevant to the previous action taken. Layering value this way helps demonstrate your expertise, so nurtures the lead and boosts conversions.
Goal: Upsell or Cross Sell
Here the goal is to take a payment if one hasn't already been taken, or increase the value of the sale. Add call-to-action links to related products or services. This will also let your reader know that it wasn't a one-time interaction.
You can also make a time-sensitive offer with a voucher or discount coupon.
Goal: Gather further information
There's plenty of thinking you can include here. A poll, a survey, a quiz, a link to an interactive game, follow up form. It's all about keeping the reader engaged with your brand so you can get to know them better.
In conclusion
Thank You pages are an invaluable asset for any business. They serve as a way to both show appreciation for the action someone has taken, and, at the same time give additional opportunities to encourage lead generation, upsells and cross-sells.
Remember, overall page design is important. Too much content will cause overwhelm and confusion. Keep it clean and simple to navigate, whilst using eye-catching colours and images to make the page visually appealing.
With a bit of creativity, good design and carefully selected content, you can create a Thank You page that will impress your visitors, help build trust in your brand and lead to an increase in sales and success.
So don't underestimate the power of a well-crafted Thank You page, it could be your simplest, yet most powerful marketing tool yet!