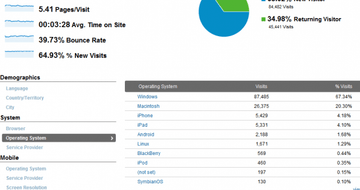 Google Analytics is a free web analytics service that tracks visitors to a website and provides data on how visitors found the site and what they did when they got there.
This helps site owners to improve the performance of their website, increasing sales and maximising calls to action.
How does it work?
In order to use Google Analytics, a small piece of background source code is added to a website, which delivers information about site traffic.
This is then analysed to provide website owners with a range of easily-understood information about the way that visitors use the site.
Can I customise it for my needs?
The data provided by Google Analytics can be presented in a way that is customised to the needs of the website owner.
You can use the predefined segmentations, such as paid traffic or conversions, but it's also possible to define your own variables so you can collect, segment and analyse data to suit your needs.
Results of this analysis can be presented in a range of ways, showing current and historical data, and allowing side-by-side comparison. Reports can be customised to include particular metrics and comparisons, and report formats can be saved for later reporting periods.
Tables and charts
One attractive element in Google Analytics reporting is the ability to present your data using different kinds of charts and tables. Motion charts, which show changes in data over time, let you visualise changing relationships between different metrics.
This helps you to compare and contrast the effect of marketing campaigns – such as special offers, keyword changes or new advertisements.
Other reporting tools are available to allow you to analyse conversion rates, visitor locations, advertising effectiveness, keyword performance and the results of email, newsletter and mobile campaigns.
Will it protect my data?
Web analytics can deliver sensitive business data. Like other analytics applications, Google Analytics has controls to limit access to reports containing confidential information.