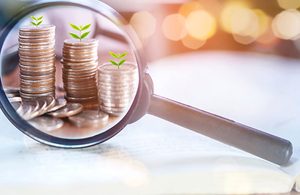 If you ask around, you'll find that some element of external finance now forms a key part of many business strategies, and if used correctly, it could even mean the difference between failure and success.
Yet for some business owners, seeking funding for their business can still seem like a rather big and daunting step, especially when it's perceived in terms of 'borrowing' and 'debt', rather than 'growth' and 'potential'.
The reality is that business finance has changed massively in recent years and confidence in the market's ability to deliver a suitable funding option is growing.
The huge variety of different products available in today's thriving market of alternative finance means it's now easier than ever to secure finance that fits with your business and what you're trying to achieve.
There will likely come a time in the life cycle of most companies when external finance provides the answer to a problem.
Whether it's help starting a business in the first place, funding to initiate your next level of growth or some emergency finance to dig you out of a potentially devastating hole, business finance can be the lifeline you need.
Loans for starting your business
You might need help getting your business off the ground, and while you will probably be expected to inject some of the capital yourself, external finance could be key to turning your business dreams into reality.
A government-backed Start-Up Loan is a good place to start if you meet the criteria and need less than £25,000, but won't be right for everyone. Otherwise, business loans generally fall into the categories of secured or unsecured, although as a startup business, you will likely be looking at a secured loan. These will take tangible assets such as commercial property, machinery and vehicles as security for the lender in case you default on the repayments. Although this can seem like a big commitment, it does give new businesses access to capital that can be vital to the operation.
Asset finance for your equipment
It could be that your business needs to buy equipment to get it up and running or to hit that next level of growth. Whether this means a vehicle, a fleet of vehicles, a forklift truck, a printer, or any other form of equipment, you will probably be able to get it on asset finance. There are various forms of asset finance and vehicle finance, but what it essentially does is give you access to the items you can't afford to buy outright.
Hire purchase enables you to buy equipment by spreading the cost into set monthly repayments over a number of months or years, while equipment leasing lets you effectively lease an item for a period of time, in return for a set monthly fee.
Invoice finance for improving cashflow
Sometimes it's not even about borrowing huge sums of money, it could just be a case of unlocking the money you technically already have in your business.
If cashflow is a problem, invoice finance is a great way of freeing up some working capital. This works by releasing the cash you have tied up in invoices almost immediately, rather than having to wait weeks or even months to get the money. Many businesses have been bound by unfair payment terms and experienced late payment of invoices, and both can be incredibly stifling to growth.
With invoice finance, a lender takes the burden of that debt for you by advancing you the majority of the cash as soon as you raise an invoice – typically up to 85%. Once the invoice is paid by the customer, the money goes straight to the lender, who will then forward you the remainder of the cash, minus their service charge for the facility.
Emergency and contingency finance
Sometimes businesses can find themselves in a situation that there's just no getting out of without a little extra help. While some emergencies can't be predicted, others can – and luckily there are business finance solutions that can help with both.
You might have a high tax bill coming up, a busy or quiet season (such as Christmas), or perhaps a vital piece of equipment breaks down unexpectedly.
For seasonal cashflow problems, you might consider a revolving credit facility which is similar to an overdraft. It gives you a pot of cash to dip into whenever you need a quick cash boost. You can withdraw from the pot to an agreed limit and once you have repaid some, the fund automatically renews. The benefit is that the money is always there in the background for you to call upon, without having to reapply for new loans each time.
Short-term loans can also help in either scenario as there are various short-term business loans that can be organised and approved quickly, giving you the cash in your account in a matter of hours. You can even get terms of as little as three months, to fill a short-term gap, rather than having a commitment that drags on for several months or years.
Another useful form of finance to have available to call on in an emergency is a business credit card. These needn't be as daunting as they sound and can be good for getting you out of a hole, especially if you are able to repay what you have borrowed within the interest-free period.
Conclusion
Business finance doesn't need to be daunting. As long as you take time to research the market, read all the fine print and don't take on too much borrowing in one go, it can actually be an incredibly useful tool for your business. If you're not sure where to start, taking advantage of an expert service like Funding Options can help you make the right choice for your business.
Conrad Ford is Founder and CEO of Funding Options, the UK's leading online marketplace for business finance. Funding Options helps businesses find the right funding for their situation. Whether they want to grow, they're fighting for survival, or simply need to pay a tax bill, @FundingOptions is helping the small walk tall.