It can take time and energy to produce decent content on your website. Whether you're writing it yourself or having to chase up other people in your organisation, you want to make sure as many people as possible view it.
So why not look outside of your website for viewers?
There are definite benefits to sharing your content outside of your website, firstly you're expanding the reach of your brand, secondly you can use that content to drive traffic back to your website and lastly you're making yourself and your brand an expert.
A place where people don't necessarily know to share their content is a website called Slideshare.
What is Slideshare?
• An online community where you mainly share presentations, videos and documents
• Based in US but viewed internationally
• Free to set up an account and share
• 60 million monthly visitors and 130 million pageviews
Once you've set up an account, you give yourself a public profile which can be either a person or a company. If you have a free account then there will be ads shown on your pages. It doesn't cost much to upgrade to a Pro account and then you lose the ads and also get a lead generation service (sends you an email if someone says they're interested to talk to you).
But I digress, so you've set up your account, got a profile and now you can just upload presentations or documents for people to see. It's great for presentations – my company has done presentations for conferences or workshops and we then just share them on Slideshare so more people benefit from them.
If you're uploading docs then avoid word docs, turn them into a pdf first or people can then download them and change them. This is great I you're giving as a template but not if it's your hard worked on whitepaper!
You can follow people and they can follow you which is a good indicator of how popular your content is but start with just adding things and then sharing the link (or embedding the slideshare pres or doc into your web page or blog). The embed looks clean and is a nice way to have visual content on an otherwise static page.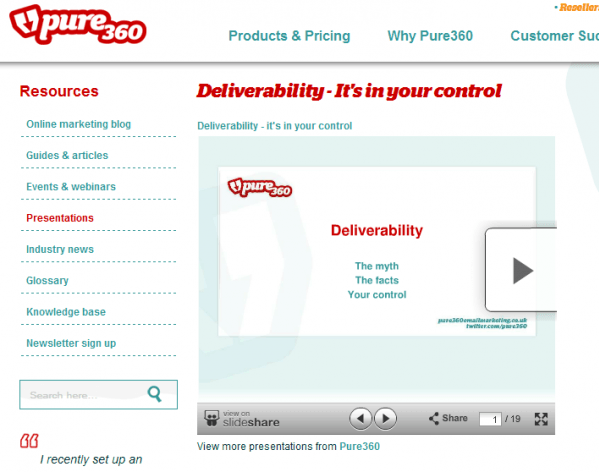 The best thing to do is get an account and start having a play, make sure you keep it up to date and you link to it from your website and other channels to grow your following. Good luck!