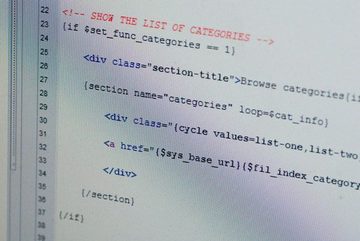 It's crucial to structure a business website well for two key reasons – search engine optimisation (SEO) and website usability. Get your structure wrong and some people in your target audience could miss your site altogether. Those who do find it could struggle to find what they're looking for – reducing your chances of converting them from prospects into customers, and discouraging them from coming back.
Restructuring an existing site can be challenging, so it's a job best addressed when creating a website from scratch. Here we outline a few tips to bear in mind when planning a new business website to ensure you get the structure right.
Attracting traffic to your site
To perform well on search engines, a business website must be built with search engine optimisation (SEO) in mind. When planning your site, divide your content into categories then break each down into a main section and subsections. Keeping to a maximum of three levels of navigation is best for search engine optimisation. Search engine crawlers often don't explore deeper than that, so crucial pages of your site might go unranked.
Where possible, use targeted keyword phrases for your section and subsection titles. This will help your site come up in searches for those terms. Your web developers should be able to supply you with a list of relevant keywords.
You will also need these if you're going to be writing your own content, so it's good to ask about this at an early stage.
Creating cohesive user journeys
The way you structure your website will make a huge difference to the user experience. So before building a website it's essential to think about your target audience and what they will be looking for when they visit your new site. This will help you organise your content in a way that will encourage visitors to stay and read more.
Intuitively you might think the homepage is the most important page of a business website – however, the subsections are equally if not more important. This is where you'll go into more detail about what your business offers, so these are the crucial pages for securing sales.
Make sure the content you include here is well written and relevant. Include strong calls to action, making it easy for users to contact you or make a purchase.