A unique study by Southampton University* and commissioned by Yell has identified what makes individuals trust one company website rather than another – and, therefore, choose as a supplier. This article summarises the findings and provides a practical checklist for what this means for your business.
Contributors to trust
The research identified criteria which are important to users when evaluating a potential supplier when looking at their website.
Most important reasons for choosing sites
The most important are ease of use and site functionality – especially (in order of importance):
Easy to find information
Easy to read descriptions
Coherent and Simple
This 'Wordle' from focus groups shows the criteria that made them trust a web site the most. The bigger words show the more important criteria: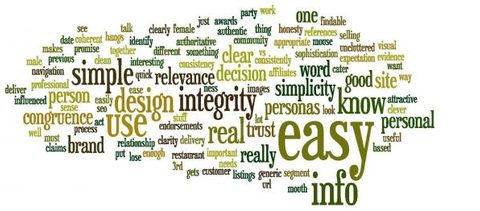 For a site to be trusted it has to convey the idea that there is a team of real, locally based people who have taken the trouble to make it easy for you to do business with them and who are there on the end of a phone to sort problems out once they've happened.
Anything clever or that gets in the way of this is at best not relevant and at worst actually gives a contrary impression. That's not to say that people don't appreciate elegant use of technology – they just don't want it pushed into their faces.
A caring, responsive, effective approach to doing business that provides honest value backed up by meaningful recommendations from real people is what you need to work towards conveying to the site's eventual customer.
Reasons for not choosing websites
The research identified reasons for not choosing sites tended to focus on wordiness, too "salesy" and a dislike of the colours.
The least important criteria for trusting a website
Size of the organisation
Videos to illustrate what you get
Sense of Community
The research has identified the following complete list of criteria that make individuals trust one company website rather than another:
Ease of Use
Simple to understand – Simplicity is key
Clarity of approach
Easy to find information
Easy contact details
Contactability
Being able to enter into a dialogue
Prominent contact details
Easy contact details
Authenticity
Features and information which demonstrate authenticity
Recommendations, testimonials, reviews, accreditations transparency on pricing
Information
The site is informative
Easy to find information
Transparency of information
Accuracy – absolute attention to accuracy in copywriting – no typos or broken links – the older and more female the target demographic the more critical this becomes.
Being local
Location (being local)
A local presence
Presenting yourself locally/ as being local.
Number of branches
Being personal
Give a sense of who the people behind the site are and what you are about, being personable – convey the authenticity of the people behind the site.
Easy contact details
Other factors:
Professionalism
Time in business
Range of choice
A good reputation
An attention to detail
Customer focus
What this means for your business and website
Review your website to make sure it is:
Easy to use.
Has clear contact details and features.
Demonstrates your authenticity and reputation (recommendations, testimonials, reviews, accreditations and transparent pricing).
It is informative, with honest and transparent details about who you are, what you do, what you offer, your opening hours, how long you've been in business, your range of choice you are offering, and pricing.
Is accurate with no typos or broken links or incorrect information.
Shows where you are based, and emphasises your local presence.
Is personal – Give a sense of who you are and what you are about – blogs, contact details, photos, bios with your expertise, reasons for your professionalism, staff details, pictures of your vans or shop premises, factory floor, events and so on.
*The source for this is:
Website Research project for Yell by Dr Alan Rae – Ai Consultants, Dr Lisa Harris, Southampton University, June 2011
Summary of methodology:
(1) selection of sites to be compared from relevant industries (having a consumer rather than a b2b focus) one of which would be a small company and one which would be a larger one from the same sector.
(2) focus groups in London and Brighton plus one for Students in Southampton
(3) online questionnaire