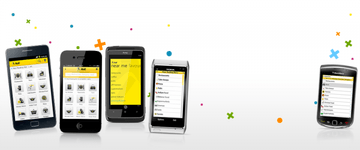 Mobile marketing is a way of reaching customers and potential customers using mobile phones, smartphones, tablet computers and similar devices.
Types of mobile marketing
There are several different ways of marketing through mobile devices:
SMS (text) – a short text message sent to a mobile phone to promote a company, product or service.
MMS (Multimedia Message Service) – messages that include text, images, audio and/or video content.
Mobile applications ('apps') – a piece of software downloaded onto a smartphone or tablet computer, sometimes used instead of (or as well as) mobile websites.
Location-based or proximity marketing – used to connect with mobile users based on where they are at that time. It's very useful for retailers, restaurants, galleries, and other leisure outlets.
QR codes – special barcodes which appear on advertisements or point-of-sale material. The user scans the code using their mobile device's camera, and receives a message or is connected to a website.
Bluetooth marketing – content which is distributed wirelessly to a mobile device in a specific area. Highly localised, it's often used in retail facilities and exhibitions for short-term promotions.
Advantages of mobile marketing
Properly used, mobile marketing is a good way of targeting groups of customers and potential customers. Mobile devices such as smartphones and tablet computers are widely used and allow you to target specific customer segments, especially by location.
Owners often see their mobiles as personal accessories, carrying them at all times and using them for socialising and browsing, as well as for communicating. That means they are easy to reach – unlike other types of advertising, you don't need to wait for targets to switch on the TV, open a newspaper or magazine, pass by a poster or use their home or work computer.
What are the potential issues?
Mobile marketing is not always easy to get right, as the devices use a wide variety of different screen sizes and operating systems. The smaller size of screens also limits what can be done.
Also bear in mind that users may not like getting unsolicited messages on their mobile phone or tablet – which could have a negative effect on your brand image.