Ad Scheduling. Yet another useful tool to any PPC'er.
Well. What is it?
It's a tool within the AdWords system which allows you to say 'Yep, run my adverts all day Monday but pause them on Sunday' or even more specific, pause them from 4pm – 10pm every night. Something like that. Basically control over exactly when your adverts appear on the network.
Why would you do this?
Perhaps you want to keep your budget for core business hours. Perhaps the office is closed over the bank holiday weekend, you don't process orders after a certain time and all your ad text says you do.
Or, if you're being clever you could have one campaign which runs from say 8am – 2pm advertising free postage or next day delivery. Once it hits 2.01pm you can set this campaign to be paused and your campaign, with the same keywords in but adtext which doesn't promise such fast delivery to go live.
It's also great for optimising. If from looking at Analytics you can see a certain time of the day when your conversions or KPI are really positive, make sure you are on. If, after a decent amount of testing and traffic you identify a certain time period which really isn't working for you, pause it. Make sure you are pausing it for the right reasons though; it's not returning your spend. You would expect lower traffic levels at midnight but lower traffic doesn't cost you, if it's converting and you're happy with it, don't pause it.
But. Say you want to use this tool, to test it, how do you set it up?
In AdWords, click on 'Settings'. Click on the campaign you wish to activate 'Ad Scheduling' on. Look at 'Advanced Settings' and 'Schedule: Start date, end date , adscheduling'. Then on Ad Scheduling next to 'Display ads all day and hours' click on the little blue edit button and choose your hours!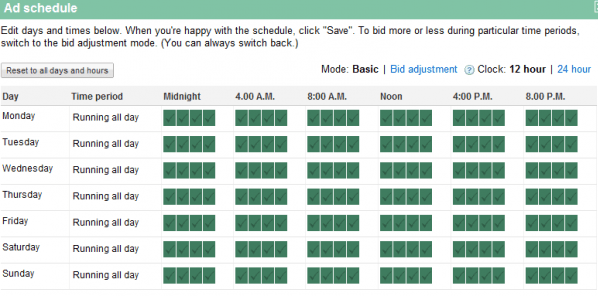 If you activate to stop your ads running at certain times, keep a close eye on it.
If you notice other areas declining, optimise it. Late night searches may come back organically in the morning, or they may just be dead end leads.