Does your business generate many of its leads or sales over the phone? If the answer is yes, Google's introduction of call-only AdWords campaigns was a significant update that could make PPC advertising much more effective for you.
What is a call-only AdWords campaign?
For some time now, advertisers on AdWords have been able to use a click-to-call extension in their ads. When viewed by mobile users, the extension places a button in the ad with a phone symbol and the text 'Call'. If clicked, the searcher immediately makes a call through to the phone number selected by the advertiser.
The issue with this extension is that the searcher typically has two options: to click the main ad, and visit the relevant landing page on your website, or click the button and make a call. And given that choice, most people opt to visit your site first.
Why might classic click-to-call extensions not be that effective? Two reasons really. First, the ad is trying to do two things at once, which makes for a mixed message and difficulties when writing the ad text. Second, web visitors convert to leads at a much lower percentage than people who call: the former might typically generate leads at around 3%; inbound calls (assuming that the visitor meant to call) will be 100%. Based on this, Wordstream estimates that calls to a business could be worth about three times as much as website clicks.
Recognising this, Google has created call-only campaigns that eliminate the possibility of a website visit from the ad – and always show the call button, irrespective of ad position. In this new format (see below), the phone number is displayed in the headline, and although the landing page URL is shown as a display URL, it can't be clicked. So the ad messaging can focus entirely on encouraging the viewer to call through.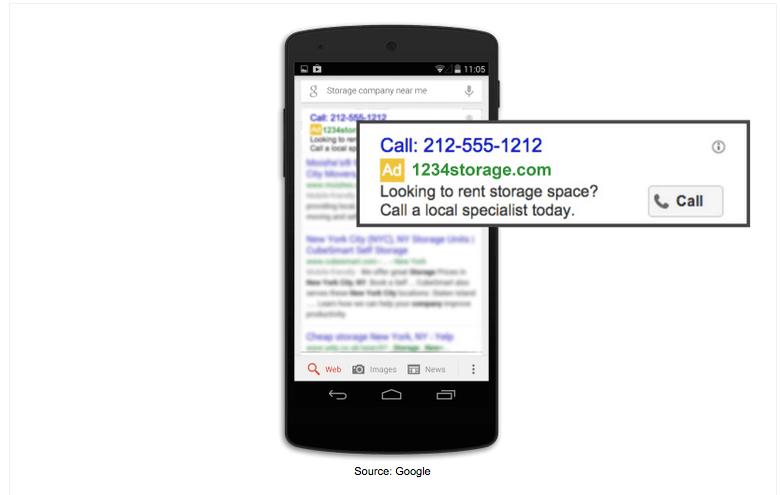 Why you might want to drive more inbound calls
In the UK, visits to retail websites from mobile now outnumber visits from desktop. With mobile search set to drive 70 billion inbound phone calls to businesses globally by 2016, according to this study, and over 60% of mobile searchers saying that click-to-call is an important part of the purchase process, it's a channel that's hard to ignore. By 2018, the value of inbound calls to businesses in the US alone is projected to be $5.2 billion (from $4.4 billion in 2015).
For certain businesses (restaurants, tradesmen, hairdressers among others), call-only campaigns offer immediate value – since in many cases, the main function of websites for these businesses is to encourage a call lead. If you can cut the website out and get the call immediately, so much the better.
For other businesses the advantages of getting just calls may not be so obvious. Let's examine the pros and cons of a pure play on inbound calls:
Pros
Provides answers to a customer's problem not answered by your website
Attracts potential customers who want to speak to a real person
Gives customers final reassurance on an issue prior to making a purchase
Avoids a poor website experience if your site isn't yet optimised for mobile
Cons
Bypasses your website (could mean missed opportunity for brand awareness, email capture, or future upsell)
Makes you dependent on call staff to close leads and capture all data required
Limits ad scheduling to times when your business is available to take calls
Could result in clicks from searchers confused by ad format and not intending to make a call at this stage
How to set up a call-only campaign
Call-only campaigns apply only to the search network, not display. Set up a new search campaign as normal in AdWords, then choose the Call-only option:

All other settings will be as normal, except that under Bid strategy there's now an option called 'Create a new Maximise clicks strategy':

Remember that what you're bidding for here is the maximum amount you're willing to pay for a phone call. If you know what your conversion rate from call leads is, and hence the average value of a call, this should be relatively easy to determine.
Once you're prompted to create an ad group for your new campaign, you'll see the form below. When entering the phone number, remember that this is the number searchers will come through to. Make sure you don't put in your regular contact number if that's not where you want people to come through to from these ads.
Make the description heavily focused on the act of calling (for example, include 'Call For A Quote Today', or 'Call To Speak To An Expert Now'). Callers will see the display URL but won't be able to click it, so choose whatever seems most appropriate. The verification URL is optional, but allows Google to check that the phone number shown on one of your site pages matches the number in your ads.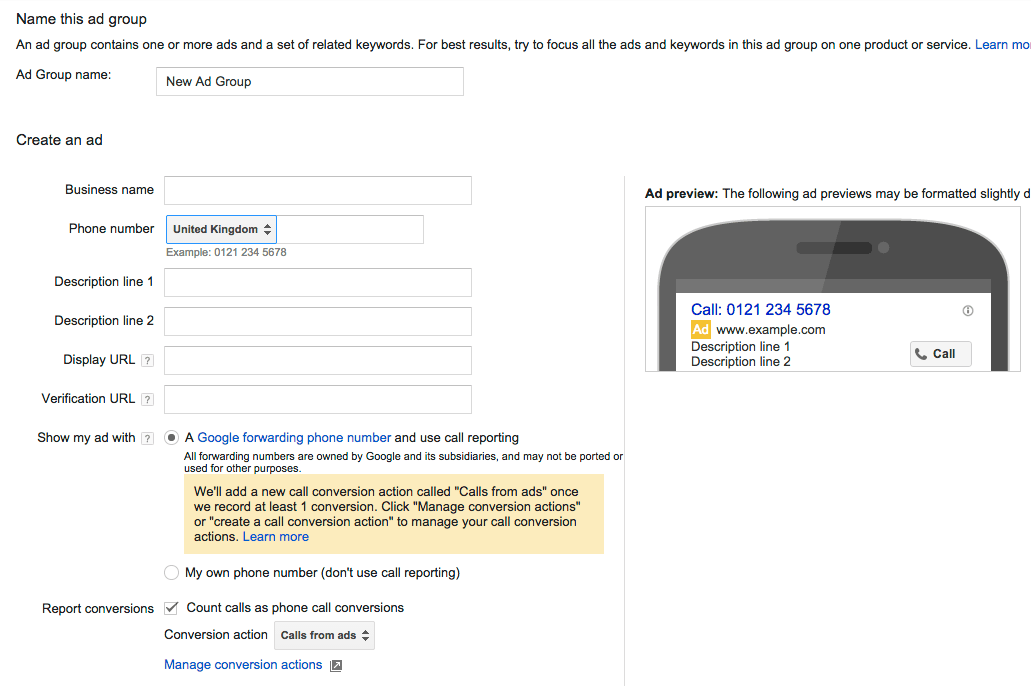 Tips for optimising call-only campaigns
It's probably best to use a Google forwarding number for your calls, and to count calls as phone call conversions (so keep the options in the form above checked). This will allow you to:
See which ad variations and keywords delivered calls (and which failed to);
Find out what ad text most encourages calls;
Use conversion optimiser and enhanced CPC bidding to optimise for call likelihood, or use target CPA or target ROAS bidding to ensure you stay profitable;
Use your CRM and call log data to calculate exactly how profitable your call-only campaigns and ad groups are.
Using call-only AdWords campaigns? Here's why you should be
Click To Tweet
Was this useful? Have you experimented with call-only AdWords campaigns? Please let us know by leaving a comment below.