If you're investing time and money in producing video content, then you want to make sure you get the best possible return. One way to do that is to expand where you publish your videos. Uploading to multiple locations doesn't involve a lot of extra work, but can make a big difference to your potential audience. Which is why it's worth knowing about the best sites for sharing videos beyond YouTube, and which are appropriate for particular types of content.
That doesn't mean you should skip YouTube. With more than 1 billion unique users per month and around 6 billion hours of video viewed each month, YouTube remains hugely important. Luckily the same techniques for optimising your videos for YouTube success will also work on most other websites.
So where else should you consider for your video marketing distribution strategy?
Facebook Video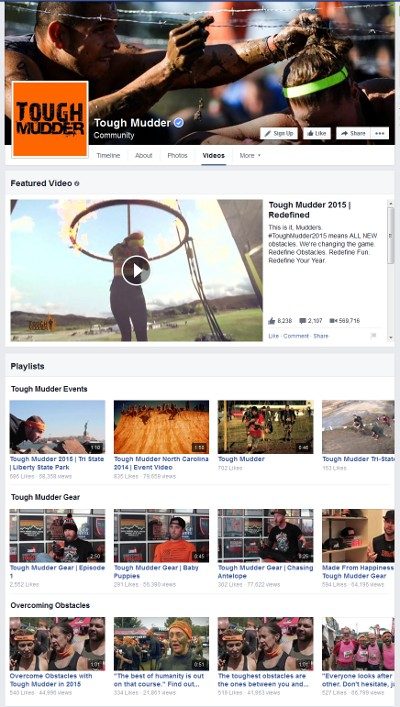 Facebook is more than a challenger to YouTube. In September 2014, Facebook achieved one billion video views per day for content uploaded directly to the social network. Since the start of 2015, native video is now viewed around 3 billion times per day on Facebook.
It's important to note that this doesn't include videos included from other sites such as YouTube etc. That's because videos uploaded directly get more promotion and more notice on Facebook – roughly around 80% of all interactions are on native videos. It explains why brands and content creators are now publishing more videos on Facebook than YouTube.
The statistics may be skewed slightly due to the fact that Facebook videos automatically start playing as you scroll over them. But the company has already publicised a change to the News Feed algorithm to show more relevant video to users. It has also improved the analytics and metrics for pages to include video view duration and audience retention.
Facebook recommends videos in MOV or MP4 formats with a frame rate at a maximum of 30 frames-per-second. And videos should be less than 40 minutes long – which is an increase over the previous 20 minute maximum limit. It's worth noting the Facebook technical recommendations for video to make sure your work looks as good as possible.
If you are creating video for any business, you should plan to publish directly via Facebook from the start as a necessity.
Native video is now viewed around 3 billion times per day on Facebook
Click To Tweet
Vimeo
Vimeo actually launched as a video service before YouTube, but has grown more slowly to serve specific communities, rather than to become a home for all video. It has passed more than 100 million unique users per month, with around 22 million registered users, but creation is skewed much more towards indie film-makers and creative projects than other video sites.
In addition to the general creative quality of the videos which become successful on Vimeo, it also became the first site to support consumer HD back in 2007. And it remains the place to find beautifully shot and edited video content, including branded content which focuses more on creative storytelling.
A good example is Hiut Denim, a brand which is reviving the production of jeans in the UK. They're sharing the story of their company in beautifully shot videos.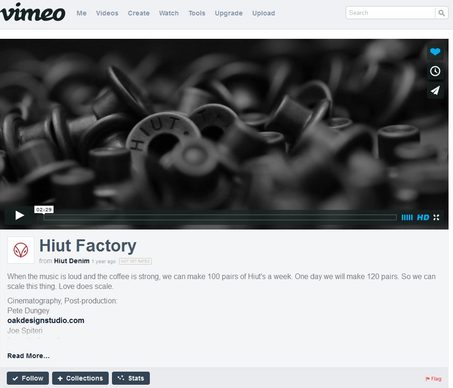 Vimeo also doesn't serve advertising, which makes for a more elegant site and layout. It also means you don't have to worry a competitor will advertise against your videos.
However, in addition to the normal guidelines preventing copyright infringement, Vimeo is also strict about videos uploaded with a commercial intent. To share this type of content, you'll need a Vimeo Pro account, which costs £159 per year.
Dailymotion, Veoh, Metacafe
Numerous video sharing services were launched with similar services to YouTube around the early 2000s. Although some have since closed, a number of sharing sites have managed to achieve decent audience and user figures. They're not quite at the YouTube/Facebook level, but this means less competition from other brands and content creators. Sometimes you can achieve more as a big fish in a smaller pond, after all.
Dailymotion is the largest of the YouTube-esque video sharing sites. Founded in Paris in 2005, it receives 105 million unique visitors per month and 2.2 billion monthly video views, with 80% coming from outside France. Others include the smaller Veoh and Metacafe sites. I do find that the Dailymotion upload can be a little flakey sometimes – the Basic Uploader option seems to be the most reliable.
To give an idea of scale, the Vogue channel on YouTube has more than 30 million views at the time of writing, compared to the Dailymotion channel which has just over 1 million. But that's still an extra 1 million video views just by uploading the same content elsewhere. Technology brand Wired has 101 million views of YouTube content, but around 2 million on Dailymotion, again without any additional content production.
Most have similar technical recommendations and upload procedures to YouTube, allowing quick publishing across multiple sites. Tools do exist to upload once and publish to multiple places, such as OneLoad.
Short-Form Video: Vine, Instagram, Snapchat
The short-form video sharing sites all work best if you take a different approach than for your full-length productions. The Twitter video application, Vine, gives you a maximum length of 6 seconds, Instagram Video gives you 15 seconds to work with, and Snapchat not only gives you a 10 second limit, but as with photos your content will be deleted once it has been viewed.
All three work with video shot directly via your mobile phone, but Vine and Instagram also let you upload any suitable length clip that is on the video gallery or iOS camera roll on your phone. That means you can use the same desktop editing tools for your clips before uploading them.
However, filming via your phone is fine – the limitations and speed of the services mean users are focused much more on the quality of content than the quality of the production. Animation and stop motion are also extremely popular ways to make the most of a 6 second window.
With between 6-30 seconds to consider, look at different content you can pick up from the same video shoot which you're using for your long-form production. Glimpses of behind-the-scenes action, out-takes, teaser clips and highlights can produce multiple shorter videos and can be shared almost instantly to build interest for the more in-depth video production.
You should also look at these services as a quick and easy way to test concepts and ideas, and to get early feedback on what is likely to be successfully shared on social media. This can allow you to potentially get audience feedback and make changes before your initial video has finished filming, or make improvements in the editing suite.
And finally, these short-form services also lend themselves to ongoing content which can build a really engaged following for your video output. Finding 6 seconds to share something once a week is a manageable commitment for most brands! But you can go further. For instance, Dunkin' Donuts have been re-enacting big moments from American Football on Vine. The channel has now had more than 1.5 million loops (video views), and has 47,000 followers.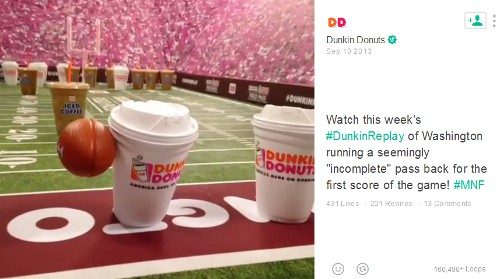 A wide range of big brands and household names have embraced the new format, with consumer names including Ford, Virgin Mobile, Nike, Samsung and MTV. The U.S Government has also made the most of the opportunity with a White House Vine channel gaining millions of views.
2015 really isn't just the year of video – it's the year of ubiquitous video – with smartphones allowing for video cameras and television screens to be everywhere at all times. And there's no reason why you can't be part of it.