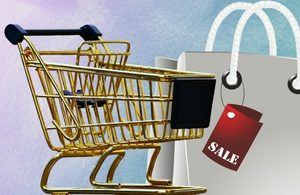 My previous articles (Part 1 & Part 2) focused on the challenging faces businesses on the run up to Christmas. Now it's time to provide you with some practical tips and ideas for surviving over the Christmas period.
For some businesses, this continues to be peak trading with the commencement of big winter sales on Boxing Day or the day after. If you are running one of these businesses, then you may already know the potential challenges facing you. However, if this is a first-time experience, this article will help.
When you close the doors on your pre-Christmas business, there is so much work to do. Your team will be busy closing down tills and cashing up on the days' takings – hopefully, you will have been removing cash throughout the day, so most tills will only have little left count, and a lot of your purchases will be via a credit/debit card so they are already in your accounting system.
Typically, sale stock is selected and purchased in advance, so it's likely that your store room has been busting at the seams for a while! Chain stores running a just-in-time policy may take late deliveries, so you need to ensure your team are ready to re-stock the store with these goods. Pricing and labelling may have been completed in advance prior to you taking delivery. If not, then this is a major task to complete prior to leaving the store for the day.
In addition to pricing, tills need to be updated, both sale and other stock must be relocated around the store and/or removed whilst the sale takes place. This can be a huge task and therefore requires sufficient staff complete this prior to leaving for the short break. Some stores complete final preparations prior to opening, but this is a high risk strategy due to the short time available before opening for the sales.
The key here is good planning. It's like a military operation, wheeling in new pre-labelled stock and removing goods that will not feature in the sale. Goods remaining on the shop floor must be re-labelled if they are to be included in the sale.
Decisions about which goods will feature in the sale are generally made well in advance. Amendments may also take place at short notice so it's important to be aware and ready to make changes. This generally happens with the larger chain stores where the buying department make the decisions and store managers are simply provided with schedules/store plans. For smaller stores, there's still a lot of pre-planning and sometimes, last minute decisions to be made.
The marketing machine must have been programmed in advance too. Signage will be required, new labels to identify sale goods etc. Tills need to be updated with bar codes/details of the new goods for sale. Your email/text system has been pre-loaded with the sales messages and scheduled for release on specific times and dates.
Whilst the majority of the work for a sale is done in advance, there is still a great deal of management time required to ensure all tasks are completed in time. This is project planning on a major scale. The good news is that it's standard operational procedures, IF you have systemised your business otherwise, this becomes a huge additional operation, requiring time and staff resource to plan and implement.
The keys to a smooth operation is scheduling. With a good schedule, you should already know:
what stock is being delivered when
pricing
where the stock is being placed in your store
which staff are working, with rotas completed in advance.
The challenges facing your business in addition to the workload, are ensuring the daily tasks are completed on time. The key is staffing. The biggest headache for business owners is to be fully staffed as it's common to have staff calling in sick. Most businesses have strict holiday policies and many do not allow staff leave during their busiest periods. Sickness needs to be carefully handled as it could be genuine. Some managers watch their staff's social media messages for clues. After all, if an employee is telling the world where they are going and what they are doing, it's public knowledge. Some employers implement enhanced bonus incentives for staff during this peak period, to entice them into being on time and present every day. Think about the cost of having key staff missing when you need them most. What is the cost? Is a bonus worth testing to see if this reduces staff absence?
For smaller scale businesses, the additional workload is testing. There are never enough hours in the day which leads to increased pressure. Time spent on hobbies and social engagements is considerably reduced and business becomes the focus of attention.
My advice to all business owners and managers who are currently working in their busiest time of the year is as follows:
1. Eat well
Good nutrition will help you get through the day and weeks leading up to and after Christmas. It's easy to skip a meal or purchase a meal that is low in good nutrition. Taking a little more time with your food preparation and ensuring you eat at the right times will make such a difference to how you feel. With such a heavy workload, good food and taking plenty of water will give your body the best chance of fighting off illness. Working long hours can lower your immune system and energy levels, leading to a feeling of being run down. Good nutrition is one of two protectors you need to minimise this feeling.
2. Go to bed earlier
You know your body needs sleep. Switch off as early as you can and get to bed, leaving your mobile phone downstairs, as looking at this just before you go to bed will keep you more alert. . Research has shown that it's better to go to bed early and set the alarm for an early start, rather than go to bed late and wake up at your usual time. Whilst it may not work for you as you find it difficult to switch off, being in a good state of rest may allow thoughts to come through and provide the platform for ideas. Have a pen and pad by your bed to jot down any ideas that may come to you.
3. Choose your attitude
From a psychological angle, maintaining a positive state of mind is important. It's very easy to play "the victim" when you are so busy, and allow negative emotions to take over. This is destructive and affects your performance and those around you. If you're not enjoying the work, then clearly the role is not for you. If this is your business, focus on the results you wish to achieve because of your endeavours. What will good results give you both personally and professionally? You may find it useful to re-acquaint yourself with the reason why you began this business. Is this still as important to you today? Love what you do and why you do it because it will permeate through to your team through your passion and attitude.
Attitude is a critical ingredient in good leadership. You must always lead by example. Despite the workload, if you're unhappy around the people who are working for you, this has an impact on them. If you are driven, smiling, enjoying being there with your team, this is so much more inspiring for them. People like to be around people that make them feel good. So, be a good leader and expect this of your management team if you have one. Care for your team as they are taking care of your business.
4. Great leaders think about, and look after their team
No doubt you and your team have parties to attend over the festive period. Be interested in them and their activities. The more you take time to get to know your team, listen to them, be happy for them, the more they will respond in a positive manner. A happy workforce achieves so much more than a miserable one. Be human too and share your experiences. People like to hear about happy events.
I hope this article has provided you with simple and yet important ideas and tips to survive this busy period. It's never too late to add these tips into your routine. Good luck.
It's nearly time for the winter sales. Are you a new business facing this experience for the first time?
Click To Tweet