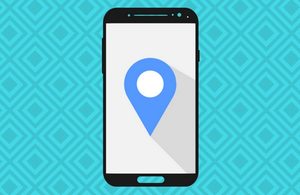 If you use Google regularly, chances are you've seen the map results – known as the 3-pack, local pack, map pack, or snack pack. But have you ever wondered how to get your business to show up there? It's surprisingly easy!
Let's take a look at the local 3-pack; what is it? And how can your business improve its chances of showing there? It's a great bit of extra visibility – and it's free, so let's get cracking!
So What Exactly is the Google 3-Pack?
The somewhat formal explanation goes as follows. The Google 3-pack (sometimes called a map pack or snack pack) is a type of search result that appears at the top of certain Google search results – under the ads but above the "normal" results. It shows a map with multiple pointers indicating the location of nearby companies who meet the need expressed in the search query – hence the name "map pack".
It's called the 3-pack because Google shows the three most appropriate businesses with review information and contact details, alongside their web links and directions to their location. Eagle-eyed Googlers may have noticed that there used to be 7 map pack listings, but it's recently been reduced to 3; making placement there a little more competitive.
TL;DR? It's this thing: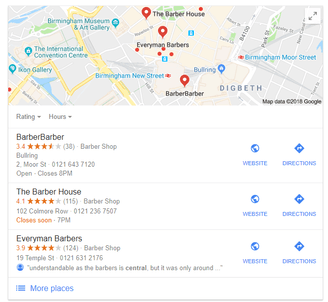 When Does the Local 3-Pack Display?
The local 3-pack generally displays when someone searches for specific services that are either local to them or to a particular place. Here are some examples that will likely cause the map pack to appear:
"hairdressers"
"hairdressers near me"
"local hairdressers"
"accountants telford"
"accountants in telford"
Why Showing up in the Local 3-Pack is a Good Thing
Any opportunity for more screen "real estate" in the search results is well worth grabbing. It gets you in front of those looking for your services in the local area and is absolutely essential if your company depends on foot traffic.
Showing up in the 3-pack helps to make you a bit of a destination, with a map pointer directing people to your precise location. Even if you don't rely on passing trade, showing your location to interested parties helps to paint you as an established organisation. And when your 3-pack presence is backed up with reviews, that provides extra validation to those looking for your services.
Wondering how reviews can help your SEO visibility? Check out our recent post "How Online Reputation Management Can Boost SEO".
How can I get my business listed in the 3-Pack?
Giving your business the best possible chance of appearing in the local 3-pack is easier than you may think. Though any kind of ranking relies on complicated and well-guarded algorithms, there are three best practices you can follow to help make your presence known.
1. List Your Business All Over
When Google decides who to show in its search results and especially in the local 3-pack, it looks for businesses who would most likely provide the desired service – as you would probably expect. However, it needs to make sure that the information it's giving out is as reliable and accurate as possible, so its users will continue to see Google as a reliable source of information.
Therefore, it cross-checks company details across numerous different trusted listing websites such as Yell, Facebook and TripAdvisor – as well as Google's own listing and review platform Google My Business – to make sure it's providing the searcher with the right info.
With this in mind, it's a good idea to create a company listing on a variety of well-regarded listing sites. This helps Google validate your information and communicates that you're an established company who are open for business and here to stay!
Check out our recent article about setting up and optimising your Google My Business listing: How to Optimise Your Google My Business Listing
2. Triple Check Your Listing Information
Once you've claimed your company listings, it's important to avoid this one rookie mistake. Because Google cross-references company details between different listing sites to make sure it's giving out accurate information, it's imperative that all of your listings – and your website – display the exact same information.
Say for example your address is spelt slightly differently on your Yell listing compared to your other listings; or perhaps your Facebook page shows incorrect opening hours; inconsistencies like these can jeopardise your spot in the 3-pack. Google may give that spot to a company whose listings are more consistent (painting them as more established), so always make sure that the following information is presented identically across all of your listings:
Company name
Physical Address (and Map Pointer)
Phone Number(s)
Email Address
Opening Times
Website Link
Social Media Links
3. Encourage Reviews!
Listings alone may get you some map pack visibility, but reviews lend added credence to your appearance there. SEO experts Moz recently published their findings on how different factors appear to impact one's appearance in the local 3-pack; they found that review signals (such as review quantity and diversity) were responsible for 13% of an organisation's presence in the map pack.
It's therefore important to set up a system for encouraging reviews – known as a review acquisition strategy. Implementing a process for steadily growing your reviews helps to make it a habit, so it becomes almost second nature to ask customers for their thoughts with each purchase.
Check out our previous articles about encouraging satisfied customers to leave reviews: "What is a Review Acquisition Strategy?" and "11 Ways to Encourage Customers to Leave Online Reviews".
But that's not all…
Following these three points should increase your chances of appearing in the local 3-pack, but they're not the be all and end all to showing up there. If we head back to Moz's research for a sec, they found that there are 8 significant ranking factors that go into a company's 3-pack placement.
According to their research, basic details like business name, keywords, and location proximity make up 19% of the 3-pack ranking factor; off-site SEO signals like backlinks to your website and domain authority of linking sites make up 17%; and on-site SEO signals account for 14%. "Behavioural signals" (how people use your website) account for 10%, and social media engagement accounts for 4% of map pack presence.
So, it seems that 3-pack placement also relies on SEO staples like backlinking and domain authority but working on those too certainly won't hurt – and are likely to pay dividends in your search visibility as a whole.
So, what's the #google #3pack and how can you maximise your chances of appearing there? Click To Tweet
Over to you. What listing sites are you present on? Do you know if your business appears in the 3-pack for your local area? How do you encourage reviews and engagement? What other SEO efforts are you working on to maximise your search visibility? Please share your thoughts with us down in the comments!