Boosting a Facebook post is a simple and cost-effective way of extending the reach of your content towards an audience of your choosing. While you might have a good idea of who your audience is, knowing how to reach them isn't always straightforward. Facebook boosts give you a lot of control over who you target; all you need to do is create content with suitable messaging, and aim it at your desired audience.
#Facebook boosts: find out how to successfully reach the right audience
Click To Tweet
Step one: get your content right
First create an engaging post, incorporating your key messages. Refer to your page's Insights to see what times of day your posts tend to perform best, and what kind of content has worked well for you in the past; this will enable you to reach as much of your audience as you can organically before your boost, maximising your budget.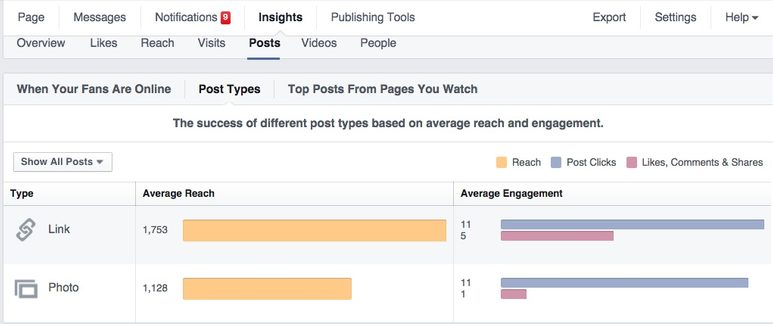 With your desired audience front of mind, consider the tone and style of your content. Once you're happy with the content, click 'boost post' at the bottom right of your post: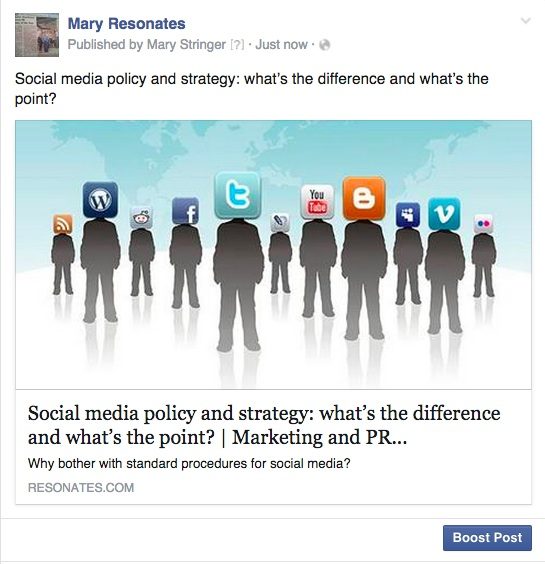 Step two: Create your audience and choose your targeting methods
Once you've clicked 'Boost Post' you'll be presented with the following screen:
Select 'create new audience'. This will enable you to decide who to aim your post at on Facebook, by defining their locations, interests, age and gender.
The geographic targeting tool enables you to pinpoint people in specific countries, counties or towns with the option for adding an additional radius.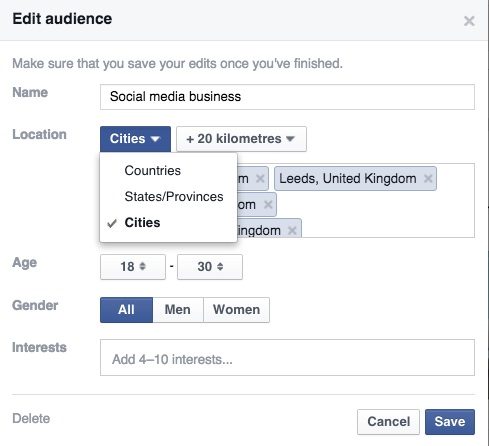 For example if you're targeting users predominantly living in towns across the UK you might wish to define your parameters as follows: Bristol+ 20km, Manchester + 20km, and so on.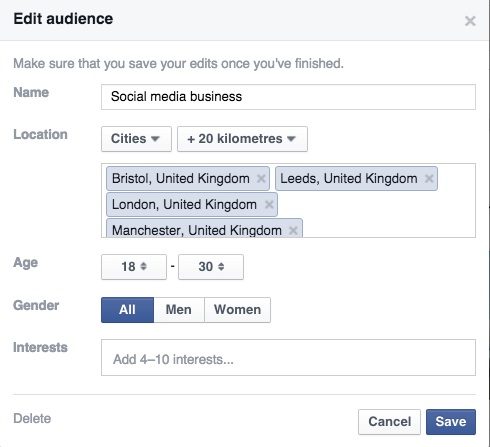 If you only wish to target people of a certain age, Facebook allows you to set the age range for your post's target audience. You can also determine which gender you'd like to target. You can targeted users by their interests – if you want to reach people only with an interest in fashion, you can enter keywords that reflect this (e.g. 'shopping', 'shoes' etc) and Facebook will target users with those keywords featured in their profiles.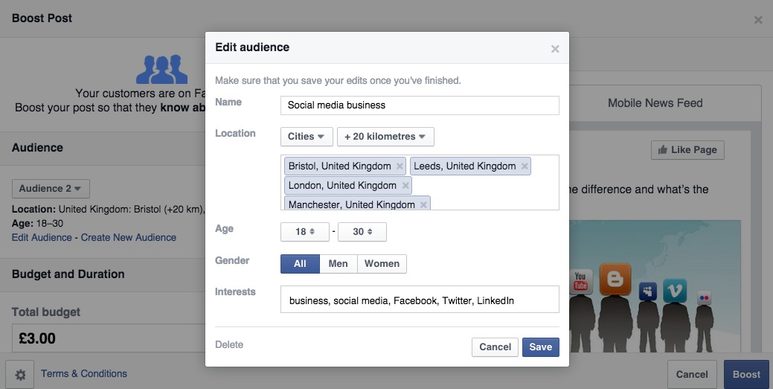 Once you've finished setting your targeting criteria, click save.
Tip: don't be too targeted – make sure you're reaching a large enough pool of people to make the most of your budget.
Step three: Set a reasonable budget
Because Facebook gives you such a granular method of targeting, your budget doesn't need to be huge to be effective, and you can always add to your budget and 'extend the boost' if the first 'boost' isn't as successful as you hoped.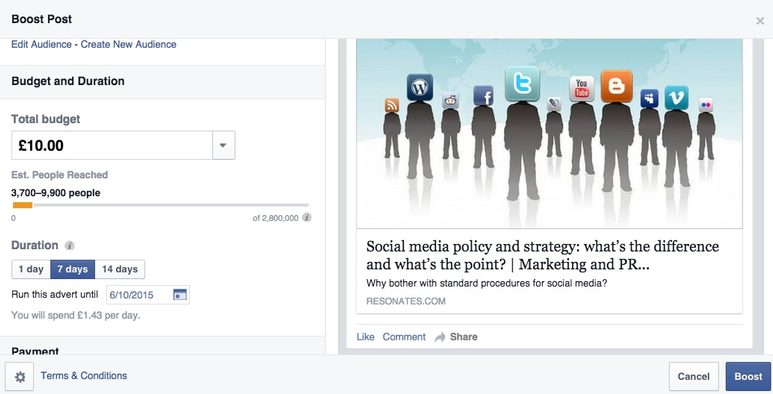 However, a reasonable budget will ensure the post reaches a decent proportion of your target audience. The minimum budget is £1 a day, and the tool projects the reach for whatever budget you put in to give you an idea of how many people will be served your post.
You have full control over how long your post is boosted for, and the tool calculates your spend per day.
Step four: Click 'boost'. Measure the results and feed back into strategy
Once you're happy with your targeted criteria and budget, click 'boost' to submit your post for review. Facebook reviews your post to check that it doesn't contain any inappropriate content, then once it has reviewed it it will notify you that the post is being boosted.
As always, measuring the results of your efforts is key to a successful long term social media strategy – rather than just shooting in the dark it makes sense to make the most of Facebook's fairly substantial analytics to find out which boosts worked best.
Keep an eye on your analytics to check your post is performing as you hoped it to.
Want an even more targeted post? Try a Facebook ad – its targeting tool is even more granular and allows you to target your audience by age, gender, relationship status, education, workplace and more.
Read more
7 Easy Steps to Branding Your Business Social Media Account