In a previous post I explained how perfect PPC is for targeting searchers during seasonal peaks of traffic. Valentine's will provide an influx of searches and they may be relevant to your business.
As you would expect there are significant peaks in search volumes for the usual traditional Valentine's related items that people search for including flowers, restaurants, jewellery and Chocolates, lingerie.

In this example I have searched for 'Valentines Flowers'. Note how the florists, big and small, have spent the time and effort to set up Valentine's specific campaigns and ad groups including specific Valentine's keywords and relevant ad copy.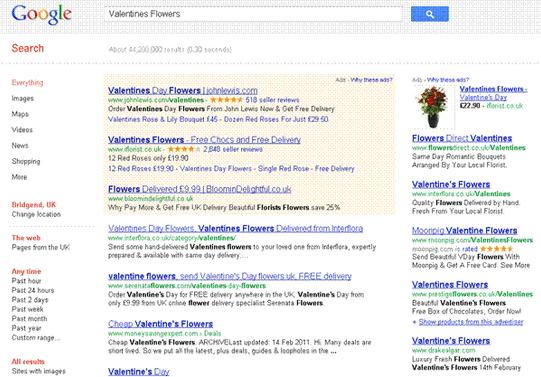 By spending the time to create seasonal specific campaigns rather than just increasing the budgets and bids on your existing campaigns you should see an increase in the performance, quality of traffic, conversions and therefore ROI.
As it is super competitive in these areas the ad copy must be top quality in order to stand out on the saturated results page and get the searchers attention and clicks. In order to stand out include your Unique Selling Points (USPs), special offers and a clear call to action.
Rather than targeting users who already have something specific in mind, you could target more generic/broad Valentine's related keywords. This would result in your ad being displayed to users in the browsing and ideas generation stage of the purchase journey. An example is this advert for the grocery delivery company Ocado who you may not immediately think of when planning a Valentine's treat.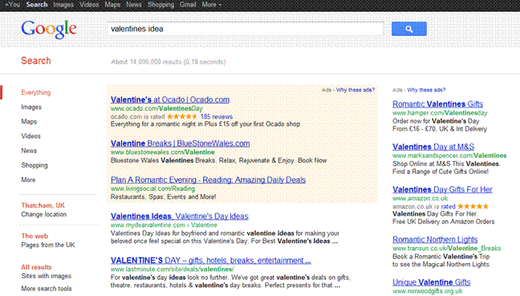 So, if you fancy falling in love or even perhaps having a flirt with PPC advertising this Valentine's the countdown has started. Aim to get your campaigns up and running before it's too late; make sure you don't miss out and end up having a lonely Valentine's.