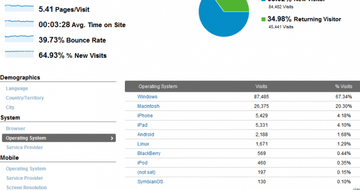 If you haven't previously used SEO, or if your website isn't achieving good search engine rankings, these five fairly simple tips may help you get better results.
1) Think like a user
You need potential customers to find your site more quickly by appearing higher in search rankings than your competition. Try entering a range of relevant search terms in the main search engines, and see how your site ranks.
Look at the sites which come above yours and try to see why: maybe they use the search terms in page tags (see below) or throughout their site? Do they have video, or more links? Find out what they are doing, and do it better.
2) Use Analytics to assess keywords
Use free tools such as Google Analytics to see which keywords are driving most traffic to your website. Check non-performing keywords, and see if you can change your website to incorporate them – maybe by using them in page titles or high up on the text of landing pages or as anchor text on internal links.
Also use Google's keyword tool to suggest new keywords, similar to those which you are already using, and also to crawl your own site to see which terms have most search results.
You can also use Analytics to see which are the best – and worst – performing pages on your site, and adjust them accordingly.
3) Optimise page titles
Page titles or tags are very important for SEO. They should describe, in a unique way, the content of the page, and should contain at least one or two keywords.
Make sure all page titles are unique, and sufficiently different to be picked up by the search engine spiders.
4) Manage links efficiently
Talk to customers, suppliers and other companies in your sector about having reciprocal links to your site. Ask them to use a specific keyword-based wording for the link (rather than your company name, or 'click here').
The more links you have, the better your search engine rating will be. It's also worth talking to your staff about linking to your site from their personal blogs or social media pages.
Go through your site carefully and look where you can add more relevant internal links, and check the wording of each. Ideally, use different wording for the same links, which will improve SEO.
5) Maximise your use of social media
Social platforms such as Facebook, LinkedIn, Twitter, Google + and Pinterest can all have a remarkable impact on search engine performance, given their increasingly close relationships with the main search engines.
It's important to use any social media platform properly – a Facebook or Google+ page with one entry on it is not worth having. Set aside time to work on social media and keep it updated at all times.