Creating a free Google My Business listing makes it easier for customers and other people to find you online. A listing helps increase the visibility of your business when people use Google Search, Google Maps or the Google+ (Google Plus) social network.
If you previously listed your business in Google Places or Google+, these have now been integrated into Google My Business.
Getting started
To start creating your business listing, visit http://www.google.co.uk/business/. You will be asked to sign in with your Google account to begin the process. If you haven't already got a Google account, you can create one now.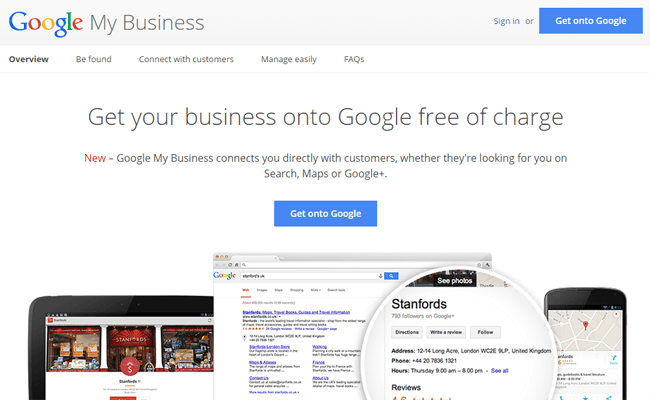 You can search for your business by entering its name and address in the search box. If Google already knows about your business, this is a quick way to identify the business you own and start managing your Google My Business listing.
If Google doesn't recognise your business, you can create a completely new listing by entering your business name, address and phone number. You also choose a business category to help people understand what your business does and indicate whether you deliver your goods and services to customers.
Alternatively, you can click on 'Not a local business'. This gives you the opportunity to set up a listing for a brand.
Verification
You'll be asked to confirm that you are authorised to manage the business and accept Google's terms and conditions.
You'll also be told that a verification code will be sent to you. You need this code to confirm that you are at the address you have given. It may take up to two weeks for this to happen.
You can go ahead and add details to your listing straight away, but the listing will not go live on the internet until you have completed verification.
Building your profile
You can add more detail to your profile, such as including opening hours or uploading photos. You can also add extra business categories and a description of what your business does.
You can also share new posts through the profile you now have on Google+. For example, you might post special offers or news. If you encourage people to follow you, they will be able to see your updates on their own Google+ home page. Other people, such as your customers, can also visit your Google+ page and add photos or reviews.
You can't guarantee that all the information you have been added will be displayed, or how your business will be shown on Google searches and maps. The results depend on what Google thinks is most relevant. Your Google My Business page lets you see how your business appears on Google Search, Google Maps and Google+.
Google My Business also includes a dashboard where you can manage your listing. This lets you add new posts, see how your listing is performing, respond to reviews or invite followers to a Google Hangouts video call.
Top tips
Make sure all your information is accurate. Include as much useful information as possible to help encourage potential customers to choose you.
Google My Business works with other online information about your business – so check what else is out there on your own website and elsewhere.
Promote your Google+ page. Add a link from your website, other social media sites and anywhere else you post online such as forums.
Keep your profile interesting and up to date with regular new posts targeted at your audience.
If you need more help, click here to visit the Google My Business Help Centre.