Google has introduced a massive change to how paid search advertising (PPC) is displayed on desktop search results pages.
For "highly commercial queries", it now displays up to four paid adverts above the organic listings, with no adverts in the right hand column of search results. This means a maximum of seven paid advertising spaces – four at the top of results and three at the bottom, rather than the eleven spaces including the right side of the page.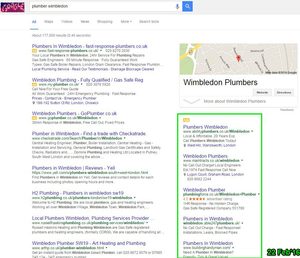 For a large number of searches, you'll no longer see the advertising section highlighted in green on the screenshot here.
Google's definition of 'highly commercial queries' includes examples like 'car insurance' or 'hotels in New York City', which show an intent to make a purchase. Which means a large impact for relevant searches for most businesses.
The change will also affect the organic (or natural) search listings, as it moves them slightly further down the first page of results.
And as the second page of results is treated as a new auction for paid advertising rather than serving the remainder of first page ads, there's no guarantee your promotions will 'roll over' to the next page.
The only exceptions will be Product Listing Ad layouts and any advertising tests being conducted on Google Knowledge Panels.
Google AdWords changes mean PPC ads and organic results are now even more competitive
Click To Tweet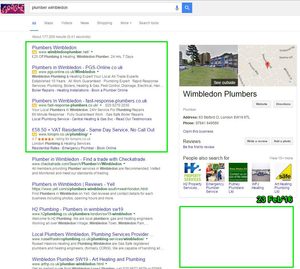 As you can see, the change has already rolled out across search queries we've been monitoring. In this case, the right hand adverts have already disappeared for a local business search.
The benefit for users is that there will be a cleaner desktop experience which is also more inline with mobile. But there may also be some confusion regarding where paid search advertising ends and the top organic results begin for some time to come.
Adverts in the right hand column have also produced a much smaller Click Through Rate (CTR) for some time, meaning that users were largely ignoring them in terms of actually clicking on an advert and completing an action.
So what do the Paid Search changes mean for most businesses?
If you're bidding on paid search advertising, then it will require greater expertise and effort to deliver decent results. Although the changes have just rolled out, the reduction in available space on the first page of search results is likely to increase the cost per click (CPC) for each customer you attract. So you may need to pay more to retain or increase your advertising positions.
These changes have been tested by Google and third parties for a number of years, and the top 'banner' slots do tend to get between 10 and 14 times more clicks than the right hand column, so the adverts you do place should deliver more clicks to your website. But to take real advantage, you'll want to make sure you're including the maximum information in your adverts, including the available site links, third-party reviews and more.
The reduction should mean that a smaller number of higher quality adverts appear, which will benefit consumers with less clutter, and successful advertisers with much better performance. It also means less chance for large brands to bid for blanket coverage – a smaller budget will need to be more focused, but can now beat out the competition for those vital search terms.
Some experts do predict that limiting paid search to the four top slots will flatten out the cost difference between the top advertising places. So if your business is already bidding for the number one position on a number of terms, you may find that there's less of a cost increase than feared, but we'll have to wait to find out if this is the case.
If you're currently relying solely on your organic search results, you may need to also invest in paid search advertising in the short term. There's some evidence that the changes to paid search have a slight negative impact on the traffic to organic results (although they still deliver a large number of customers), but this may change as users get more accustomed to seeing the extra advert slots and start scrolling past them.
It does mean that reaching the top handful of organic search results will be more important than ever, as the positions at the bottom of the first page get pushed further down.
So if anything, it's an encouragement to improve both your organic and paid search efforts. You're going to need to make sure you're using Organic, Paid Search and Product Listings (if available) to the highest level and that all three options are working together to deliver great results.