In this week's post, I'll cover the launch of the new Google Plus or Google + social network. What is it and are there any benefits for local SEO campaigns over the the likes of Facebook and Twitter?
Google Plus is a fresh attempt from Google to get into the social networking game. They previously failed miserably with a service called Buzz, this disaster did however help with the launch of this newest attempt.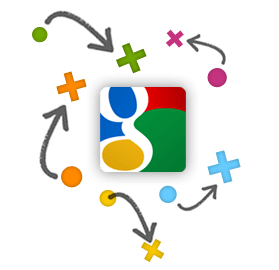 It turns out that Google Plus certainly is a challenger to Facebook and Twitter, with a recent announcement about Plus Business Pages it could be key to businesses interested in improving their Google rankings.
So what is different about Plus?
There is no denying that by far the biggest competition in this space is from Facebook and Twitter. Google describes Plus as more of a platform for "sharing". Although there are many familiar social aspects to Google Plus, the overall aim is not just to communicate with your friends & family. Instead, it is designed to facilitate the process of sharing information online, a nice angle.
You have lots more control in Google Plus than in any other other social platform. In Facebook, relationships are either two-way or none at all, how many invites get ignored on Facebook? In Google Plus, someone can add you to a circle (Google's equivalent of a Facebook friends list) but you are not required to add them to one of your circles. If you don't add them to a circle, they will only see the posts that you make public. In short, Google Plus allows for one-way relationships, two-ways relationships and anything else in between.
Please note there are other unique features of Plus which I will cover in later posts.
So what are the SEO benefits for businesses?
The big benefit for SEO is something known as : 'doFollow'
doFollow is a term which is applied to certain pages on the web that are using the doFollow marker, as opposed to nofollow. A nofollow marker means that a search engine will not pass on the benefits of certain links within web pages, so not very helpful for SEO. Facebook and Twitter apply a nofollow policy meaning there is no benefit to your search engine rankings when links are shared on these platforms. Remember quality inbound/backlinks are vital for good SEO. The big news is that Google Plus is a doFollow site and you can get an anchor text inbound link pointing to your site within your business profile.
A high quality link (PR8) from Google itself would give a nice boost to any search campaign.
For businesses, it is key that they claim their Plus business page as with Facebook and Twitter. Next week we will look at how to setup a business page to make the most of the DoFollow goodness and some top tips to optimise your page.
Click here for a link to setup your own Google Plus Business Page