This example is hot off the press as the online marketing campaign I'm writing about is still going on. Not only was I impressed by the idea of the campaign but I was pleased to see it was a B2B campaign, clever uses of B2B in social are few and far between!
So picture the scene, there's a large event in London with lots of exhibitors and free seminars targeted at marketers. Each exhibitor is competing for the attention of attendees and those that vaguely online marketing savvy are posting tweets, trying to get people engaging with them and draw attendees to their stand.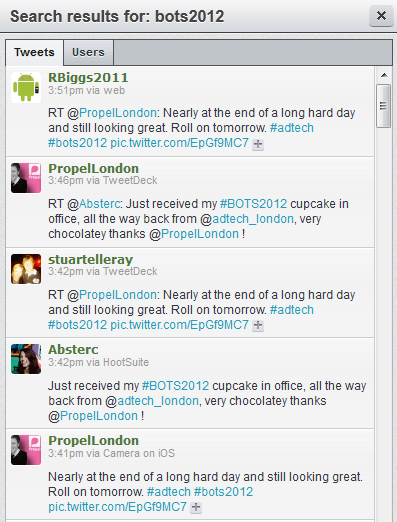 Then through the tweets comes one from a stand called Propel London and it's launching a competition for the best stand at the show. 'Battle of the Stands 2012' allows anyone to vote on their favourite stand at the event by submitting their email and the stand number via survey monkey. Kudos here for using such a simple mechanism with a free survey tool.
All of a sudden companies with the stands pay attention because a) it's a competition and we're all about proving we're better than others at this event and b) it's a neat way of getting people to our stand, so they can view it and vote for it – off the back of a legitimate social campaign!
Back in the office we get an email from our colleagues at the event telling us to all vote for our stand and bam! The rest of the company is involved in winning us this glorious accolade. There's a feeling of comradery as we show support for our company stand and we're all spreading the word and tweeting to get votes.
The guys at Propel London are happy because their hashtag #BOST2012 is getting loads of activity from other people, all they need to do is retweet our tweets and show their leaderboard updates. They also cleverly give mini prizes throughout the day which gives them more fodder for everyone to tweet about. The marketing team there will be pleased with the results I'm sure, the competition runs over both days of the event and keeps people talking about them, not only the attendees of the event but the hundreds of stands who may not have known about them before.
End of day one and they're nearly in double figures for hashtag mentions, I've had a cupcake as part of the mini prizes today, we'll see what tomorrow brings…