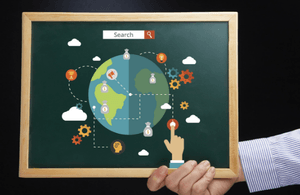 Google does not willingly share too many of its own search metrics but a data survey by Jumpshot with analysis from Rand Fishkin of Sparktoro (SEO legend) revealed a thing or two.
In the first quarter of 2019, Google in the US had more than 150 billion searches, the majority of which were solved without the searcher clicking: they found their answer in the SERPs (search engine results pages).
Google has a 90% market share of search. With less and less competition, it also has less need to please us – the producers of the content it crawls. We're the dependants.
Here's how Google's search data breaks down further:1
150+ billion searches
48.96% were solved with no click
7.2% went to a sponsored result
6.01% went to a site owned by Alphabet (Google's parent company)
And the rest of the web (you and me) got 45.03%
1How Much of Google's Search Traffic is Left for Anyone But Themselves? – Rand Fishkin of Sparktoro, June 2019
Google isn't the internet
We know it but we forget it. Google is a service provider and its service used to be providing a way to navigate the internet. But the reality now is that it offers a way to navigate information – not websites.
Google is also not a charity: it is a multi-billion-dollar business. Google's code of conduct one-liner used to be 'Don't be evil'. It dropped that motto last year.
All is not lost with SEO
In Jumpshot's data survey, only 3.58% of clicks were paid for and went to non-Google websites. Not brilliant for PPC.
But for every click on a paid search result, 11.6 clicks went to an organic result. 41.45% of clicks were organic and went to non-Google websites. That's still a lot to play for.
Factor no-click search into your content design
Google has been working on its SERPs a lot in recent years, bringing shopping into results, adding media and displaying your on-page content in a way that negates clicking through to your article about choosing a new iron. No-click search.
Yes, fewer clicks is bad. But you're still the producer of the content that answers the question – IF your content is good enough. We can no longer produce content as a ploy to get people onto our websites; content must be relevant and useful. The end.
How to optimise your content for no-click search
I've talked about content design before. Be strict with how you structure your content and you'll please both humans and search engine robots.
No-click search is an opportunity
This is a wake-up call. Google doesn't need us, doesn't care about us, doesn't work for us. We can only do what we should always have done: put our users first when producing content.
For a seeker of information, speed of access to that information is what matters. And that means no-click search. Time to get on board and produce content that works beautifully in SERPs. The best snippet of information (NOT website or company) in the search results gets display priority over the others: the perfect ad for your business.
If you embrace no-click search now, you're ahead of other SMEs. Get a Google My Business, leave your brand's breadcrumbs all over the internet and design content that provides useful information in SERPs, not just click-bait.