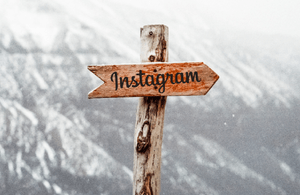 If, like me and thousands of other busy-stressed-panicked marketers, you've found yourself staring at your screen in despair as you try to come up with another cool idea for your 15 Instagram followers…you're in the right place.
You see, I no longer have only 15 followers on the Instagram account I manage. No sir. Through a combination of guesswork, strategy and sheer bullish refusal to give up, I've now reached the point where my following and engagement increases exponentially.
By that fancy phrase I mean the more followers I attract, the more followers I attract. It's a sad fact that until you get enough followers, you don't get enough engagement and exposure to attract more.
That's why, even if you feel like giving up, it is just a case of slogging it through to the magical tipping point. And when you get there, everything is easier.
Today is the day you begin.
Interact with other people
I bet a lot of money you don't follow that many people. You're desperate for followers but you don't share the love around yourself. Think of your target audiences and start finding account that either match those or are of interest to them.
For example: the account I manage is for a young driver insurance brand. I realised from looking through hashtags like #drivingtest and #testpass that driving instructors often Instagram their students' test passes – and if I followed those guys, I could keep up with new potential customers. Liking and commenting on photos of brand new drivers who'll need insurance soon? OMG – jackpot!
The great thing is that driving instructors also want the content I'm posting for their students, so they're very likely to follow me back when I follow them. In this way, I got my numbers up quite quickly – but with VALUABLE followers that were going to interact with my content, stay with me and hopefully mention my brand to their students.
Whatever business you're in, this applies to you. Interact with other companies in your industry, follow accrediting bodies, like posts from thought leaders in your sector. It isn't just about attracting your target audience: if social media is about building networks, build the darn networks.
Instagram in particular seems to feature content more when it sees the content gets interaction and followers. The more you get, the more you'll get – so don't be too narrow in your view of who you want to attract.
Incentivise your customers to follow you
Social media is all about community and if you forget about the customers you have because you're chasing new ones, you're doing it wrong.
Firs, make it easy. Put your social media links on your website contact page and in your email footers. Talk about stuff you're doing on Instagram in your blogs. Mention Instagram when you talk to people in person.
Then, make it attractive. Run competitions that are only on Instagram. Give out prizes when you reach follower milestones. Give discounts to Instagram followers, have flash sales and announce new products on Instagram.
You've got to make it worth people's time to follow you when unfollowing is the work of a nanosecond. Keep it interesting – and interesting means extra stuff they can't get anywhere else.
Run Instagram ads from your Facebook account
If you've run ads on Facebook before, you can run ads on Instagram. However. Keep in mind that Instagram is a visual medium and what works for Facey isn't going to necessarily work here.
I've actually found that the same things you'd usually post to Insta work well as ads to get you more followers. Don't ask me why. Exposure? Instagram favouring those who spend money? Not sure. But if people like your paid post, they're fairly likely to click through to your profile and give you a follow.
If your targeting is good, you'll attract the right people and they'll stick around. Definitely don't go for a scattergun approach, though: you don't want throw-away followers who'll never interact and ditch you quickly. Eyes on the prize: followers for the sake of followers are pointless.
If you fancy it, take a look at some cool things you can do to show your business off with Instagram.