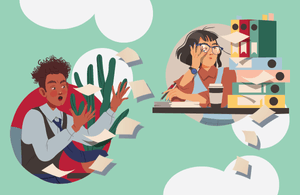 When you're a small business owner, YOU are a big part of your brand. The business is shaped by your personality, values and priorities, so looking after your personal profile is important.
I can't – and won't, I just won't! – tell you how to build the mystique of Elon Musk, whose profile has made Tesla what it is today. But I would like to tell you about how to share your (gross phrase incoming) thought leadership with influential publications.
Your knowledge can help people, including you.
Start niche
I've talked about this for getting speaking gigs: don't go for TED Talks and The Economist right away. Those people will not even see your pitch, let alone accept it.
Make a list of publications that deal with your specialism. Include in your list: publication name, specialism or focus, submission process if you can find it, and editor/contact for editorial.
Find out how to submit
Like any PR, when you pitch yourself to publications, it's a game of grabbing attention. First, you need to get through the gauntlet of submission guidelines to be seen at all.
Although you may be pitching the same piece to multiple publications, each needs a slightly different approach. It's like sending a CV: you tailor it to the audience and tweak your cover letter.
Read the types of articles each publication puts out
Do they seem to favour opinion pieces, do they have a strong feminist angle, are they all about stats and studies? Your story needs to work for the format that will best sell to each.
When you've developed a 'bit' for your personal brand, whether that's championing young entrepreneurs or lobbying for better road safety, you'll be able to easily translate it from talk to article to interview.
Plan your pitch
Check the submission guidelines if you can find them (I've seen editors post helpful guides on their social media), but there are some key components to any good pitch.
Your pitch should include:
· One-liner summing up the piece
· Example headline (remember: the editor gets the final say on the actual headline!)
· Pitch: two/three paragraphs telling the story of the piece
· Bio: a brief profile, only naming your business if it's pertinent to the story
Example pitch to a business publication
One-liner: Women are still shut out of the workforce because of pandemic hangover. This piece shares what I've learned about transitioning back into my career.
Example headline: The pandemic turned me from CEO to home schooler
Pitch: I started my own business in 2009 and hit profitability within a year. By 2020, I had 300 employees and four stores. My children were 10, seven and four, but I could afford a nanny and excellent schools.
Then 2020 happened. No schools. My nanny quit. Brexit. I started working from home in the foolish belief that perhaps I could look after my children and my business at the same time.
Shockingly, that didn't work, so I made the tough decision to hand over the reins to my Chief Operations Officer – with the proviso that I'd be back when the pandemic was over. But as it turns out, for me and thousands of other women, pandemic childcare is not over. And the burden is still squarely on us.
Bio: Maira Alvi is a wellbeing entrepreneur. Having founded a successful retail business, she is now transitioning back into her CEO role after two years as a full-time single mum to her three children.
Check yourself
This cannot be a sales pitch. No publication is going to give you exposure for selling your products for free. That's an advertorial.
The benefit of being a smaller business owner is that a publication is unlikely to be immediately suspicious that you're selling something. As long as your piece sounds great and you've got interesting ideas, your value will come through.
Proofread
The reason we have editors is that not everyone is a consistent, obsessive, perfectionist writer. It's important that you can tell a story and have unique takes, but you do not have to be a perfect writer to pitch yourself to publications.
That said, don't have your pitch rejected purely because you misspelled a word in the title, or got the editor's name wrong. Have someone else – preferably a writer – proofread it for you and make any suggestions on style, too.
You're a business owner, not a writer. And that's very OK.
---
Ready to take the next step into public speaking? Find out how to get a speaking gig.