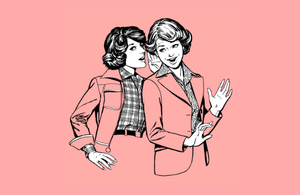 What's a social PR campaign?
It takes the goals of a traditional PR campaign – raising brand awareness and sentiment – but keeps costs down and activity in-house.
It's PR for the digital age and the minimal budget. The beauty of free community platforms for our brands is that even a small business can run a successful social PR campaign.
How to plan, budget for and amplify your social PR campaign
1. Establish your social PR campaign objectives
PR is about managing your business's image.
Unless you're currently facing a massive controversy involving baby seals (in which case, a social PR campaign is really not going to help), there are probably three big reasons you want to do some PR for yourself:
Primary goal: raise awareness of the brand
Secondary goal: build brand sentiment
Tertiary goal: promote a product or service
Build out the specifics of those goals, like 'raise awareness of Hairway to Heaven among school mums passing the salon after drop-off'.
2. Find a concept for your campaign
Concept, not your exact product or service.
The concept should be related to your brand's area of expertise or field but not a direct sell of what you do. The idea is that your social PR campaign is so delightful/interesting/funny that your brand is amplified by its success.
You're a dog groomer > cutest pet competition
You have an agricultural supply shop > video of an office worker experiencing farm life for a day
You run an accountancy firm > create and promote a free tool for tracking freelancer expenses
You can create peripheral content that does directly refer to your product or service but it should be a companion piece, not the centre of your social PR campaign.
3. Decide on the content your campaign will need
It's always best to attack your concept from a few angles. You might have a video at the centre of your campaign but you can eke out the value by creating social graphics with stats over stills from the video, a competition, blogs, a website landing page and so on.
Reuse of assets is one of the biggest reasons to invest in content. You get at least a year's use out of the content you generate, in different guises, and your campaign goes a lot further than just one video or competition.
4. Note any existing assets you can use
If you have in-house creatives like copywriter and designer, you're laughing.
Any existing photography or recent survey results, blogging capability, developers who can easily knock up a campaign landing page…all amazing assets you can draw on for this lovely fat campaign.
5. Choose the distribution channels for your campaign
Pick the channels you know your customers use or where there are people you want to target with the campaign
Identify the activities you'll run on each channel: poll on Twitter, white paper on LinkedIn
Document the results you want from each channel and activity: clicks, survey fills, video watches
Calculate the budget you'll need for each activity: production, social ads, post boosts, competition prizes
6. Plan the stages of your campaign
Lay out the story of your campaign and the points at which your content will be publicised. Bring this to life with example tweets, landing page mockups and so on.
You're doing a small-scale version of the traditional PR agency pitch here, to your boss, colleagues or the person holding the purse strings. Get them hooked on your campaign concept.
Having a document that tells the story and maps the content you need at each stage will keep you true to the central idea as the campaign evolves and also help you brief any outside resource you might need.
7. Write your social calendar
Plan out the activities on a calendar so the whole campaign is easy to visualise and you can see how much content you have, how long the campaign will run and whether you've planned enough budget for promoting each activity.
Managing a social campaign can be hectic if you're doing a real mix of activities across several channels. Plan out your activities and channels by the day so you can get the publishing done, leaving time for the good stuff: engagement.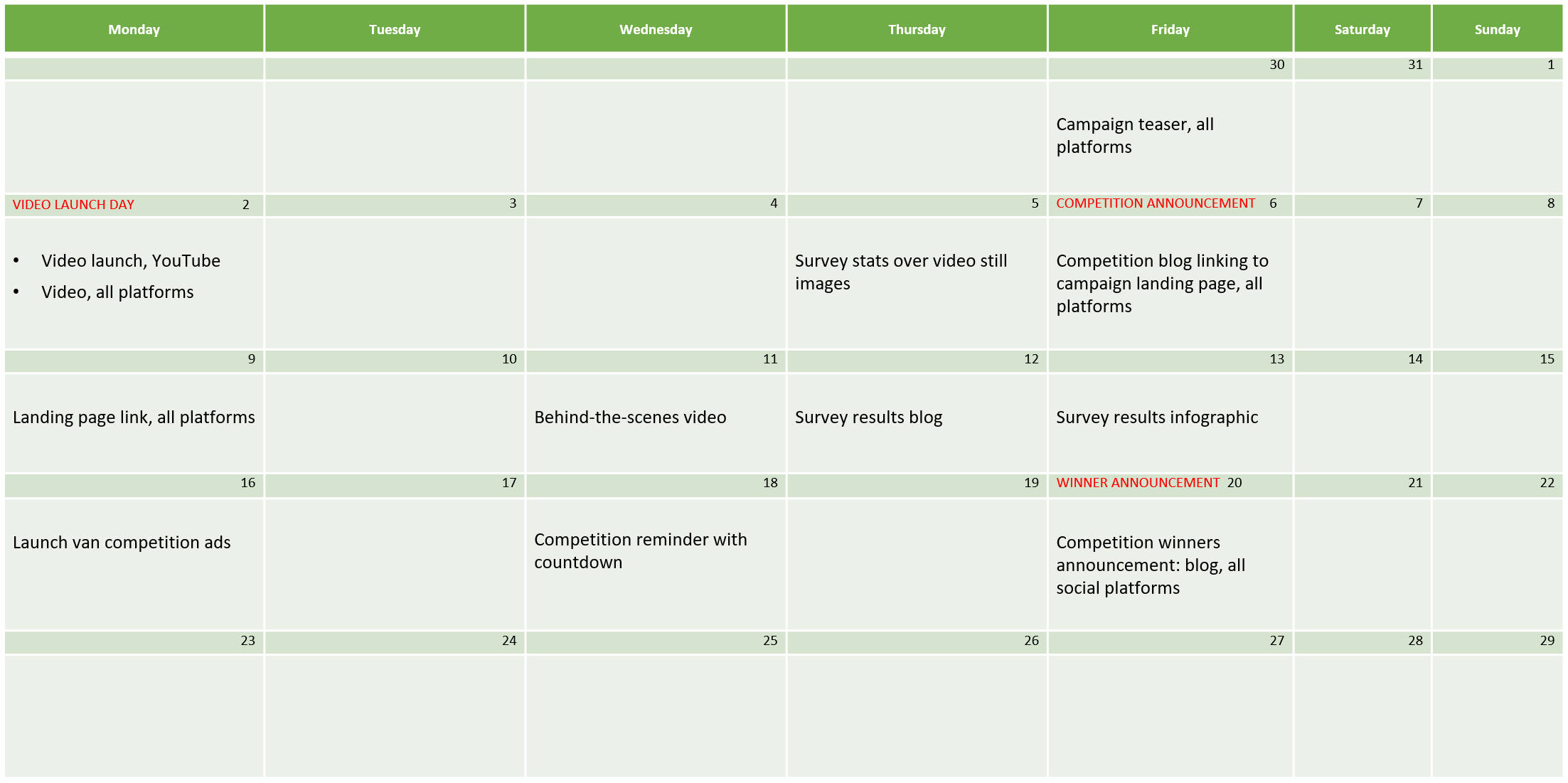 8. Find ways to amplify your social PR campaign
We can put budget into promotion. We can run follower competitions. But nothing can make a social PR campaign fly like coverage from the media.
We're not talking massive nationals here. You could send a link to your campaign landing page to Fly Fishing Monthly if they're likely to be interested in the content. Find niche publications or websites and give them a small pitch, offering them access to your assets (photography, stats, infographics) if they'd like to feature you in their newsletter, blog about the campaign or just retweet your competition.
Free, quality content is a tasty proposition for a small publication. Don't be shy.