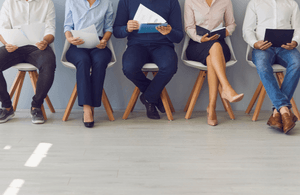 We're all fighting for staff. Small businesses have lost money over the last year no matter what the sector, and between Covid and recruitment issues, just keeping the doors open has been tough.
When I say it's a worker's market, I mean it. While the pandemic forced some people to find new jobs, it also enabled others. Didn't we all take a look around us and muse on whether we'd got it wrong? Employees are jumping ship like few other times in history.
Getting them is hard enough. Retaining staff is essential.
Promote the people who show up
My husband works very happily in a National Trust café, having been made redundant during 2020 and decided not to return to marketing. The biggest problem he faces in his day-to-day is lack of staff – usually due to call-ins. The people who call in sick all the time (because we're talking about minimum wage = minimum effort here, so who can blame them?) make it harder for the staff who always show up, who then leave because it's so tough.
You can balance out that hardship by recognising the staff who are always there, weathering the storm. Now, I'm not saying people taking time off sick is a bad thing, at all. But the people you know you can always rely on set your culture, so you have to reward and safeguard their reliability in order for them to influence others.
Promotions do not have to be expensive. In service, in particular, the difference of pence per hour can be enough to keep someone. It's recognition, it's giving you something against the competition, and every penny on top of minimum wage counts. I know; I'm married to someone in this exact position.
Give key people more responsibility. It's respectful.
Give small pay bumps or benefits for staying
Again, doesn't have to be anything huge. Psychologically, milestones keep people because they have something to aim for.
Rewards at six and 12 months could incentivise your people to stay long enough that they're bedded in. At this point they have work friends, a routine and knowledge. That's much harder to leave than a job and people you don't care about.
These stayers then provide structure and continuity for newer team members. They do the training, they bring in other people and they hold the knowledge that keeps the ship afloat on the daily.
High turnover is death to efficiency and consistency.
Be kind
Giving a hoot or two about your staff probably doesn't have to be said but it's a very stressful time to be a business owner. Sometimes people's wellbeing comes lower down on our list of worries than we'd like.
Demonstrably looking after staff makes a big difference. Moving jobs is stressful and no one really wants to do it. If you create the right environment, not only will staying be more attractive, but you'll also build loyalty. Loyalty is something you can depend on less and less these days (which is fair enough: we are not our employees' family), so we have to work for it.
Giving your staff special access to whatever you sell is a good start. Free food, my Lord! Having worked in hospitality myself, I know how much even just a discount can do when you're on hourly pay. It's a help, but it's also a sign that you care.
In today's climate, can you really afford to lose the staff you have? People can get a similar job with any number of businesses right now, leaving the hassle behind. Minimise or offset the hassle.
Investing in the wellbeing of your people is investing in the strength of the business. Without good retention, you're back out in the recruitment nightmare again and again.