Hashtags were popularised by Twitter over 10 years ago to help users group Tweets via common topics of discussion. Lots of other platforms like Instagram and Facebook also use hashtags, with a similar purpose of grouping posts together.
If you don't know what a hashtag is then have a look at my example image of a tweet by Popdust. You'll see several words with a hash symbol (#) at the beginning of them like #dinner and #recipebox – those are hashtags.
To give an example of how they are used, a popular hashtag I've seen on Twitter recently is #StrangerThings3 as the trailer for season 3 of the show Stranger Things had been released and Twitter users were eager to discuss the show and the new season. By grouping posts via the hashtag anyone interested in the topic could follow along and see what people were saying on the topic.
There are many myths about hashtags, such as stuffing your posts full of them will lead to better post engagement. I'm going to walk you through the popular social platforms and how hashtags work best on each of them.
Twitter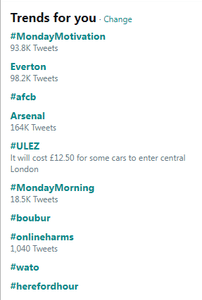 Hashtags on Twitter should be used sparingly, ideally 1 or 2, for best performance. As Twitter limits the characters of a tweet to 280, using only a couple of hashtags will allow you to have plenty of characters left to write a good length tweet.
As Twitter was the source of the hashtag popularity in social media, the platform is completely set up to let users search and follow hashtags easily – so it's really beneficial to use them when writing a tweet as it'll make your message easier to find and will generally lead to better engagement (views/likes/retweets).
Twitter tries to let you know about hashtags and topics it thinks you might like via it's 'Trending' panel on its site. For example, while I'm writing this post my panel says that the #ULEZ hashtag is trending, this is the hashtag that people are using to talk about the new London Ultra Low Emission Zone (ULEZ) coming into enforcement on 8 April 2019. If that was a topic that interested you or your audience, then using the hashtag in your tweets would make it easier for people to find your tweet and interact with you.
Facebook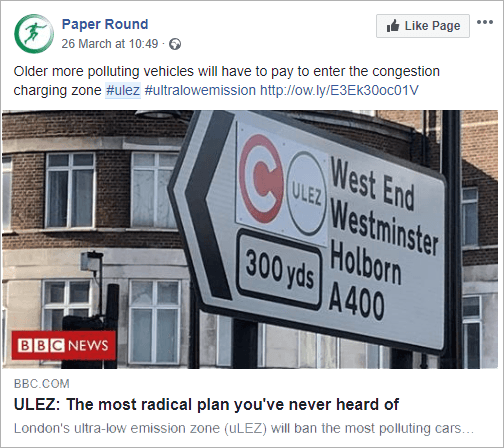 Hashtags on Facebook have a bit of a mixed reaction, some people think you shouldn't use them at all, others believe they can help engagement. Research by SproutSocial, a social media management platform, suggests using only one hashtag for Facebook produces the best results – more than one hashtag significantly reduced engagement. This means you have to be very specific about which one you choose and it's worth doing a little research on what hashtags are being used.
Unfortunately there is no easy way to find top trending hashtags on Facebook. When you try and search for a hashtag on the platform the results don't always show you posts using that hashtag, often you also see posts it thinks are related to your search too. IT makes it difficult to dig out popular hashtags and see who's using them.
Facebook hashtags do often follow a similar style and content to Twitter though, so if you see a hashtag on Twitter it is more than likely being used similarly on Facebook. I searched on Facebook for the #ULEZ example I gave for Twitter above, and found several posts using the same hashtag. I'd suggest the easiest way to choose a Facebook hashtag is see what's trending or being used on Twitter or Instagram and use the same hashtag on your Facebook posts too.
Pinterest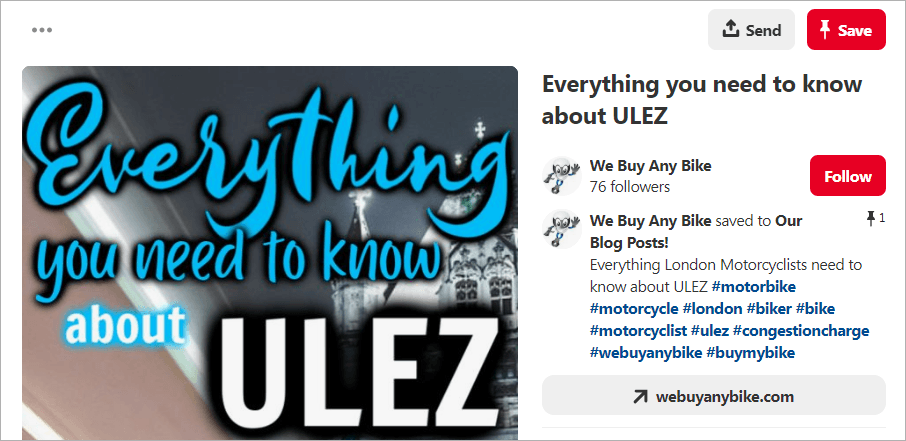 Pinterest has only really started to support hashtags in the last couple of years and it's recommended you use a maximum of 20 hashtags per pin. Hashtags on Pinterest act just like they do on the other social media platforms where they help group 'pins' together and you can search for hashtags via the search bar on the Pinterest site.
Like Facebook, when a user searches for a hashtag the results can be a little erratic as Pinterest will not only show pins that contain that hashtag, it will also show a user pins it thinks are relevant. Due to how the Pinterest search works, I recommend that when you write a description on your pin that you use a lot of keywords in the text, as well as using hashtags – this way you're more likely to come up in the search results.
Many users have noticed that pins with hashtags tend to show up much quicker in Pinterest's Smart Feed, which means that other Pinterest users will most likely see your pin much sooner than they would if you didn't have any hashtags. This is particularly key if your pin is based around an event or season, as if it takes too long to appear it might have missed its window.
Instagram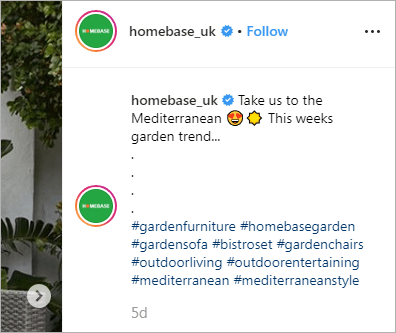 Instagram posts perform much better if you use a good amount of hashtags, around 7 to 15 works best. You'll often see a whole lot of hashtags at the end of Instagram posts, like this example from Homebase.
As there is quite a large range in the number of hashtags you can successfully use on Instagram, it's best to test it out to see what number works best for your business. Try starting with around 7 and build up to see what gets you the best engagement.
Try to combine broad hashtags with more niche ones to see what works well for you, for example if you had a picture of a pug puppy – #dogs would be a very broad hashtag topic, #pug is a bit more specific, and #pugpuppies or #pugpuppy would be even more niche and probably get your post in front of the right audience.
Cross-Platform Posting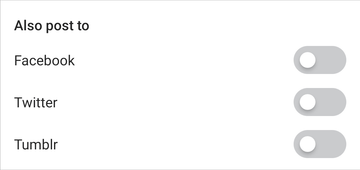 You may have used the "Also post to" feature on Instagram (Facebook also has a similar function), but using this for business posts isn't a great idea. As I've explained above, each platform has a different ideal number of hashtags that you should use for each post. If you add 7 to 15 hashtags on to your Instagram post, then the automatic "Also post to" feature sends your post with all those hashtags to your other social media – this will be detrimental to your Twitter and Facebook posts as it will most likely be too many hashtags and will probably reduce the engagement of your posts.
If you want to save time posting, it's much better to use a social media management platform like Buffer or Hootsuite and create your posts on there. You can tailor posts for each platform, post them all in one click of a button and by posting via a management platform you will have the added advantage that you can track your posts performance on each social media channel – this makes it easier to see which posts performed the best and what hashtags they used.
Quite a few of the social media management platforms have a free account for small businesses that only need 2 or 3 social media accounts, and most are cross-platform so you can post from a desktop computer or via an app on your phone.
Finding and Organising Hashtags
One of the best ways to discover what hashtags to include is to look at what your local and national competitors are using. For example, if I were an estate agent I'd check out all the local competitors hashtags as well as ones that feature on the social media accounts of companies like Rightmove and Zoopla. If you see a hashtag you think might be suitable, click on it and see how many and what type of posts use that hashtag. If it looks a popular hashtag with lots of posts and the subject matter matches your post then you should probably give it a go.
Keep a track of the keywords you use, an excel sheet will be good enough if you're a small business. Monitor how well your posts perform to see if the hashtags you're using help you get in front of the right audience. If the hashtags perform well then keep using them and continually monitor performance. Hashtag popularity changes all the time, so keep researching and trying new ideas.
When writing a post it's best to put all the hashtags at the end. If you intersperse them into the text it #becomes #more #difficult #to #read and you'll find that your audience will disengage. By adding them at the end of your post the social media platforms can still pick them up, but they will not get in the way of the message you are trying to convey.