LinkedIn is an incredibly powerful social media tool for business development, particularly in the business-to-business sector. It is a way of connecting with people you've met, finding potential customers, giving yourself credibility and showing your expertise. It also has other positives such as connecting you with suppliers and other industry professionals, and it is a great place to get business support.
With the recent recession and difficult times, businesses have become much more careful on what, and with who, they spend their money. Every penny counts and companies are looking for the best return on investment possible. To reduce the spending risk, a company is more likely to go with a supplier they can trust (or believe they can). The best way of building trust is through people: your staff, acquaintances, customers, other businesses you know – and LinkedIn is a great place to do that.
LinkedIn has so many benefits in the business development life-cycle:
Helps you find prospective clients and determine how you're connected to them
Allows you to connect to other members
Keeps you in touch with your network
You can participate in conversations and showcase your expertise
It's a direct communication channel
A great source of market intelligence and know-how
Your profile and company page
LinkedIn is not just a showcase of your skills and a place to connect, it is also a large search engine. The more information and keywords you put in your profile the easier you'll be to find. If someone searches for a PHP programmer in Liverpool and that fits your expertise then by having the right words in your profile you will be more likely to come up in the search.
Users with completed profiles are 40 times more likely to receive opportunities through LinkedIn Click To Tweet
The first thing is to get your profile as compete as possible:
A good photo – that shows your face and is (reasonably) professional. I often look up someone's photo before I meet them for the first time, this helps me spot them easily
A descriptive summary – about yourself, your skills, anything others will find useful. Remember to include keywords, as this will help you come up in the LinkedIn search
A list of jobs and descriptions – showcase your skills and what you've accomplished, the fuller your profile is the better it looks
Recommendations – make sure you ask others (customers, bosses, ex-employers, colleagues, suppliers) for a recommendation as it will boost your credibility
Skills – make sure you include a list of skills. They are not just something to fill up your profile with, you'll probably see other people from your network appear at the top of your screen on LinkedIn and it asks you to endorse their skills. If you don't add any skills then you won't appear there. It's a great bit of free advertising that you shouldn't miss out on!
Links – make sure you add links to your website(s) and social media, this will make it easier for anyone viewing your profile to see more about you
…and most importantly: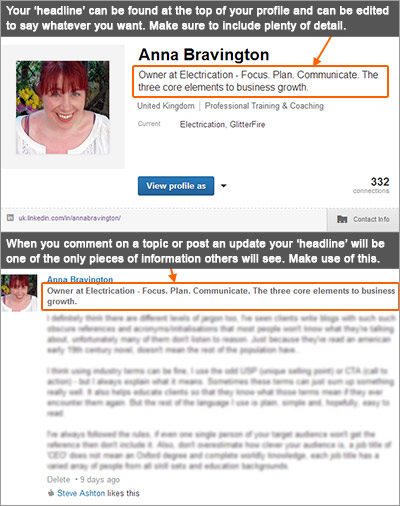 Your headline (see image) – This is something that is often neglected. It is essential that your headline sums up what you do. Don't just put your job title and company name, you must include something descriptive. The reason for this is that when you post an update, make a comment, post a group discussion or create an article on LinkedIn it is often only this headline and your name that others see. So you need to make sure they have as much information as possible. For example: "Owner of ABC Ltd, specialising in PR for professional services companies", "Account Director at XYZ, marketing and promotions for boutique retail clients in London" – I recently saw one along the lines of "Account Director at Joe Bloggs Ltd, CMS websites from £400" – it can be whatever message you need to get across, think of it as your one sentence sales pitch
If you have a company then you should also create a company page. Pay as much attention to detail to the content as you would on your own profile. It is a showcase for your business and, like your personal page, if it is keyword rich and full of information then it is more likely to come up in the LinkedIn search when people look for a business like yours.
Make sure you connect with people
The more contacts you have, the larger your extended network (2nd and 3rd degree connections). This is why is is important to make sure you add people you meet. Someone might not be a direct prospect, but they might know someone who is a potential client – don't dismiss people just because they aren't your core client base.
If you've been to any networking events recently or have been given a business card by someone then make sure you connect with them on LinkedIn straight away! Make it a point to add people within about 24 hours of meeting them, this will mean that you are fresh in their mind.
Make sure you add everyone you know:
People you've met (e.g. networking, meetings, chance encounters etc)
People you've worked with
Your staff
Your customers
Potential customers
Suppliers
Other professionals in your industry
It can even be useful to add friends and family – you never know who they're connected with!
A useful database
Answer these questions: Would you like a database that…
Has 313 million members – including their job history and professional accomplishments?
That held information about all the companies who they've worked for?
That has all of the connections between these individuals?
Has an extensive search engine for finding individuals and companies, and can distinguish between sector, company size, job title etc?
Is FREE? (There are paid-for accounts, but a lot can be accomplished through the free version)
Well you have one, it's called LinkedIn! This wealth of information is perfect for companies that want to have a business development initiative, the more information you have about potential prospects the better you can tailor your information and pitches to them. If you have someone you're going to pitch to, or even just make a cold sales call to, make sure you look up their company LinkedIn page and then the person (or people) you'll be speaking too. Background knowledge is incredibly powerful.
Searching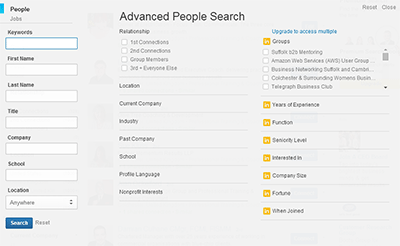 One thing that is often overlooked by many businesses is the hefty LinkedIn search facility. There is a free version, but if you want to do a large business development drive then I suggest you seriously consider upping to a premium, paid-for account (most of the paid accounts offer the extended search). I know many people that go up to a premium account when they need it, then go back down to a free account afterwards.
The search facility opens up several extra options when you are on a premium account:
You can view more profiles when you perform an advanced search, a free account limits you to 100 search results
The advanced search allows you many more options to choose from like company size and seniority level. So, if you were a web design agency trying to sell to Directors of companies with 11-50 staff then the added search features would be a superb way of narrowing down your targets
InMail
Another thing that you get when you are on a premium account is access to InMail (depending on which account you go for you can get 3 InMails per month upwards, with the option to pay for more if you need them). InMail is the LinkedIn messaging system that you can use to contact people you are not connected with (it is free to contact people you are already connected with).
"InMail is 30 times more likely to get a response than a cold call or email"
If you do decide to use InMail, then use it wisely. You are often mailing prospects cold so make the initial approach compelling and relevant to them and not a sales pitch…
So if your target was an IT Director of a large Estate Agency business, you might say something like: "I am a consultant who specialises in estate agency businesses and I often distribute interesting research and host networking events for senior IT directors in that sector – could I add you to my network?"
Updates and groups
Use LinkedIn actively, not passively – make sure you post updates, join groups and participate in conversations. LinkedIn is a professional network and as such the tone of updates and posts is very business focused. People tend not to share personal details and information on their home life so stick to business related topics.
The 'updates' system works similarly to Facebook wall posts and Twitter updates, you write a message and can then attach an image or file. Once you post it, it is then shown to your connections via their LinkedIn homepage, your latest update also appears on your LinkedIn profile – you can like and share other people's updates too. Just like all social media, it's good to have plenty of activity on your account as you will be more visible to the other users.
Another way to interact with people is via LinkedIn groups. They are the hub of the LinkedIn community, where like-minded professionals go to share ideas, give advice, support each other (and the side effect of this is that it can lead to sales and increase your business visibility). Every time I post a comment in a group conversation my profile views triple at the very least. It's a great way to get people to notice you.
The best groups to join are:
Groups for people in your industry – A great place to share ideas and learn. Eg. if you are in PR then the group 'Network of PR Professionals' might suit you
Groups for your target customers – If your customers are in the retail sector then something like the 'Retail Industry Professionals Group' might be worth joining
Groups for people in your geographical area – I'm over in the East of England, so I've joined groups like 'Business East' and 'East Anglia SME Business Forum' which are great places to meet other businesses in my area
When you join a group make sure you post topics that you think others will find useful and also comment on other group member's posts. Not only will your posts and comments be seen by the group members, but they will also be seen by the connections of those group members when they like, comment on, and share the original post – an excellent way to get extra exposure.
Let me know how you get on, or if have any questions, by posting a comment below!