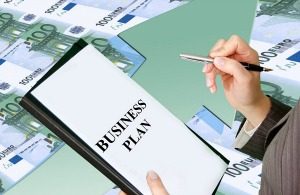 If you are considering starting a business or you already own a business, then at some point you will be asked to write a business plan. For some it's a daunting task. What do you say, how do you present the plan etc?
This article is written to help you complete the plan, understand it, and feel confident in presenting it to a funder, investor or simply to work the plan to build your business.
Why write a business plan?
Writing a business plan is a requirement from most banks/funders if a business wishes to apply for assistance with funding.
There are occasions however, when business owners, perhaps a start-up business don't require funding. So why write a plan?
A business plan can be an essential document for a number of reasons:
1) It is your business blueprint. It helps you record all of your ideas in one document. It's a working document that allows you to understand your initial thoughts about your business and the good news is that it's flexible to account for variations due to new information, new contacts etc.
2) Most plans are written to apply for funding. Your plan continues to perform the same function as in number 1 above but it must also justify why you need funding, what you intend to spend it on and how you will repay it. Considering your plan will be read by a lending institution, it is important to ensure you provide as much information as you can (see later).
Where do I begin?
Executive Summary
This is a paragraph or two that states the current position of the business along with your intention. If your plan is for funding then a line or two on your borrowing requirement is applicable too.
Example:
ABC Company has seen an opportunity to expand into new markets, supply a newly-designed widget to the motor industry. This widget has already passed all safety checks and positive reviews are driving demand favourably.
ABC Company has sourced supplies from Portugal where the premier manufacturer and developer for these widgets is situated. We will require assistance with funding supplies and seek a loan of £25,000 to purchase initial supplies and provide stock levels to meet the growing demand.
Background
This is easy for existing businesses. For start-up companies you provide details of your working experience and the background to your decision to establish your own business. You can also explain why your business will be different. This allows you to demonstrate that you have taken time to think about the business and have worked hard to understand how you can compete against more established competition.
The Market
If you have any industry data on the market then include it here. The more data you can provide about the size of the market, the local scene (if there is one), who the major competitors are, what they are good at/bad at etc. the better. Again, it's important to re-emphasise why your business is different and therefore will be able to compete in the market.
It makes sense to add information about your marketing plan in here too. After all your marketing is important if you are to justify sales figures in your projections.
If you haven't written a marketing plan before, then please see my article on writing a one page marketing plan as it will help you.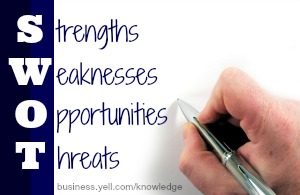 SWOT Analysis
A SWOT analysis is a great tool for all businesses. This is where you make a list of the attributes and concerns you have about key elements of your business. SWOT means:
Strengths – What are you good at? How strong is your reputation?
Weaknesses – What needs work in your business? How are you going to overcome this? Do you see how questions like this help you form the big picture plan for what needs to be achieved by specific dates – it's incredibly powerful.
Opportunities – What else are you considering now that could be incorporated into your business or product range that could potentially lead to greater success?
Threats – What could your competition, the industry, government do that would be deemed harmful to your business? Part of your planning is to look at ways to plan against these threats therefore demonstrating that you are taking them seriously and remaining highly professional in your approach to business.
The SWOT analysis says so much about your business. You should take time to do this, even if you are a start-up. Look at the resources you either have or will have. These resources are knowledge, reputation, your team, your attitudes, finance, marketing, location, premises, stock, services, products, internal systems, industry contacts etc.
Now do you understand how this helps you see your business and then assists in the future planning to minimise weaknesses, increase strengths, explore opportunities and reduce threats? Aside from the day-to-day work you do in serving customers, the SWOT analysis tells you what else needs to be done. This is called working strategically on your business. The day-to-day work is considered tactical. Business owners should be 90% strategic and 10% tactical, except in start-ups where most owners are working until they can employ people.
Financials
This is where you summarise your previous trading history (maximum 5 years). I usually create a table and include headline figures such as turnover, gross profit, gross profit percentage, net profit and balance sheet capital. This is supported by historical accounts which you will provide with the plan. Discuss the results taking time to explain where required, which provides the lender with the knowledge that you understand your figures (an important attribute for any business owner).
It is expected that trading figures for the current financial year are also provided and a summary can be included with the previous trading history. It's a good idea to walk through the figures explaining why certain figures may have changed, what decisions were made that resulted in better or worse performance.
If you require your business plan to borrow money, it's worth preparing forecasts for profit and loss and cash flow so that a lender can see where you plan to spend the money.
Start-up businesses do not have trading history but you should present forecasts if you wish to borrow money. This may require some investigation to ascertain specific costs that the business will incur such as insurance, rent, rates, staff, insurance. Do not leave this to someone else. It is important that you, the business owner can explain these costs and show some understanding of the figures. You have to be able to convince a lender you have a grasp of the figures and their relevance.
Financial Requirement
This heading is useful to highlight the application for finance. This includes how much you need to borrow, what it is for, how much you can contribute towards the loan, approximate repayment figures. It's important to detail the business' current financial obligations and in particular when they end as this could be a critical piece of information, demonstrating a payment(s) will cease during the period of the new funding. To a lender this reduces the risk, especially if the ceased payment is imminent.
Add a sub-heading for serviceability. This is a good explanation how the business intends to repay the funding. This should be easy to see in your projections but it is always worth talking it through in this section.
As a quick tip, it's worth asking your lender for a quick quote on costs and repayments for the funding you require so that you are relatively accurate in your estimates. I generally add a bit more on for safe measure.
Summary
When you have gathered all of this information, you can then write a summary which should be written in an upbeat, factual, realistic style, especially if the business plan is to be presented to a funder.
Always go over key points from your plan, especially the funding and serviceability statements to re-emphasise the importance of these points.
If there are any other relevant comments that need making, then the summary is the place to fit them in.
Whilst there appears to be a huge amount of information required to complete a business plan, let's remember that it's still a concise document rather than an encyclopaedia. As a quick tip, focus only on one section at a time and write in bite size chunks. Twenty minutes concentrated time can achieve a lot.
If you have supporting documentation then add this in the appendices, labelling each one and referencing in the text e.g. (see appendix 3).
My final tip is to ensure you read and re-read the plan many times. It's your plan and you will be expected to know it. See how certain comments correlate with data in other sections and ensure that they are both in sync. There's nothing worse than reading a good plan and then finding the financial data doesn't match the words.
When your plan is complete it is not a document that sits in a drawer. This plan should be the beginning of your plans to make things happen during the next year or two. Key dates need to be recorded in your diary and you should be working on the strategic development of your business frequently rather than be bogged down in the day-to-day events.
Please ensure you use this important document for the intention it is written – to grow your business. Good luck.
How to write a simple business plan for your business
Click To Tweet