So hopefully my last few posts have convinced you that you have no option but to give PPC advertising a go. I would suggest before you get started it is worth becoming familiar with the structure of PPC accounts. This is because the terminology can be quite confusing and the more organised the account is structured the better it will perform in terms of meeting your advertising goals.
As mentioned in previous posts, PPC advertising is also known as 'keyword advertising' because you are bidding to for your advert to appear when users enter certain keywords and phrases into search engines.
So, you are ready to get your business online and set up your PPC advertising. You head to Google AdWords ready to sign up, armed with your carefully selected keyword based on your extensive keyword research (or maybe just a handful of keywords you wanted to try). You register and then, panic, what's all of this talk about campaigns and ad groups?
Campaigns and Ad groups are the elements that make up the structure of a PPC account. I think the best way to illustrate the structure is a good old fashioned diagram.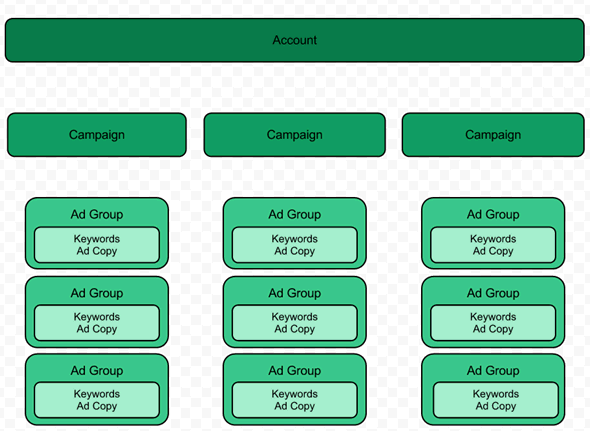 This structure is the same across Google AdWords, Yahoo Search Marketing and Microsoft adCenter so this will help you to replicate your account across the different suppliers if you decided to use more than one (remember in the UK Google is the leading search engine by a long way).
Your account can have multiple campaigns and each campaign can have multiple ad groups. Ad groups are where your keywords and ad copy sit. At each level of your account there are different settings and functionality you can use to help tailor your account to make sure it is working as well as possible and delivering your business results.
Each ad group should contain a small number of tightly themed keywords (5-15) and 3-4 adverts that are written specifically to tie in with the keywords in the ad group.
Future posts will advise how best to build the structure of your account and the different settings/functionality that is available at each level.