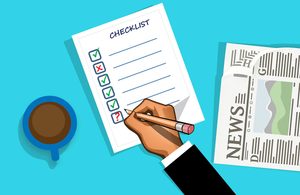 For many small business categories, such as tradesmen, photographers or consultancies, local SEO is the single most important area of marketing to get right.
Why? Because your customers are predominantly in your local vicinity. Those who are searching for your product or service in your area are carrying out a targeted enquiry that indicates they are potentially a valuable customer. Plus there is less competition for these more specific location-based queries: your business stands a better chance of ranking high in Google compared to broader phrases, where everyone is fighting for position.
The numbers around local search are also compelling: according to research from Hubspot, 70% of online searchers use local search to find offline businesses, and 30% of all Google searches are for local information.
Let's take a real example of how powerful local search can be for businesses that excel at it. Here's a SERP from Google UK for the search term 'Surbiton florist':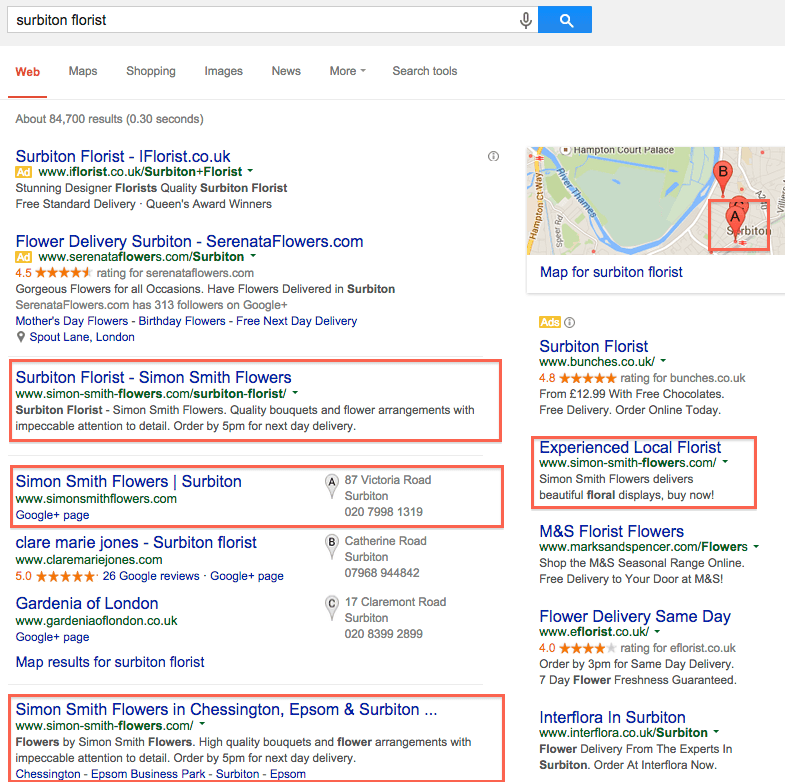 Through good use of local optimisation, Simon Smith Flowers is present in five different sections of this page: a Surbiton-specific page ranks at position 1, while the homepage ranks at 3. The business is listed on Google Maps, it has a Google+ page with address and phone number, and there's even a paid search ad too. This business can probably expect a clickthrough rate of over 60% from Google for this search term – one that indicates people are looking to buy flowers in that area.
What are the key benefits of local SEO?
There are many, but consider these among the strongest:
Better brand awareness at a local level
Enhanced trust as you display your proximity and reviews to a searcher
More online visits from people in your area
A better rate of conversion, given that this traffic is highly targeted
Significantly better ROI, as a consequence of all the points above
Which business wouldn't want that? This is why good local SEO can be so transformative to the bottom line of an SME.
What factors most affect visibility in local SEO?
If you really want to get into the details of ranking factors for local search, this survey from Moz is extremely comprehensive. To simplify it, those polled by Moz said that as well as the authority of your domain and key pages (which is essentially the product of quality links to your site), there were two other critical factors:
Making sure your city and state (county) were present in the title, H1 and H2 tags of your organic landing pages;
Having detailed citations (eg business name, address, phone number) on authoritative sites such as major local directories (Yelp, Yell, etc).
Both of those factors are relatively easy to achieve. In fact, the great thing about local SEO optimisation is that changes which don't require specialist help can have major impact. To ensure you're getting it right, use the checklist below to cover all the bases.
A simple checklist for local SEO success
Remember to:
1. Optimise your key pages for search terms targeting your chosen area(s)
You want your product/service, location and target keyword(s) to be be visible in the title tag, URL and headings of your most important pages (though avoid anything that looks spammy). Make the content of the page focused on providing a solution to someone searching for that enquiry. Look at the pages that currently rank highest and aim to produce something more detailed and more informative.
2. Create, verify and optimise your company profile on Google My Business
This will also give you a business listing on Google Maps. Be sure to check that you don't have more than one page for your company – a pre-existing page where you post updates, and a local business page that displays map location and reviews. If you do have two pages, follow these instructions from Google on how to connect the pages. Also, ensure your business category, information, opening hours and NAP (Name, Address, Phone number) are all correct.
3. Create, verify and optimise your company profile on Bing Places
Don't forget Bing! A lot of people do, which is precisely what will give you a competitive advantage if you take the time to list with this search engine too.
4. Incorporate your NAP across all your pages
You want your business name, address and phone number to be clearly visible from every page (for example, you could place it in the site-wide footer).
5. Make sure your business appears in local listing sites, with consistent NAP
You want your business to be listed on as many quality local directories as possible. As a minimum, make sure you verify your business on Yell.com, Cylex, Thomson Local, Yelp and Hotfrog. In each case, check that your NAP is consistent and add photos, videos, your website URL and the correct business category. Google your company name and correct any instances where your NAP is inaccurate.
6. Get reviews
Positive reviews will get you trust and make your business stand out from competitors, so encourage them as much as possible. Use your email database to ask your customers for reviews on the sites where you'd most like testimonials (eg Yell.com, Tripadvisor, Trustpilot). Add review buttons on your website, and remind customers to leave you a review when sending invoices etc. Whatever happens, be sure to respond to reviews, whether positive or negative. Don't delete negative comments.
7. Leverage social media
As well as Google My Business, create a business page on Facebook (with all NAP details correct) and register with Foursquare for Business. Think about the social networks that best speak to your audience (eg Pinterest for crafts, LinkedIn for consultancies) and post regularly about your latest products, partnerships and events. Aim to build a local community and encourage discussion. If one or more of your social networks develops into a customer enquiries channel, embrace that!
8. Get local media coverage
Get friendly with journalists of regional papers and magazines, and bloggers about your area. Don't pitch at them straight away – instead, take an interest in what they do. Ask them what kind of angles they would find interesting. Connect with them on Twitter. Meet them at events. Send them a freebie or two. When you do then come to pitch, they'll be receptive to promoting you.
9. Build local partnerships
Get links from your local trade associations, industry groups and chamber of commerce. Host events in your locality. Guest blog for businesses you could work well with. Create a useful page of community resources, and link out to local businesses from that (they will likely link back to you).
10. Optimise your site for mobile
Local searchers are frequently on the ground in your area, which means your website needs to deliver a good mobile experience for them. Google is also starting to give more ranking weight to sites that offer better mobile usability. Read more here on responsive, dynamic and mobile website design to understand what may be best for your business.
11. Promote your Google My Business profile
Having set up your Google My Business page, don't ignore it. Post regular company updates and ensure all your business details are correct such as opening hours and services. Upload photos to showcase your business and work, and ask customers to leave reviews for you here.
12. Add a Google Map to your contact page
It's useful for your visitors, and is another means for Google to index your location.
13. Localise the posts on your blog
If you have a blog, create information that's useful to people in your area. You could review other businesses that are complementary but not competing with yours (that's also a good way to get them to link to your site, or get a future referral).
14. Optimise your logo for image search
People may search for your brand image, so make sure you're visible. Use a filename and alt text that describes your business and your location. Try to use the same logo image across all your web properties.
And finally…
Things not to do
1. Don't fake reviews
Not even one. Don't be tempted. It may well come back to bite you.
2. Don't keyword-spam your online profiles
Nothing will make a potential customer leave faster than a page designed for search engines instead of real people.
3. Don't invite negative PR that sticks around on Google
If you ignore a customer's complaint, or in some other way irritate a customer so much that they take their story to the press, that brand-damaging news from a major publisher could be stuck to searches for your brand for months (or even years).
Local SEO: A Useful Checklist To Get It Right
Click To Tweet
Is that checklist useful? Please let us know by leaving a comment below.
This article was originally published on 23 February 2015, and updated on 14 January 2021.