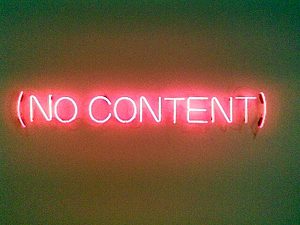 It can be challenging to maintain a steady stream of content on top of your other activities, especially with multiple online and offline platforms to manage.
One common problem marketing teams encounter is simply a lack of inspiration, and this is especially true in companies with a single product or service on offer where fresh ideas can quickly run thin.
Content creation can become a backseat priority for busy marketing departments with plenty on their plates and multiple platforms to manage in addition to third party media.
Here are nine tips for ensuring a steady stream of fresh content for your website, social media and other marketing.
1. If you don't already have one, start a blog on your website.
Blogs tend to be shorter and 'lighter' than full web pages or editorial articles making it easier to commit to regular content output. One blog post a week will keep your website content fresh for the search engines, and provide you with ready-made content to share on your social media platforms. Blogs are also a great platform for tapping into topical news stories relating to your product.
2. Create a customer reviews page.
By showcasing customers' reviews you're providing website users with extra information prior to purchase – and the best part is, it ensures a regular stream of new content whilst requiring no content creation on your part. All you have to do is assess the submitted customer reviews and publish on your website, then share across your marketing channels.
3. Run the occasional competition.
Competitions are generally easy to write content around, very popular and great traffic drivers. Just make sure the prize on offer is of relevance to your target audience and relates to your product or service.
4. Discover relevant Twitter hashtags
Check these every week as a basis to create new content around – if the hashtags relate to your offering then they'll provide you with a wealth of free content ideas.
5. Consider weekly or monthly industry news rounds ups.
Consisting of overviews of relevant recent news of interest to your customers, regular news round ups position you as being somewhat on the ball about the kind of topics affecting your customers, and will generally demonstrate that you understand the issues affecting them. These can be easy short listicles, so if you're pressed for time they're quite quick to put together and send out.
6. Keep a ready bank of ideas in a shared spreadsheet for everybody to contribute to.
This saves scrapping around for ideas in the event you need to put something together in a hurry.
7. Get one dedicated team member to manage your content production
This will help you to keep output regular, with one consistent point of contact for queries around scheduling and content ideas.
8. Look elsewhere for inspiration.
If you're seriously lacking in fresh content ideas, you can always try these tips:
– Check out your search terms report to find out how people found your site – if it was through a question about one of your products you may be able to use this as an idea for future content.
– Type your product into answerthepublic.com to find out what questions Internet users commonly have about your product.
– Take a look at the blogs and social media platforms of your competitors and see if they're covering any topics you're not.
9. Get planning.
If you plan three months worth of topics in advance at a time, you'll ensure regular content output every quarter for all your platforms.
Read more
Stuck for content? Try this easy 4-step content generator