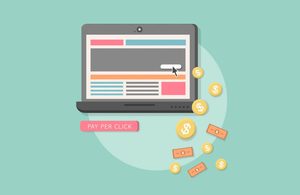 A landing page is a specific page on your website that someone visits after clicking an online ad such as a Google Ad in search results, or a display banner. People often just direct this traffic to their main website home page, but this isn't optimal for your online advertising activity, and it is much more powerful to create a page that presents highly targeted and relevant content to the specific search that the user made. This helps to ensure that your website user journey increases conversion levels, making your ad campaign a success.
A landing page (you select this by entering your selected page as destination URLS) can be set at ad group or even keyword level. This helps make sure that the user lands on the page of your website that contains the most relevant content. The actual content on the page will vary dependent on your business type, your business model and the type of site you have e.g. product specific pages on a ecommerce site or content pages on a brochure site.
But what should a landing page consist of in order to perform the best it can in your ad campaigns? Google obviously thinks that landing pages are increasingly important because it gives a quality score calculation in Google Ads in order to increase the weighting given to landing pages. It is also believed that Google use SEO factors to measure the quality of PPC landing pages. Therefore you need to make sure your landing pages address the below elements as they can have an impact on the performance of your PPC campaigns, and getting them right means your site should convert more easily leading to better ROAS (Return on Ad Spend).
1. Provide relevant content on your landing pages
Landing pages should present information that is highly relevant to your online advert and user search, as this allows Google and page visitors to understand what the page is about. As with SEO, this content should be original to you, and not repeated on multiple pages on your site. It should also be relevant to the customer's search and advert copy, and provide strong calls to action so that the user does what you want them to do – call you, fill in a form, purchase a product online etc.
2. Be transparent about your offering
The service your business provides should reflect the offers and promotions stated in your ad copy and on your landing pages. You should be as transparent as possible so users can understand how your business operates in terms of your billing processes, the level of service you provide, shipping details etc. You should also display a link to your privacy policy if you are collecting personal data on the site.
3. Use site navigation carefully
If a visitor wants to find out additional information about your business, you should help them find what they are looking for by providing suitable links to help other relevant pages on your website, but be careful not to take them away from the main purpose of your landing page.
4. Page load speed
Google looks at the time it takes for your page to load – the faster the better! This is particularly important for PPC campaigns because once a user has clicked on your ad, if they have to wait for the page to load they may hit the back button and try another site. So make sure any images you use on the page are optimised for web usage and that your page is mobile-friendly.
Good luck with creating landing pages that convert well for your next online ad campaigns!
This article was originally published on 15 January 2012, and was updated on 11 January 2021.