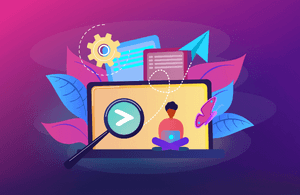 With metrics like site speed and security signals remaining firm search visibility factors, it's clear that Google doesn't just rank websites whose content most directly answers searcher queries. Sites now have to provide a smooth and efficient user experience too.
Enter the forthcoming Page Experience Update. Back in May 2020, Google announced that they're going to be significantly changing the way that they gauge user experience for ranking purposes.
What's more, they've given people a year to prepare. This is somewhat unusual as Google has been known to drop major updates at a moment's notice in the past! So, what's going to happen? What does this update include? Let's investigate…
What is the Page Experience Update?
The Page Experience update is a forthcoming change to Google's search algorithm which aims to better rank pages that provide an efficient and visitor-friendly browsing experience. The update introduces three new ranking factors, called Core Web Vitals, which we'll discuss below: Largest Contentful Paint (LCP), First Input Delay (FID), and Cumulative Layout Shift (CLS).
The update also includes renewed focus on established ranking factors like mobile responsiveness, SSL certification, and use of interstitials (pop-overs).
When is the Page Experience Update Going Live?
Google has confirmed this will take place in May 2021.
As we'll discuss below, they've given us all the tools we need to get up to speed now, well in advance of the rollout. So there's no time like the present to start optimising your site for the new update.
Page Experience Update: Understanding the Core Web Vitals
Thankfully, Google has been very open about these three new ranking factors. Their names all sound very techy and complicated, but the concepts behind them really aren't. So, let's jump in.
Largest Contentful Paint (LCP)
Visitors favour sites that load quickly. Google found that the probability of leaving a page on mobile increases 32% as page load time goes from 1 to 3 seconds. (Source: Google).
And because site speed is so important to users, it's important to Google too. Google doesn't want to send you to a slow page that you're going to leave immediately.
Therefore, websites optimised for speed rank. The new Largest Contentful Paint (LCP) metric is another chapter in Google's preference for fast sites. Put simply, LCP is the time it takes the largest image or block of text to display (or "render"). It's recorded in seconds, and ideally needs to be as fast as possible. Google recommends that a page's LCP should ideally occur within 2.5 seconds
Optimising Your Largest Contentful Paint (LCP)
You can optimise images for speed by a) using tools like TinyPNG or iLoveIMG to compress existing JPEG or PNG files, or b) by using more recent image formats like WEBP, JPEG XR, or JPEG 2000.
Remember that this isn't just a case of optimising the image with the largest file size on a page. Once that resource is optimised, the formerly second largest image will likely become the focus of the LCP metric, so you really need to optimise as many images as possible on a page to achieve the best possible LCP rating.
Google has made it easy to find out the LCP speed of any page using their handy PageSpeed Insights tool. Simply enter the URL of any page on your site (your homepage is a great place to start) and hit "Analyze". It will then give you your LCP metric in terms of seconds to load.
If your LCP is shown in orange or red (medium/high) then it's likely you will need to head to a section below titled "Serve images in next-gen formats" and click the arrow next to it. This shows you a list of the images on that page with the largest file sizes – focus on optimising these to bring the page's load time down.
Side note: Be aware that the Google PageSpeed Insights report isn't a site-wide SEO report, it merely judges individual URLs on a page-by-page basis. Putting your homepage's URL into the tool will just show you stats about your homepage, for example. Every page will need to be assessed and optimised separately.
First Input Delay (FID)
Users generally want a speedy web browsing experience all round. Though measuring loading speed is important, it's also important to measure the speed at which a page reacts to user input. The First Input Delay (FID) metric does just that.
FID measures the time from when a user interacts with your page (e.g., tapping a link, clicking a button, etc.) to the time when the web browser actually starts to process that request.
This may seem like a strange thing to need to measure – "wouldn't the browser react immediately?" Well, not always. The delay between input and processing ("input latency") generally happens when the browser is busy processing complex scripts in the background, meaning that user inputs have to wait at the back of the queue
Optimising For First Input Delay
Optimising for FID can be a bit technical, so it's recommended that you work with your web developer if needed.
Begin by running a page through PageSpeed Insights. This can show you opportunities to optimise the ways your page uses JavaScript. JavaScript operates many essential functions behind modern websites, but poorly optimised code can put a lot of strain on web browsers, slowing down the visitor's web browsing experience. Google recommend that your FID should be less than 100 milliseconds.
In the Google PageSpeed Insights report, look at any results that mention JavaScript or "third-party code" – "Reduce JavaScript execution time", "Minify JavaScript", and "Remove unused JavaScript" are all great places to look first for FID optimisation opportunities.
Also, in your PageSpeed Insights report, look at "Total Blocking Time". This tells you how long interactivity is being blocked due to processing in the background.
Cumulative Layout Shift (CLS)
Now we move on to a user experience issue that I'm sure has infuriated us all. Don't you just hate it when just as you go to click a link, something loads and the link moves? Or just as you're getting into the groove of reading a certain piece of text, an ad or an image loads and shifts everything around, causing you to lose your place?
Google recognises that this page movement – called a "layout shift" – provides a poor browsing experience. And as stated above, Google is increasingly focusing on the whole browsing experience of the sites they refer searchers to, not just their content.
Cumulative Layout Shift (CLS) calculates a numerical score which quantifies the total impact of layout shifts on a page's appearance. Lower scores are more favourable; Google suggests that pages should have a CLS score of less than 0.1. Personally, I welcome unexpected layout shift scoring becoming an official part of Google SEO. It's just so infuriating – especially when you're in a rush!
How to Optimise Cumulative Layout Shift
Minimising the impact of unexpected layout shifting can be complicated, so again, it's advised to work with a developer if needed. Google recommend numerous ways in which you can optimise for CLS, chiefly:
Giving graphical elements set size attributes
Only inserting content above existing content as an expected response to user input
Animating transitions smoothly to clearly mark a contextual change.
What does 2021 have in store for #SEO? Here's everything you need to know about Google's upcoming #pageexperience update
Click To Tweet
What Else You Need To Know
In addition to the new Core Web Vitals, Google also mentions four existing ranking factors that we already know about, implying a renewed focus on them too:
Resources
We hope this guide has been useful, but there's much more to learn about the Page Experience Update. We highly recommend doing your own reading about it – especially around some of the more technical aspects. Our sources for this article are as follows:
Check out Google's initial announcement about the Page Experience Update.
Read up on the Core Web Vitals at the Google Developers site.
Read the Google Developers help page about the Page Experience Update.Any questions about the Google Page Experience Update? How are you going to optimise your site in 2021? Do you have any pointers relating to the Core Web Vitals that you'd like to share? Let us know down in the comments!