A lot of smaller companies use the AdWords ad scheduling functionality to set their campaigns to display at certain days of the week and times of the day. In this post I will share how to implement ad scheduling and also offer my opinion as to when it should be used as I do not believe it is suitable for all advertisers.
You set ad scheduling at the campaign level and access the tool through the settings tab. All ad groups within this campaign will display adverts at the times specified within these campaign level settings.

On the settings tab scroll down the page and the ad scheduling tool can be found under the Advanced Settings section. All campaigns will default to show 24 hours per day 7 days a week, to make changes click on the Edit link by the ad scheduling option.

A new window will open, displaying the days and times that you're your ads in this campaign are currently opted in to display.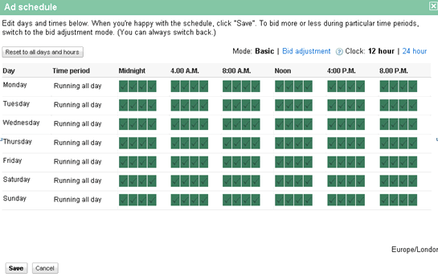 To change the settings click on the 'Running all day' link next to the day you want to change and a window with different options will open.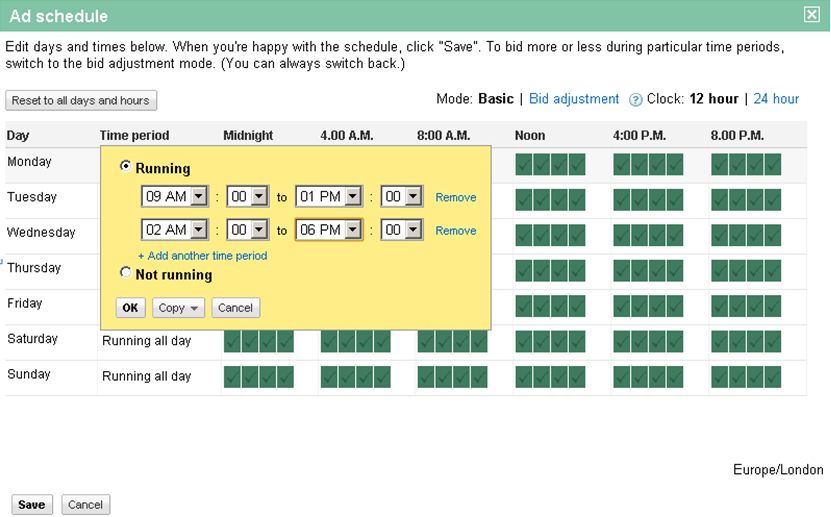 You can select to show your ads for a continuous period with in the day e.g. 9.00am – 5.00pm, select different periods within the same day e.g. 7.00am – 1.00am and 2.00pm – 6.00pm or select not to display your ads at all on particular days. Once you have clicked on the OK button in the yellow window the changes will be reflected by showing when you have opted in to display your ads with a green tick.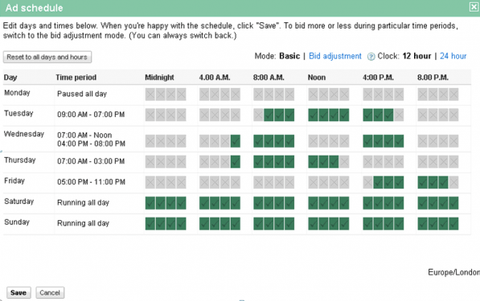 A lot of small companies set ad scheduling to reflect when their business is open e.g. if I am a hairdresser and my salon is open Monday to Sat, 9.00am – 6.00pm. This is because as a business customers can come into the salon at this time or call the salon and there will be someone available to answer the phone.
I do not agree with this approach and would recommend that as a small business you opt to display your ads 24 hours a day, 7 days a week. The reason for this is that users may not be searching for your company names, product and services in the search engines when you are open for business. For example a builder may not work on Sundays; however I may be researching local builders on a Sunday evening after a weekend of disastrous DIY.
As users can search for your business at any time of the day and any day of the week you should ensure that your business appears at all times, especially as your competitors ads may be appearing. There should be no issues about losing leads when you are not open for business as phone enquiries can be collected on voicemail and online enquires can be collected by online forms and emails.
There are some cases where Ad Scheduling can aid the performance of PPC Campaigns for example if your company offered next day delivery if ordered before 3pm, but if ordered after 3pm you can't guarantee this. In this example I would set up two campaigns with different Ad Scheduling, keywords and advert copy. However, for the majority of PPC Campaigns I would advise to sticking with the default settings and display your ads at all times.