PGS Plumbers is a London-based plumbing company that has been in business for over a decade. Here, Guy Andrews from PGS explains how the company tracks its all-important social media return on investment (ROI) and the tools that help make this job easy.
Social media is one of the core fundamentals of PGS Services' online marketing mix. We use it to find new customers, strengthen relationships with other businesses and become an authoritative voice in the world of online tradespeople.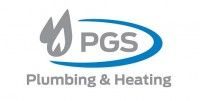 It's important when planning a social media campaign to think about what you ultimately want to achieve and how that will tie in with your current marketing strategy.
Whether you're trying to drive sales, build an online voice for the company or create a new channel for customer support, it's important to track whether the content you share is effectively influencing the growth of your social media strategy – or just getting the return you wanted.
The method that I use to track interactions with PGS content shared on Twitter or Facebook is via both Google Analytics and Hootsuite's short URL service, Ow.ly.
I'll start by explaining Ow.ly – it's a URL shortening service very similar to bit.ly but ties in with the excellent social media management web app, Hootsuite.
Hootsuite enables you to update and monitor your social media platforms such as Twitter, Facebook and LinkedIn from one single – yet highly customisable – interface.
When sharing content such as blog articles on these services, you often need to shorten the URL so you don't exceed the character limit. Ow.ly does this, but also tracks clickthrough and user information.
For those in the know, many of you might be wondering why not just use bit.ly? Well we decided to use Ow.ly as, when combined with the Hootsuite app, you can track exactly what messages or tweets the links were included in.
Having this tracking is crucial to knowing if the content was effective enough to get people clicking into your site. As we can track the individual message that the link was included in, we can spot trends for what makes people click through the most and tweak the messages and tweets over time to maximise clicks.
However, it's important to know what people are doing when they actually get to the PGS website or to our new property maintenance information website PGS Online. This is where Google Analytics comes in.
Google Analytics offers the functionality to add custom tags to the end of URLs so you can track what advertising campaign the visitor came from.
When the user clicks on a link containing these tags in the URL, Google Analytics identifies them as a visitor from your defined marketing campaign and reflects this in the reports.
For PGS websites, I have set up a number of "conversion goals" in Google Analytics.
We class a conversion as the process of a normal visitor converting into a customer or potential customer that needs physically following up. A conversion goal is a certain page or action the visitor needs to visit or do in order for us to class them as a potential customer.
For an ecommerce website a conversion goal would perhaps be when someone completes the payment process. However, for a property maintenance company like PGS it's when someone requests us to contact them, goes to one of our contact pages or uses our innovative boiler installation quote calculator.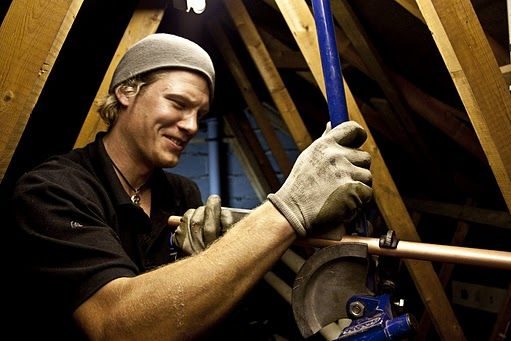 With these conversion goals and the campaign code, I can track how much business we're generating from social media with reasonable accuracy.
However, when a conversion consists of a user calling in – how do we know if they have actually called?
When targeting people on Twitter I use Hootsuite to tell me who has clicked through to the site and then I'll manually search our CRM for their name to see if they've made contact. It takes a while as it's rather a manual process – but it's vital to measure how much my efforts are paying off.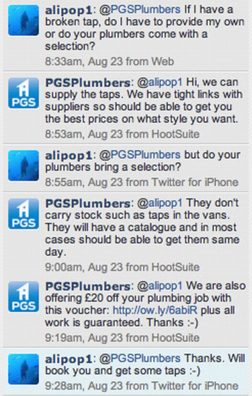 In most cases the user will simply tweet back saying that they got in contact, which makes tracking a lot easier. Pictured to the right is an example of how we successfully converted a person randomly tweeting at us into a customer – who even ended up leaving a positive review on our Google Places page!
We are also using a more automated methods to the point where we can actually track the exact path the visitor took through the website and whether they called in or not – with complete accuracy. However, explaining this goes beyond the scope of this article.
Using Google Analytics to visualise the path through the website visitors coming from social media outlets take lets us optimise content and user experience. We're able to spot whether people are leaving the site at certain pages and can tweak these pages to help maximise conversions.
At the end of the day, social media is relatively pointless unless you're fully engaging with it – building customer relationships and ultimately generating return from the money and time you're investing into it. The only way to find out whether it's working or not is to put the tools you need to measure return in place early on.