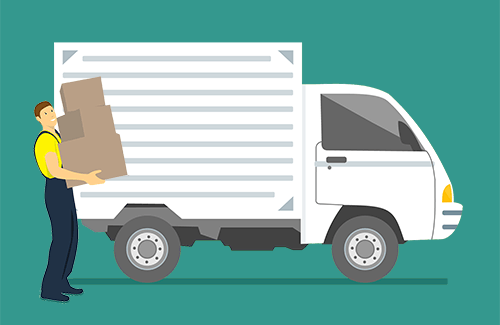 If you have a removals or storage business a great way to attract new customers is via social media. You will most likely want to connect with customers in your local area and social channels tend to make it easier for people nearby to find your business.
There is a high level of trust often needed when people hire a removals or storage businesses as they need to know that all their worldly possessions are going to be safe. Being very visible and transparent on social media will aid this, as people will be reassured that you are a genuine business that takes time to engage with its customers.
Help Ease the Stress of Moving
I think the removals and storage sector lends itself to some great top tips and advice posts on social media. Moving home or business premises is such a stressful time that your customers are bound to appreciate some help. Here are some of my ideas on topics you could cover: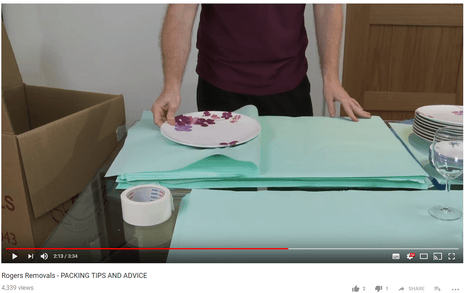 How to safely pack delicate items like this video from Clarks Removals on packing pictures
A review of different packaging materials and where each would be useful e.g is bubble wrap or newspaper best for kitchen items
How to pack boxes well e.g. should people put cushions in with delicate items, or how you can fit in as much per box as possible – there is a great video on YouTube from Rogers Removals that gives tips to help their customers pack
How to calculate the number of boxes you'll need to pack up your house
How to de-clutter your home before a move
How to lift heavy objects safely
How to pick a good removals and storage firm e.g. check if they have like-for-like or wear and tear insurance covering possessions, make sure they are registered with the British Association of Removers
These posts could be in the form of a video, text, image or if it's a detailed subject then a full blog on your website that you can then share the link on social media. Don't be afraid to inject a bit of personality or humour into the advice posts, like Britannia Movers who decided to do their entire top tips video in painted-on uniforms instead of real ones!
Removals and storage businesses can attract customers by offering helpful tips and advice
Click To Tweet
Interesting Facts and Information
Moving is a minefield for many people, especially those that haven't done it often. Sometimes useful information and facts can help them make decisions easier. For example, someone moving out of London into the countryside might be looking to commute back in to the city – a post on average commuting times for London workers might help them work out how far out of the city they want to go.
Here are some ideas of useful pieces of information that might help your customers:
How much does it cost to move home
How far do people tend to move
Your top picks of the current best mortgages and rates
Details of local house auctions
Average commuting times for people outside of London
How getting a mortgage or moving home affects your credit score
Laws and useful information on buying homes and relocating to other countries
There is a nice post from Bishop's Move on the happiest countries in the world to move to. There are so many facts and figures you can use, either your own or from a survey someone else has done (just remember to credit the original source).
Facebook Ads
As well as creating interesting posts and videos, you should think about how they can reach your audience. If you've created blog posts or videos you can hope that they rank well in Google and other search engines, and if you have lots of social media followers you might be lucky that a few of them see the posts. These days it's becoming harder to reach people via social media organic posts, so I suggest you also use paid advertising to help boost the number of viewers that see your content.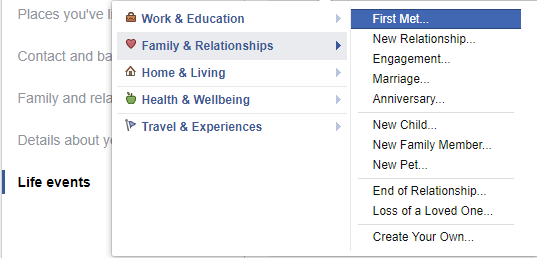 The reason I've chosen Facebook to focus on is because the platform is great at understanding what important moments are happening for each user – whether getting engaged/married, starting a family, or started a new job.
Facebook allows users to add 'Life Events' to their timeline – some of the most popular are: job changes, marriages, or a new baby.
If you've not seen the Life Events feature before then go to your personal Facebook profile and go into the 'About' section. You'll see the 'Life Events' menu at the bottom left of the screen and from there you'll be able to see all the events that a user can choose (see my image for an example of what the options are).
A lot of these Life Events will coincide with people wanting to move home. Maybe a couple wants to buy their first home together after getting married, or they need to up-size due to having a new baby.
Facebook's algorithms that analyse user behaviour are incredibly clever, not only does it take into account these 'Life Events' but is also understands: how to read users posts, if a user has visited certain websites, or who a user follows on Facebook. It collects all this information to help work out what advertising would be most useful for each of the users. The algorithms are often able to match people to the right adverts, so if you're a removals or storage firm advertising on Facebook then the platform will understand when people are going to be potentially moving home, and know that your advert might be useful to them.
A Safe Pair of Hands
Your customers need to be able to trust your removals/storage firm as you're often responsible for an entire house full of precious possessions. Blogging and social media is a great way for your customers to get to know you. All your helpful posts will reassure them that you know what you're doing and that they'll be safe if they sign up with you.
Make sure you share your blog/videos/social media links with any new business enquiries. It'll help show them what a great firm you are and that you care about your work – and hopefully seal the deal in converting them to customers!